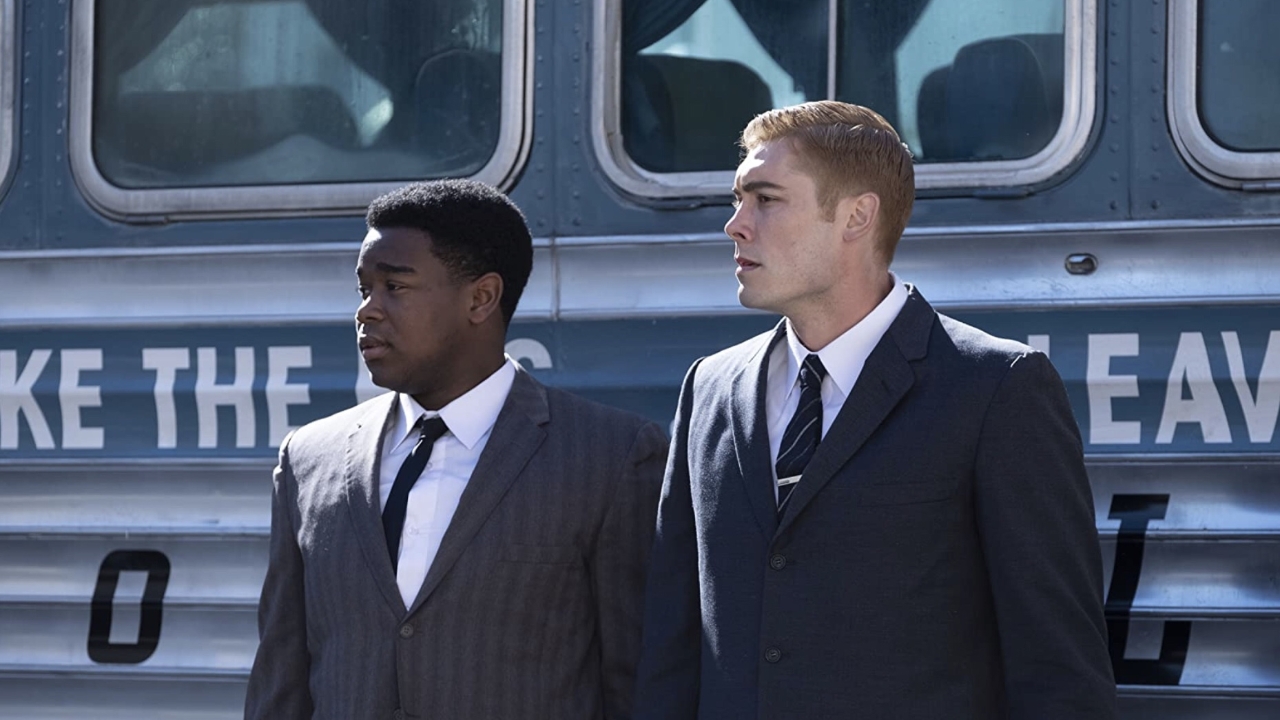 Photo by "Son of the South"
Former Tiger has prominent roles in civil rights film "Son of the South"
---

Feel the difference - The MOST DIGITAL CONTENT covering your CLEMSON TIGERS! Avoid clickbait and sites bloated with advertising!
Register for your FREE ACCOUNT today, and you are eligible to win a LIMITED EDITION CLEMSON FOOTBALL. ←
---
On May 20, 1961, Jim Zwerg, 21, was brutally beaten by segregationists and lost consciousness at the Montgomery Greyhound Bus Station in Montgomery, AL, after traveling on a bus from Nashville, TN. He spent several days in the hospital with multiple injuries that still impact the 81-year-old today.
Zwerg, a white exchange student from Beloit College (WI) attending Fisk University, a predominantly black school in Nashville, TN, traveled with the Freedom Riders, a Civil Rights group, who rode interstate buses into segregated southern states that refused to abide by federal cases, Morgan v. Virginia (1946) and Boynton v. Virginia (1960) that ruled segregation of public buses unconstitutional.
In preparation for the rides, the Freedom Riders held mandatory non-violent training sessions and signed their last wills and testaments before bus rides that could be the last of their lives. Zwerg almost lost his life that day in Montgomery, but even after spending days unconscious, he didn't want to be credited with heroism-- instead, he saw heroism in someone else.
"There was nothing particularly heroic in what I did. If you want to talk about heroism, consider the black man who probably saved my life," he said to a journalist. "This man in coveralls, just off of work, happened to walk by as my beating was going on and said, 'Stop beating that kid. If you want to beat someone, beat me.' And they did. He was still unconscious when I left the hospital. I don't know if he lived or died."
Zwerg, from Appleton, WI, who made the decision to walk in others' shoes, didn't want to be seen as a hero. He just wanted people to see the riders "just as American citizens," even if it led to his own death.
"Segregation must be stopped," the bloodied Zwerg said from his hospital bed. "We must be broken down. Those of us on the Freedom Ride will continue...We're dedicated to this. We'll take hitting. We'll take beating. We're willing to accept death. But we're going to keep coming until we can ride from anywhere in the South to any place else in the South without anybody making any comments, just as American citizens."
Matthew "Matt" Knowles, a former Clemson football player and actor with a career that extends to China, plays the role of Zwerg in the movie "Son of the South" based on civil rights activist Bob Zellner's autobiography "The Wrong Side of Murder Creek."
Other actors of note in the film are Lucas Till ("MacGyver"), Lucy Hale, Jake Abel, Shamier Anderson, Julia Ormond, Dexter Darden, the late Brian Dennehy, Cedric the Entertainer ("The Neighborhood"), and Spike Lee as an executive producer.
We caught up with Knowles, a co-producer of the film, to discuss his role as Zwerg ahead of the Feb. 5 release date.
First, were you able to meet Zwerg?
Matt Knowles: No, we've just done some zoom calls and phone calls, but never met him in person. He's out in the middle of Arizona happily on his ranch. I wrote an email and said I would love to get his insight into what really happened that day of his life. I just picked his brain for two hours and asked questions. Basically, what that let me do was develop my backstories and backstory of Jim, but in this case, it was a true story.
How did your interactions with Zwerg help you essentially become him?
MK: I just took in as much information as possible and relived his memories in my own imagination in the weeks leading up to filming. And of course, I memorized the words that Jim used and the words in the scripts to the letter, and had that experience in my body. And then when we filmed, I just didn't really think very much. I just let it out. It was all there.
So how did you get on this project?
MK: "Son of the South" came together back in 2019, maybe even the very end of 2018. I researched the project through a friend in China who introduced me to a friend of hers in Alabama. Her friend knew the project and producers of this film. They introduced me to Barry Alexander Brown, the director, and Colin Bates, one of the producers, and we started there. The movie was at a crossroads at the time and may not have moved forward. I really believed in the story. I wanted to see this get made any way possible, so I poured in many of my connections and my efforts to try to get the film moving. If I can ever offer value outside of acting, then I do.
If you had to give a very brief synopsis of "Son of the South" what would you say?
MK: So, the movie follows Bob Zellner. Lucas Till plays Bob. And it revolves around an event that happened where the Freedom Riders came through Montgomery, and there was a riot and attack at the bus station. And so, I played Jim Zwerg, one of the Freedom Riders who's best friends with the late Congressman John Lewis. They sat next to each other on the bus and took a beating together.
This movie release was delayed like others during this COVID Pandemic and the movie industry has been altered in specific ways. How's it been for you, and how are things different in LA, where you currently live?
MK: It's been a really different year. Filming has continued on and off for a few months. I think overall, it's moving, but a lot of things are different. We don't do in-person auditions anymore-- they're all self-taped. Also, there's no sort of like networking events in person, which in the past was a big plus to being in Los Angeles. I know they sometimes want people for certain projects filming in Los Angeles for people currently in Los Angeles because of Covid restrictions. If projects are filming there, then it can be advantageous for actors already there.
You started and built your acting resume in China. How did the trade war between the US and China affect your career and your relationship with the country?
MK: I'm glad you touched on that. It has been a tough one in the industry for me because when COVID hit, everyone was kind of freaking out about the possibility of everything shutting down. People were asking me a couple of weeks in, "oh man, how's COVID affecting you and your work?" and I was thinking, like, I've been in a COVID kind of lifestyle for a year at that point due to the trade war. It just extended things even longer for me.
I was actually signed onto a big film in China right when the trade war happened, and I got dropped from the film because I was American. They didn't want to risk working with an American at that intense time. I had to get out of that agreement. I still love China. It's just hard. Things have become so disconnected.
In preparation for our interview, I watched an interview where Zwerg said he didn't consider himself a hero during the Freedom rides despite what he endured. In your conversations with him, did he talk about his role on the rides in a similar way?
MK: Absolutely. He does not consider himself a hero, and he would say that over and over again in our conversations. He struggled with being white in the Civil Rights Movement, but only because he didn't want the limelight or be seen as someone who was trying to grab the limelight that wasn't what he was trying to do.
In that interview, he talked about how he, a white man from a privileged family fighting for civil rights, was perceived by segregationist when he was on the ride. Did he touch on that with you?
MK: He told me that everybody knew the order of the people who would be attacked and beaten up. The white guy was first. If someone's gonna die, the white guy, the traitor, is first. And so the order would go white guys, and then the black guys, white girls, and then black girls. The riders would just do what they could to protect each other in a non-violent way.
I know you experienced a lot doing this film. Has the entire experience stuck with you in some ways, unlike other projects?
MK: Absolutely. I'm so blessed to have done this film, interview Jim, and learn about him. I didn't really know about the Freedom Riders Movement. I heard about it, but I didn't know it to this level. And just doing the research for the film, I learned so much, and it really changed me as a person, especially the way I think about the world and how I think about civil rights.
Never miss the latest news from Clemson Sports Talk!
Join our free email list