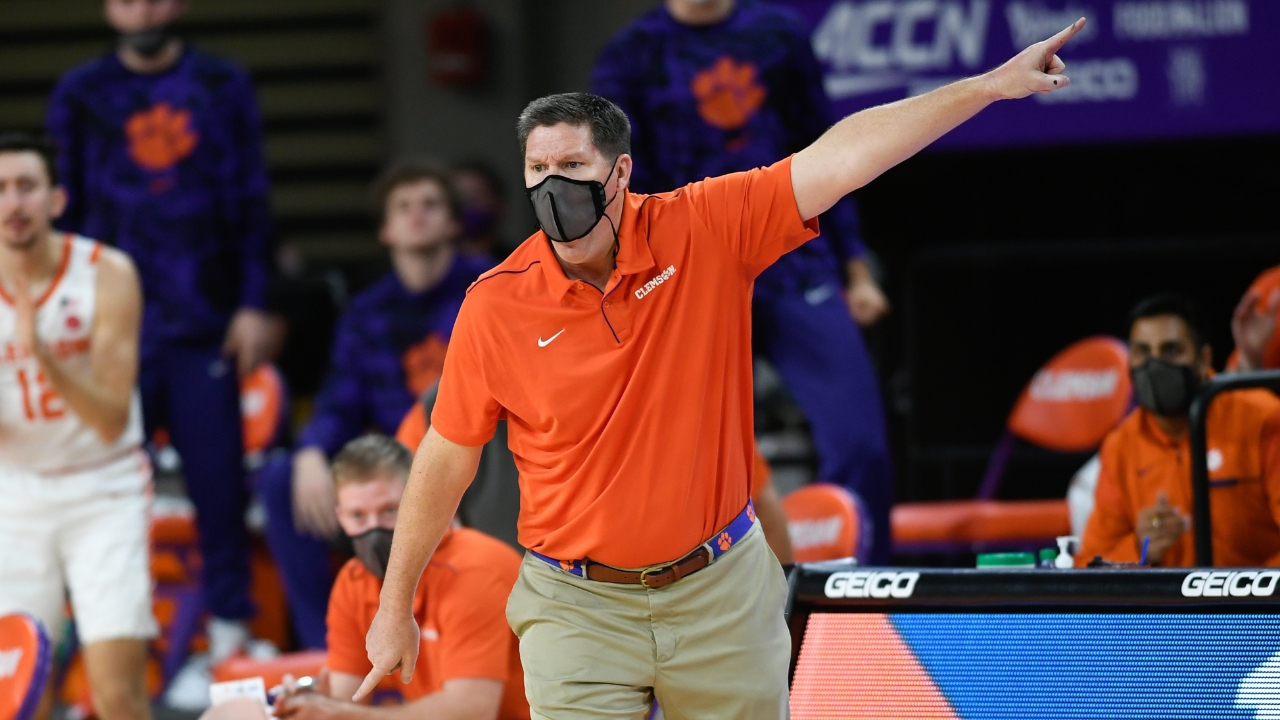 Clemson has sights on the Big Dance and the program's future
---

Feel the difference - The MOST DIGITAL CONTENT covering your CLEMSON TIGERS! Avoid clickbait and sites bloated with advertising!
Register for your FREE ACCOUNT today, and you are eligible to win a LIMITED EDITION CLEMSON FOOTBALL. ←
---
Clemson basketball was back in action on Wednesday against Wake Forest (6-12, 3-12) at the unusual time of 4:30 pm for a weekday game. After a second COVID-19 break, the Tigers were eager to get back on the court and ran away from Wake to get a 60-39 road win.
Sophomore sharpshooter Alex Hemenway led the team in scoring with 17 points, and Aamir Simms had a double-double (13 points, 11 rebounds). Redshirt sophomore Nick Honor scored 11 points and dished out six assists, and junior Hunter Tyson was just shy of a double-double himself with 9 points and 10 rebounds.
Clemson (14-5, 8-5) is now fifth in the ACC standings with pivotal games remaining at home against Miami (Saturday) and Pittsburgh (March 6) and a road game at Syracuse (March 3).
Can this team make the Big Dance, and if so, can this season catapult the program to a string of tournament appearances?
Presently, Joe Lunardi has the Tigers in the Big Dance. The well-respected bracketologist has Clemson as a sixth seed in Region 1. A berth to the NCAA Tournament would temporarily extinguish the on and off again heat from head coach Brad Brownell's seat.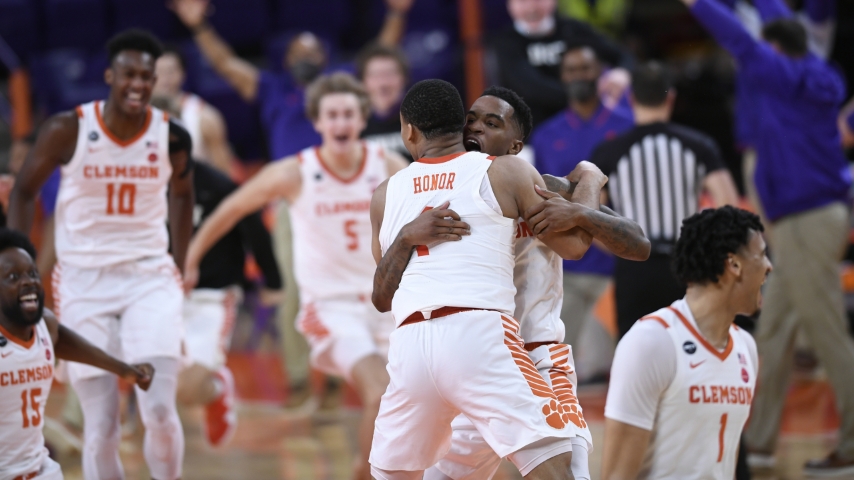 Clemson Sports Talk
Regardless of what happens in March, leading scorer and rebounder Aamir Simms, Clyde Trapp, and Jonathan Baehre, all seniors, are expected to depart the upstate. Their departure will leave Tyson and classmate John Newman to further blend with Honor, Hemenway, Al-Amir Dawes, and Chase Hunter to keep the momentum going and elevate the program.
The freshman class of P.J. Hall, Olivier Maxence Prosper (Omax), and Warren "Lynn" Kidd, Brownell's best class and No. 4 in the ACC, haven't been asked to play a major role this season, as evidenced by a combined 26.3 mins per game, but in 2021-22 things will change. Hall and Kidd will be the centers and Omax, a backup at power forward and/or small forward.
Next season, the 2021 recruiting class could see even less court time, but it won't be because they lack talent. Joshua Beadle‍, Ian Schieffelin‍, and Lucas Taylor‍ are top 10 players in their respective states according to 247Sports Composite and have been recognized for their stellar play this year.
Beadle was recently named a McDonald's All-American nominee.
"I wasn't really surprised," said the 6-foot-3 combo guard to Clemson Sports Talk on the day of the nominations. "I feel as though I'm good enough to make the game."
The lefty from Cardinal Newman High in Columbia, SC, averaged 20 points, 4.2 assists, and 5.8 rebounds this season before his season ended in the playoffs this week. In January, he scored 29 points against Augusta Christian and 26 versus Porter-Gaud.
The McDonald's team was announced on Tuesday and Beadle wasn't among the 24, but despite not making the roster, he understands the nomination's prestige.
"Even if I don't make it, it's nice to be noticed nationally," Beadle said. "It's definitely an honor."
Schieffelin was recently named the Region 4-7A Player-of-the-Year. He is the 10th ranked recruit in talent-rich Georgia, playing on a Grayson High squad with multiple D1 prospects.
The 6-foot-8, 220-pound power forward was also named MVP of the TOC Holiday Classic tournament in December after scoring 15 points in the Bracket 2 final (54-53) win over North Gwinnett (GA).
Oh, and by the way, on Jan. 8, he scored 20 points, grabbed 20 rebounds, and blocked six shots to lead Grayson to a 61-43 win over Newton (GA). Clemson could stand to improve in the rebounding department, and Schieffelin will help there right away.
Grayson (22-3) will face McEachern (22-4) in the playoffs on Saturday.
Taylor is the Player of the Year for the Northern Athletic 4A conference. He led Heritage High (NC) and the conference in scoring with 28 points per game. He also averaged 8 rebounds, 2.9 assists, and 2.2 steals before Heritage fell to Richmond 68-64 in the playoffs.
He scored 36 points in the loss to Richmond to eclipse his previous season-high of 35 in a January matchup with Cardinal Gibbons. He reached 30 five times in a 13-game season.
Taylor is one of the best three-point shooters in the 2021 class. At 6-foot-5, 190 pounds, he also uses his size well to finish off drives and pull-up for floaters or jump shots.
Taylor will represent the Tarheel state in the Carolinas Classic All-Star game on paper due to COVID-19 concerns the game will not be played this season.
Clemson has shown enough the past two seasons with upset wins over Duke, FSU, and Louisville and added enough talent through recent recruiting classes to give hope to fans for better days, which would mean more NCAA Tournament appearances in the future.
Never miss the latest news from Clemson Sports Talk!
Join our free email list
PRESENTED BY