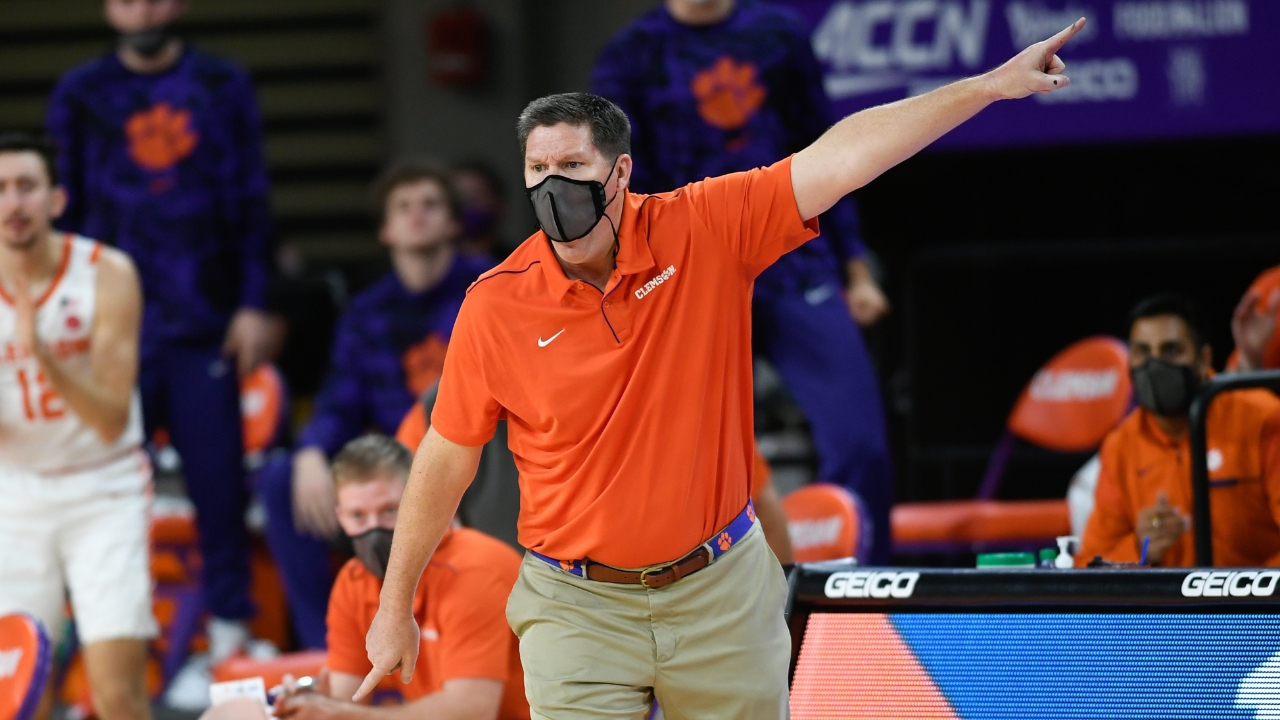 Clemson Basketball
NCAA Tournament Insider | Brownell opens up about Clemson's run to Indianapolis
---

Feel the difference - The MOST DIGITAL CONTENT covering your CLEMSON TIGERS! Avoid clickbait and sites bloated with advertising!
Register for your FREE ACCOUNT today, and you are eligible to win a LIMITED EDITION CLEMSON FOOTBALL. ←
---
The following notes are unedited comments from an interview with Brad Brownell from earlier this week.
On making the NCAA Tournament:
"It's been a really good season, proud of our players for all that they've sacrificed. The hard work they put in [during a] different year for sure. But our guys are really hung in there and battled and, you know, finished up nicely in the ACC and outstanding non-conference. Proud of the fact we're able to earn our way into the NCAA Tournament. So now we're excited to see how see what that takes us."
On how things have been in Indianapolis:
"Well, not sure exactly what to expect, I will tell you the bubble here is much different. It's much stricter, more organized. ACC tournament really wasn't a bubble per se. So you know, I'm optimistic that that means that everybody's going to be okay here. You know, obviously, the days leading up, we were all really nervous when we had a few days there waiting back in Clemson and testing every day. We just took our first test today and waiting for the results. And we're kind of all stuck in our rooms and quarantine here for the next you know, pretty much, almost 16-18 hours until we get to go take test to tomorrow, mid-morning, and then find our results out and hopefully get those back and feel good about that and can go practice at some point tomorrow, late afternoon, early evening."
On if positive tests will be handled by eliminating the player and not teams from competition:
"I think that's why we're under strict quarantine right now, everybody's in their own room. They're bringing meals to us. When we do get out of quarantine, we're supposed to move in groups. You're not allowed to go on anybody else's hall. Only four guys to an elevator. It's pretty cut and dry here that you're pretty much in your room, your team meeting room, or you're on the practice court, that's about it. I think those are the precautions they're taking to ensure that if there is a positive somewhere along the way that hopefully the teams can still play."
On if he will push Aamir Simms to be more assertive early:
"I think he's got to read the game. I think you got to be careful having him force situations. The guy he's playing against in talking to a lot of folks is probably the best defensive center and the Big 10. Rutgers is known for their defense, Young on the perimeter is, one, if not the best defensive point guards in the league. I think Myles Johnson is one of the best, if not the best, defensive centers in the league. Those are tough matchups, that's why they're a good defensive team. It's what they hang their hat on much like us. We need Aamir to play well. There's no doubt about it. We're not going to win many games in this tournament where Aamir Simms doesn't have a good game."
On if the Tigers will shorten their rotation in the postseason:
"Well, maybe, we've done that in certain games at times when certain situations that dictate that-- a guy's playing well, getting off to good starts, all those kinds of things. For the most part, I've tried to play 10, and sometimes 11, guys and games, a lot of times the 11th guy doesn't get very many minutes-- it might be, three or four and that's about it. I've been trying to reward these kids with all that they've sacrificed and done all year. I talked about doing that earlier in the season. It's helped to get us where we are. Certainly, there are a game or two we may not play well, our guys off the bench don't play quite as well, and everybody wants to look like 'hey, he needs to shorten his bench and not get these guys as much time.' But I also think there's something to be said for the camaraderie and spirit of your team-- it's different when everybody's playing. I think that that's one thing that has carried us through a long, difficult season-- that is not going to be marked by stats-- but marked by the spirit that your team practices with and the attitude that they carry every day, through the ups and downs of a long season. One of the reasons why this team has done better than everybody predicted and nobody would have thought we could have done a lot of the things that we did is because of that spirit. We'll see how it goes, but, I've wanted to play these kids a bunch and that's the way we've done it, for the most part, it's worked out."
On what having some previous tournament experience means to the team:
"That's one thing we've challenged the seniors with starting back in June and July when I brought Clyde and Aamir into my office, and I said, 'Hey, guys, like, it's wonderful you guys have had good solid careers, but you're going to be measured as much by your senior year as by any year that you were Clemson. So your freshman year, you guys were both part of a Sweet 16 team that's only been done four times and Clemson history. It's a remarkable achievement. We were close to the NCAA Tournament the next year, and then last year's team was a little bit of a rebuild, and we battled through some injuries, and you guys had some great wins, three Top 5 wins and ended the streak in Chapel Hill. But your senior year is what you're going to be remembered for and it's what you're going to remember and the challenge is to try and get us back to the tournament, I think we have a team that can do it. But it's going to take tremendous leadership, and we're going to have get these young guys molded together and buying into what we're trying to do.' So we've kind of used that as motivation for our older players throughout the year."
"Our guys will talk about what it's like to play in an NCAA Tournament game, but until you actually get out on the floor and are playing and competing you're always going to be a little nervous. I think the thing that we've hit on is, 'Hey, we've had a great year we've beaten teams that are seeded No. 2, No. 4, No. 5. We've beaten three teams that won their conference tournaments. We've had a lot of success if we play great basketball and play to the best of our ability we could do something really special this year. On the contrary, if you don't play well, you're probably going to get beat. That's just the way it is when you get to the postseason, everybody's got good players, everybody's competitive, everybody really wants to win and everybody's prepared. So you're not sneaking up on anybody.' I think there's a competence that comes from some of the accomplishments we've had this year, some of the big wins and then also the fact that a couple of our guys did make it to a Sweet 16 and knows what that feels like. So we're certainly carrying all those experiences with us."
Never miss the latest news from Clemson Sports Talk!
Join our free email list
PRESENTED BY