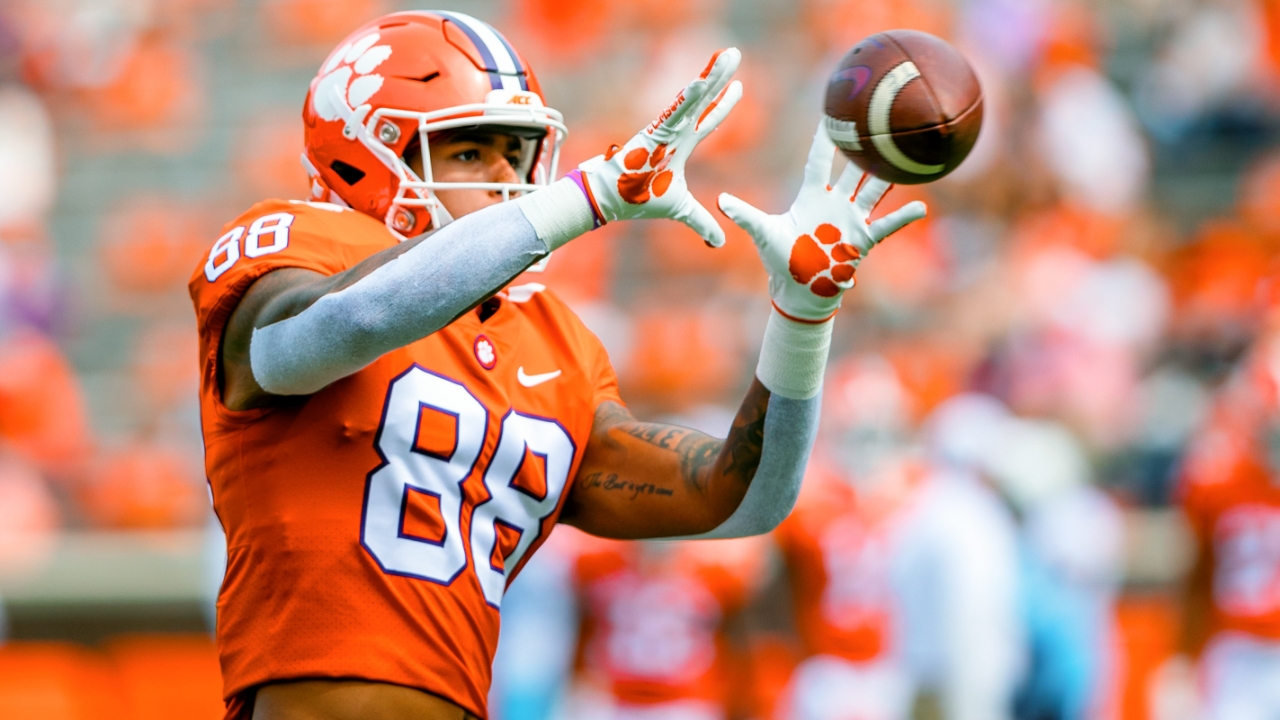 Photo by Courtesy of ACC Media Portal
Clemson Football
Upfront Observations | Spring Practice Resumes in Tiger Town
---

Feel the difference - The MOST DIGITAL CONTENT covering your CLEMSON TIGERS! Avoid clickbait and sites bloated with advertising!
Register for your FREE ACCOUNT today, and you are eligible to win a LIMITED EDITION CLEMSON FOOTBALL. ←
---
Upfront Observations
Last season, as dominant as Clemson was at times, they still struggled in short-yardage situations. Whether third-and-short or even goal-line situations, if the Tigers were successful, it seemed to have more to do with the athletic talent of Travis Etienne than the hogs upfront moving the pile or creating a large gap.
Fast forward to the spring, and it's apparent that the 2021 Tigers will need to be further along on the offensive line to achieve the success they expect this season as both Trevor Lawrence and Etienne are no longer able to bailout spotty play on the offensive line.
One positive for Robbie Caldwell's group is that they are going head-to-head against some of the top defensive linemen in college football. Even though the offensive line was solid last year, getting reps consistently this spring against the Tiger's defensive front should help alleviate some of the concerns.
Sophomore Walker Parks, projected to start at left tackle for the Tigers in 2021, gave his thoughts on facing the defense during spring practices.
"I think our entire defense attacks, every single play," he said. "There's not one player that really stands out above the others. I think our entire defense as a whole is a beast of a unit. It's hard to go against [them] every single day, and they will make you better-- no matter who you are."
WRU Returns
The 2020 season wasn't necessarily a "down year" at wideout as both Amari Rodgers (77 Rec, 1020 yds, 7 TDs) and Cornell Powell (53 Rec, 882 yds, 7 TDs) were quite successful. Also, freshman E.J. Williams looked like he was beginning to take off when he scored in back-to-back games against Pittsburgh and Notre Dame, but 2021 stands to be much better.
"We're back in business there at wideout," said head coach Dabo Swinney about the 2021 version of WRU. "It's unbelievable the depth we have out here now. I'm super excited about it. Obviously, we had a lot of guys out last year. We've got a great group."
The Tigers return star Justyn Ross as long as things continue to progress well with his recovery from corrective surgery on his next a year ago and with Frank Ladson and Joseph Ngata slowly closing in on being healthy, the trio of lengthy wide receivers will give D.J. Uiagalelei incredible size in the downfield passing game. Mix in a developing Ajou Ajou and the Catching Collins Duo (Beaux and Dacari), and all of a sudden, there are reps to be had all over the field.
Keep an eye on Ladson and Ngata, as both players have tremendous potential but have been limited due to lingering injuries over the past 12 months.
Tight Squeeze
It's hard to talk about the downfield passing game and not venture into some of the issues at tight end. This feels like a column we have written every season since Jordan Leggett wrapped up his time in Tiger Town, although last season Braden Galloway (27 Rec, 369 yds, 2 TDs) and Davis Allen (16 Rec, 247 yds, 4 TDs) certainly gave a boost to the offense at times.
During Clemson's 2015 and 2016 runs in the playoffs, Leggett was a relief valve and often a catalyst to the Tigers' success. With Tony Elliott shifting to TEs this year, there is hope that the seemingly forgotten position could become a bigger focal point for the offense.
| | | | | |
| --- | --- | --- | --- | --- |
| Season | Player | Receptions | Yards | TDs |
| 2015 | Jordan Leggett | 40 | 525 | 8 |
| 2016 | Jordan Leggett | 46 | 736 | 7 |
| 2017 | Top Three TE | 25 | 305 | 2 |
| 2018 | Top Three TE | 14 | 136 | 2 |
| 2019 | Top Three TE | 20 | 173 | 0 |
| 2020 | Top Three TE | 49 | 659 | 7 |
While last season was a marked improvement, it never felt like the tight end was a key to Clemson's success, and in all honesty, for the team, I think they are better served across the board when the ends are an integral part of the offense.
Heading into 2021, the Tigers have more depth at tight end and could see another solid year as both Jake Briningstool (6-6, 215, Brentwood, Tenn.) and Sage Ennis (6-4, 235, Graceville, Fla.) should have opportunities at the position this fall as well.
"I think every year we kind of have guys that bring different things to the table. But I think from a versatility standpoint, I definitely think this is probably the deepest we've been," noted Galloway, now the veteran leader of the group. "I think we have a lot of guys that can do a lot of different things in the run game and in the pass game. It's competitive. It's going to make each and every one of us better, and that's honestly what we needed at the position."
Never miss the latest news from Clemson Sports Talk!
Join our free email list
PRESENTED BY