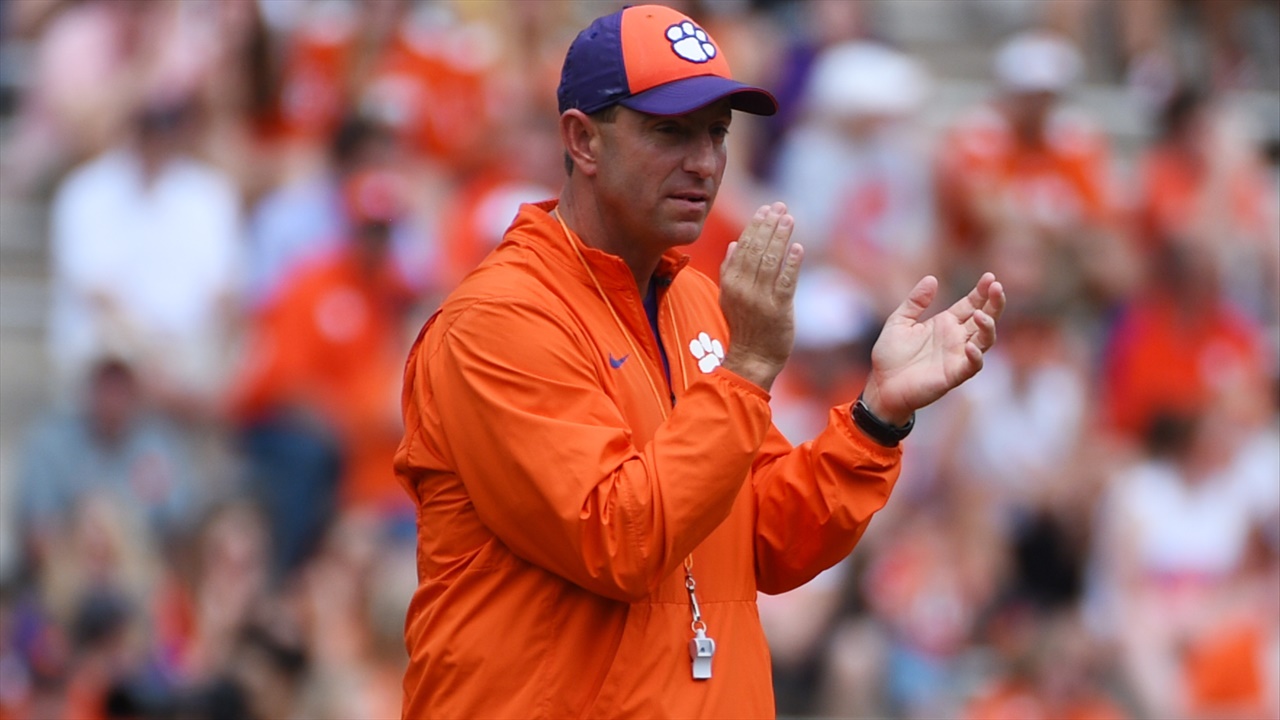 Photo by © Adam Hagy-USA TODAY Sports
Clemson Football
THE ROAR: The Alliance | Pressure Relief | The Fresh Prints
---

Feel the difference - The MOST DIGITAL CONTENT covering your CLEMSON TIGERS! Avoid clickbait and sites bloated with advertising!
---
Welcome back to 'THE ROAR' everyone. With the college football season knocking on our doors, we felt there was no better time than now to bring 'THE ROAR' back! Only this time, we'll have a new twist... me.
My name is Scott Sasser and I'll be taking over a lot of the content you see on 'THE ROAR' while Swanny focuses on the radio show and YouTube channel. I'll try to knock out three a week-- with the goal of this becoming a daily piece! So here's what I'm bringing to you; some quick-hitting, thought-provoking, and sometimes controversial topics surrounding your Clemson Tigers.
With that said, let's get to it.
THE ALLIANCE.
Is there going to be an alliance? Should there be an alliance? I don't know the right answers to these questions. Swanny certainly sounds like he's here for it. Here are a few reasons why the NCAA should encourage such an alliance.
More opportunities for competitive games between top-ranked teams.
As Swanny said, an alliance between these conferences leads to matchups like Southern California-Clemson or Oregon-Michigan instead of Clemson fans watching the Tigers beat down on the Citadel as they did twice last year. Ralph Russo of the Associated Press described future games under an alliance as "juicy." Russo stated, "An alliance could make those juicy matchups more frequent, with the hope that they unlock more revenue in media rights agreements and ticket sales."
Increased parity in college football.
Listen, I love watching my Tigers display their dominance just as much as the next fan, but when multiple weeks go by without watching them break a sweat, I start craving a little more competition. You know the old saying, "If you wanna be the best, you gotta beat the best." A tougher schedule will silence all of the Clemson haters who want to argue that Clemson doesn't belong in the top four because they don't have a tough conference. Sometimes I wonder if these people actually watched Trevor, Travis, and co. go to work or if they're just scared to see the Tigers in the playoffs... again. But that's a whole separate conversation.
If there's one thing I know about the NCAA, it's that if there is some sort of "untapped revenue-generating potential in college football" as Ralph Russo eloquently phrased it, the NCAA is going to pursue it. So will it happen? Time will tell. Should it happen? Like Swanny, I'm struggling to find a reason why it shouldn't.
PRESSURE RELIEF.
D.J Uiagalelei certainly looked ready to takeover last season when he started in place of Trevor Lawrence due to COVID-19 and gave Clemson fans a taste of what's to come. He may be great, but even the greats needed to be bailed out from time to time. So what, or should we ask who is going to be Uiagalelei's pressure relief valve. Etienne jr. could take a check-down pass from Trevor, make four guys miss, and take over a game, but with Etienne in Jacksonville, who will Uiagalelei look for.
We all have high expectations for Justyn Ross and the Tigers receiving corps but what can we expect from the tight ends. Swanny says to look out for Braden Galloway, and he's not wrong. Galloway can be that pressure relief valve for DJ. But if you want my two cents, keep your eyes on Davis Allen this season. He may not be the biggest, fastest, or most athletic, but his tape last season screams dependable. Allen's blocking ability alone should make DJ feel confident in him. Here he is setting the edge for Etienne last year against Miami - I mean who doesn't love to see a pulling tight end knock a linebacker on his heels!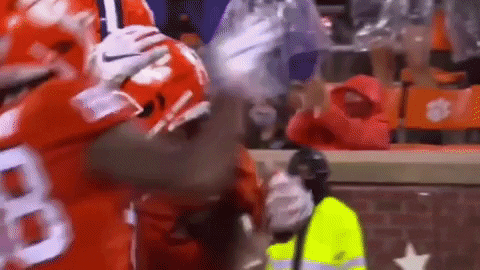 In my opinion, Allen is the most well-rounded player in the tight-end room. We all hope to see big strides from Jaelyn Lay this season and Galloway's talent and athleticism may lead the tight ends again this year in the stat column. But call it a hunch, I think the things that don't always show up on the stat sheet are going to be the reasons why Allen becomes that safety net for Uiagalelei.
FRESH PRINTS.
The new "Thunder and Lightening" have arrived in Clemson as Phil Mafah and Will Shipley are set to make their debuts on Saturday during the spring game, and we recently heard from new running back coach C.J. Spiller.
"They kind of remind you of that old James Davis and myself, but you don't want to put that type of pressure on them," Spiller said. "The thing that I tell both of those guys is to be yourself-- be who you are-- don't worry about these high expectations that other people have on you."
During the radio show a few months ago, Swanny thought to call the duo "The Fresh Prints" a play on Fresh Prince as Phil and Will have a chance to be a great combination for the Tigers moving forward.
"Will and Phil have looked great so far. They're gonna have mistakes along the way-- it's a new system," Spiller said. "For Will, he didn't have a chance to play high school ball, so you have to take that into account-- that he hasn't played in over a year. So you have to be careful with that to make sure that he comes along properly."
As for Mafah, Spiller said the Tigers got exactly what they expected in the HEIGHT WEIGHT running back.
"Phil, he does look awesome-- as good as advertised. (I've told him to) just go out there and be the best version of yourself."
GETTING IN WORK.
Normally Brent Venables leads the workouts, but it looks like the defense flipped the script on him and several other staff members this week.....
SONG OF THE DAY.
- The Fresh Prince Of Bel Air Theme Song -
A BIT OFF THE PATH.
Last year the country was taken aback by Charmageddon when the pandemic started. I thought everyone was hoarding toilet paper for one reason, and one reason alone. Well, thanks to the man who set a world record balancing toilet paper on his head, I stand corrected.
In honor of football coming back and fantasy drafts getting ready to take place, I'll leave you with some solid intel from Dwight himself. Best of luck in your upcoming drafts!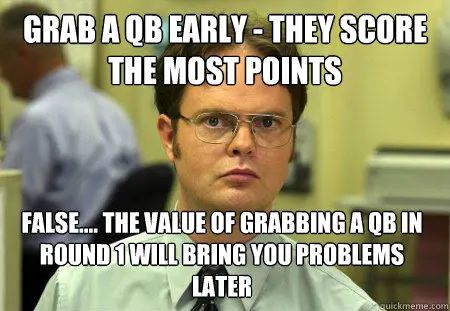 Let us know what you think about THE ROAR! If you liked it, make sure you SHARE!
Never miss the latest news from Clemson Sports Talk!
Join our free email list
PRESENTED BY