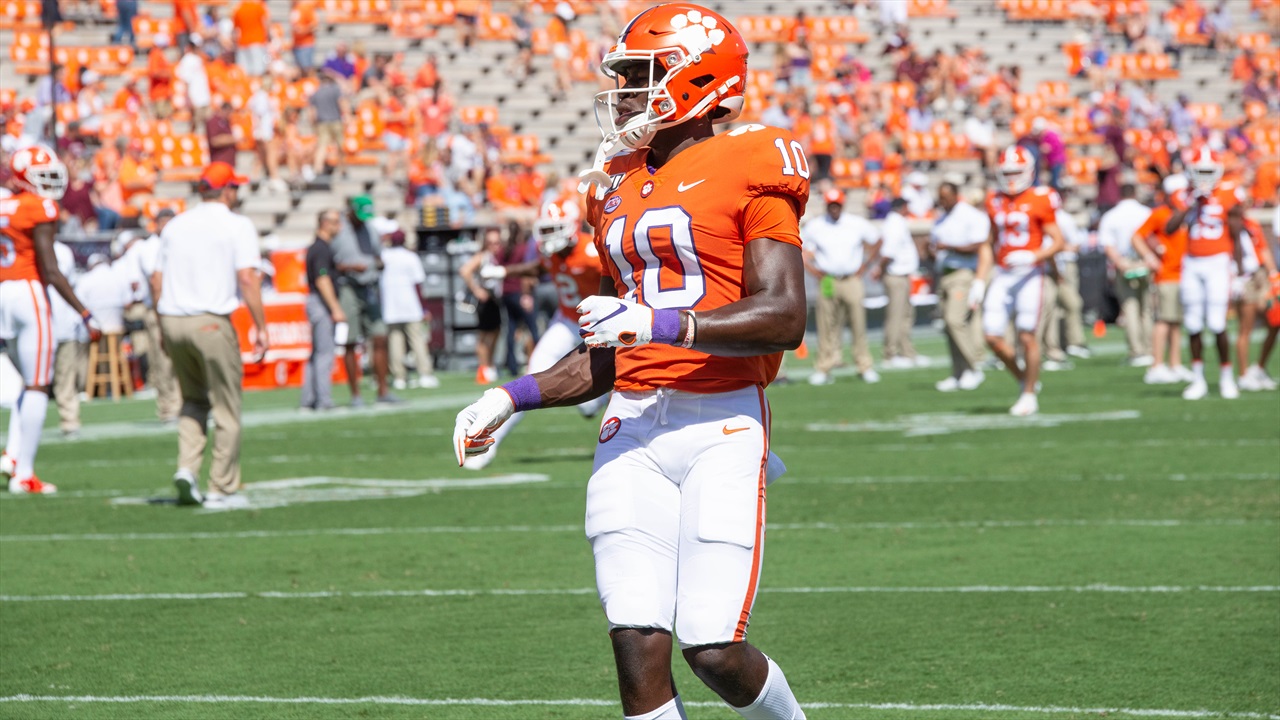 Joseph Ngata
Tyler Venables
Sergio Allen
R.J. Mickens
Clemson Football
Ngata feels 'fine', California prospect can make 'a million' plays if healthy
---

Feel the difference - The MOST DIGITAL CONTENT covering your CLEMSON TIGERS! Avoid clickbait and sites bloated with advertising!
Register for your FREE ACCOUNT today, and you are eligible to win a LIMITED EDITION CLEMSON FOOTBALL. ←
---
Following Clemson's spring game on Saturday, Joseph Ngata said he feels 'fine', and Head Coach Dabo Swinney noted that if he's healthy, the sophomore wideout can make 'a million' plays for the Tigers in 2021.
Here are a few additional quotes following the contest.
Joseph Ngata
On seeing the fans in Death Valley:
"Yeah, it felt good. I'm just so thankful that they came."
On if he made significant strides from last year to this year:
"I feel like also like my body has just got more weight, more strength on it. (Inaudible)."
On his biggest emphasis coming into the spring:
"Overall, I just want to get healthier-- stronger, more durable. I feel like if I can do I that (inaudible)."
On how he is from a health standpoint:
"I feel fine. I just got to get stronger, that's it."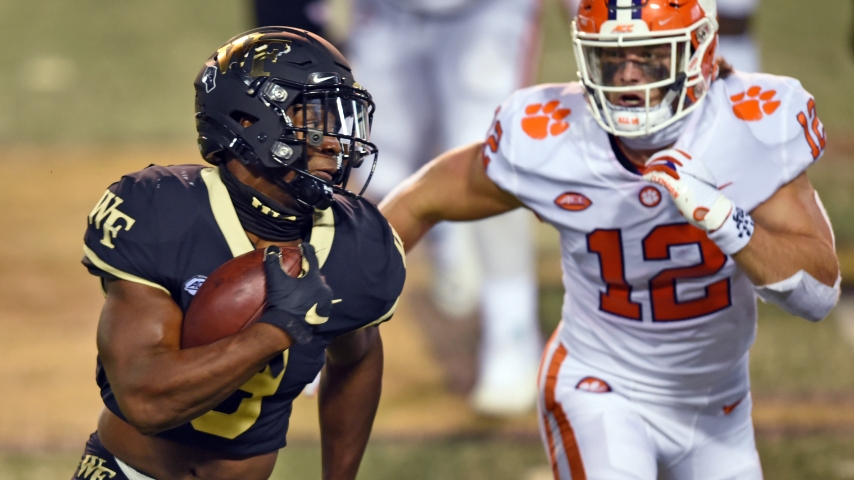 Courtesy of ACC Media Portal
Tyler Venables
On if he likes the touch rule for QBs in the spring game:
"Yeah, Coach Swinney told me about that one-- but that first one I definitely jumped up in the air-- I don't think I'm bringing down "Big Usse", you know 250-pound monster with one hand on his on the shoulder, so I like the rule."
On if there was a different attitude and intensity this spring:
"I've definitely seen more young guys come up and be leaders. Really dedicate themselves, whatever people have to do, whether it's getting stuff done in the weight room-- all of us are kind of gaining more knowledge. We've had a great spring defensively because we had so many young guys and really growing this spring-- getting reps. Jamie (Skalski) of course is out there coaching us too, and Nolan (Turner) doing a great job. The D-Line is really stepping up and maturing. Tyler Davis in Bresee for example, they've grown a lot. It's a slow progress but we're growing."
On Uiagalelei's improvement this spring:
"I've definitely seen his reads-- he's going a lot quicker. He definitely knows what he's doing. I mean he's known what he's been doing, but I think he's getting more calm in the pocket. He basically came in here perfect throwing-wise, just unreal power with the ball and how far I can throw it, of course, he's always had that, but I think the mental side-- he's always had, but he's continuing to grow and really being able to read a defense. He's been doing a great job."
On having sixth-year players helping coach:
"Oh, it's great you know, it's basically another coach. They didn't take any live reps this spring, so that gave me a lot of young guys a chance to grow, because they don't need it as much as the young guys, for example like me. They know what they're doing and they can help coach us while giving young guys reps too, Nolan (Turner) and Jamie (Skalski) have been great."
On how he's grown personally this spring:
"So everybody wanted to say I was a two-way player coming out of high school, but I really only played quarterback-- I played like 100 snaps in my four years at Daniel on defense. I think this is my first real spring of just totally getting the books and understanding defense and zone coverage, man coverage, blitz, and everything like that. So I think I've grown a ton."
On the most difficult part about playing safety for your dad at Clemson:
"I would say it's just the amount of things you have to do. You have the physical part, of course, the practice and everything, that can wear in your body if you don't stay ahead of it with getting treatment whatnot. Then you have the mental side-- with your father coaching you, you kind of block out all the criticism, and it's basically like your father and your coach being disappointed in you when you something wrong-- so it's kind of like a double-whammy. You just kind of have to like be a robot and go along, correct it, and don't take it personally."
Sergio Allen
On seeing a ball-tipped high in the air:
"I didn't know where the ball was. I just saw the shadow on the ground. I just put my hand out then I was praying I could get it."
On what he did well this spring:
"The main thing was just gaining more knowledge. I felt more comfortable, especially after last year, being a mid-year. I was lost throughout the season, still. Yeah, definitely the knowledge I learned. How to play MIKE and WILL-- just a little more comfortable."
R.J. Mickens
On his interception after a tipped ball:
"Yeah, I mean, I just saw the quarterback looking over there so I'm kind of go out pressure got to and you know, there's only one place he can throw it."
How much growth
On the growth of the team this spring:
"I think our team's really grown a lot-- from the start of spring to now. On offensive-- definitely improved. The defensive has got unity, our defense improved our depth. Skalski being out, Nolan being out-- it's really helped us improve our depth and get people ready to play."
"Oh, yeah, Andrew (Mukuba) is my guy. It really hurt whenever he broke his arm. I was kind of sad for him-- he just got here-- an early enrollee, far from home. I'm just being like, a big brother to him. He's a great guy. It's been awesome."
On having another Texas guy in the safety room:
"Oh, yeah, Andrew (Mukuba) is my guy. It really hurt whenever he broke his arm. I was kind of sad for him-- he just got here-- an early enrollee, far from home. I'm just being like, a big brother to him. He's a great guy. It's been awesome."
On how much the sixth-year guys have helped:
"Skalski, you can ask him anything-- he can tell you what the corner has, what you got. Doing a little Nickle SAM, so he's really helped me there to learn the whole defense. Nolan's got knowledge of both the free and strong. Learning tendencies and watching film with guys like that, it just brings you up too."
On his goals this summer:
"Obviously, I need to get stronger. Got to be better tackling you know, I feel like that was my biggest weakness. Jobs aren't guaranteed for anybody, I'm always trying to compete for a spot and so, just trying to go out and compete this fall camp. Work hard over the summer, get stronger, get faster, get more explosive, become a better tackler. Get healthy and compete for a spot."
Never miss the latest news from Clemson Sports Talk!
Join our free email list