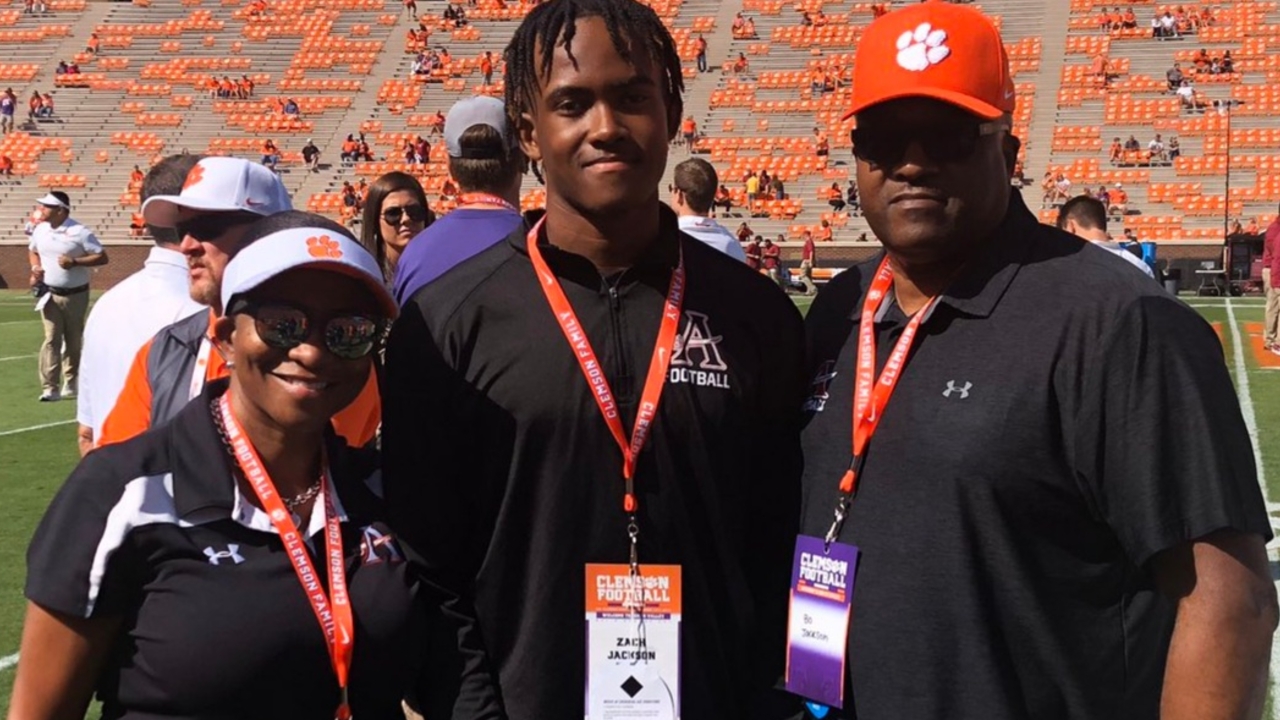 Clemson Football Recruiting
Big Peach State receiver a late addition to Clemson's class
---

Feel the difference - The MOST DIGITAL CONTENT covering your CLEMSON TIGERS! Avoid clickbait and sites bloated with advertising!
Register for your FREE ACCOUNT today, and you are eligible to win a LIMITED EDITION CLEMSON FOOTBALL. ←
---
On Friday, Zach Jackson‍ officially accepted a preferred walk-on offer from Clemson as a member of the 2021 recruiting football class. The 6-foot-4, 207-pound receiver from Allatoona High in Acworth, GA will report to campus in June and plans to major in computer engineering.
"I got a preferred walk-on because I got accepted to Clemson about three months ago," Jackson told Clemson Sports Talk. "I contacted them and I let them know that I got a scholarship and then, I got a preferred walk-on [offer]."
When Jackson moves in this summer, it will be his first time back on campus since Oct. 12, 2019.
"I really liked the facilities and all the people I've met, like all the students, were nice and everybody was just - it really seemed like a family there, so I really liked it a lot compared to all the other schools I've been to," Jackson recalled from the Oct. 12 visit where he watched the Tigers defeat Florida State 45-14.
Jackson also took visits to Florida and South Carolina and has offers from Army, Bryant University, Morehead State, Stetson, and The Citadel.
"Clemson was definitely my first choice," said Jackson, an excellent student who also received interest from Ivy League schools Harvard and Cornell. "They [coaches] said I'm gonna have to work harder than anybody else because I'm a preferred walk-on, and like, I'm just gonna have to grind it out through the years, and I'm gonna try my best to earn it [scholarship] as quickly as possible and show my worth towards the team."
Clemson has a great recent history with walk-ons earning scholarships and becoming standouts in and outside of the program. Running back Darien Rencher, the 2020 Disney Spirit Award recipient, and Las Vegas Raiders receiver Hunter Renfrow, widely known for his game-clinching reception in the 2017 national championship game, are two of the most memorable former walk-ons in Clemson and college football history. Rencher and Renfrow are models of what perseverance and a belief in yourself and the program can do.
"Yes sir, for sure, it did," Jackson said when asked if Rencher and Renfrow's time in Tigertown influenced his decision in any way. "I've seen Clemson have a very good history with the walk-ons - those guys have done well."
Rencher came to Clemson as a promising running back who suffered multiple knee injuries at nearby T.L. Hanna High. He is now a senior graduate with 375 rushing yards and three touchdowns including a memorable 50-yard touchdown sprint in the Tigers' 45-10 win over Virginia Tech in 2020. Renfrow, an option quarterback at Socastee High (SC), moved to wide receiver and amassed career totals of 86 receptions, 2,133 receiving yards, and 15 touchdowns.
Clemson has a deep, talented receiver group when everyone is at full strength, so a move to tight end for Jackson in the future would seem plausible. He looks to have the frame to add weight and skills to play the position. So what has Jackson heard from the coaches?
"They said they're gonna put me at receiver, and then see how things work out. And just go from there."
Last season, Jackson caught 20 passes for 350 yards and four touchdowns. As a junior, he had 21 receptions for 310 yards and five touchdowns.
His numbers may appear modest but Allatoona's I-formation offense is not "pass-happy" and most of Jackson's opportunities were primarily limited to play action and jump balls. He also had to share touches with Asante Das, a freshman receiver at Georgetown University, Bennett Christian, a 2022 Ohio State tight end commit, and senior Troy Glenn, a first-team All-Region receiver.
Never miss the latest news from Clemson Sports Talk!
Join our free email list
PRESENTED BY