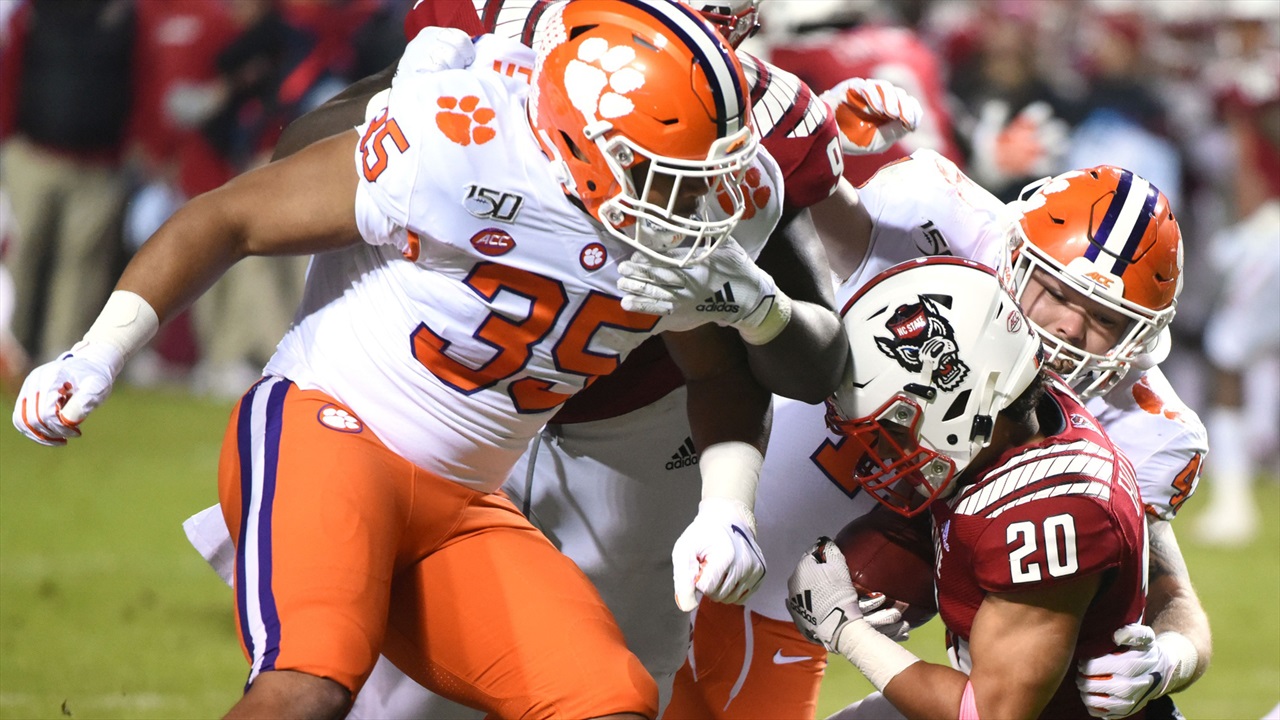 Photo by © Rob Kinnan-USA TODAY Sports
Clemson Football
"Am I going to be okay?": How Justin Foster turned the corner in COVID-19 battle
---

Feel the difference - The MOST DIGITAL CONTENT covering your CLEMSON TIGERS! Avoid clickbait and sites bloated with advertising!
Register for your FREE ACCOUNT today, and you are eligible to win a LIMITED EDITION CLEMSON FOOTBALL. ←
---
CLEMSON, S.C. – CDC studies show that over 30% of people infected with COVID-19 experience long-lasting symptoms.
Clemson defensive end Justin Foster found himself part of that unlucky crowd.
"Long-haulers" is the nickname given to cases that exhibit COVID remnants long after the virus runs its course. For Foster, who was diagnosed with the virus last June, his next 10 months were something out of a nightmare.
He was constantly tired. He struggled to work out without rapidly losing his breath. His asthma and allergies did him no favors, either, as Foster often founding himself gasping for air after simply walking up a flight of stairs.
"It was frustrating," Foster admitted. "A simple jog or a simple workout, or even just a walk around the neighborhood was very challenging. Sometimes when I laid down at night and sat there breathing, I was like, 'Am I going to be okay?'"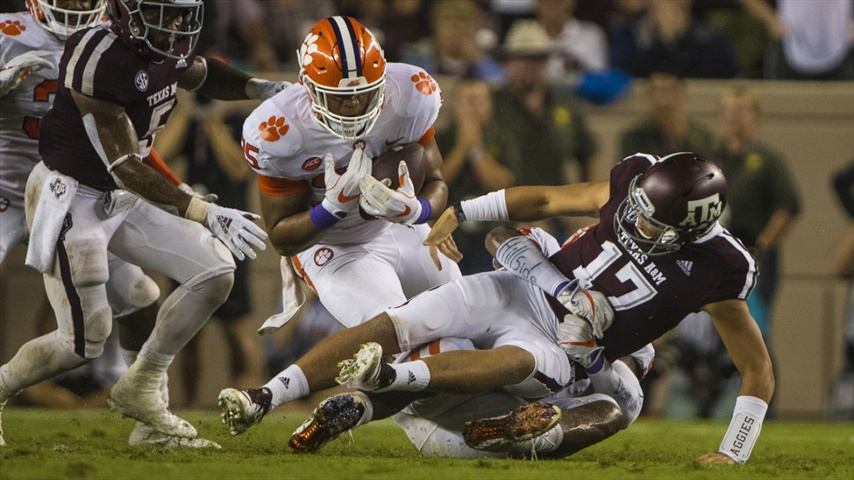 © Jerome Miron-USA TODAY Sports
After being diagnosed at the end of June, Foster reported to last year's fall camp hoping for the best. He performed basic workouts, he says, with the hope of making it back in time for Clemson's opening game.
"A good day for me was probably about 30 to 40 percent of my normal. There was never a time where I felt great, where I felt like I could go back out there. I was always having shortness of breath, chest pains and asthma attacks."
And after the virus caused him to miss the entire 2020 season, Foster came to a crossroads. He'd grown weary of football in general, and he knew his health hung in the balance. On Feb. 24, Foster announced his intention to retire from football and focus on his physical well-being.
Head coach Dabo Swinney wanted Foster to wait until he was sure of his decision, Foster says, but was always more concerned with the fifth-year senior "doing what was best for him."
"It wasn't an easy decision for me. [Swinney] knew that potentially, down the road, I could have a shot at the NFL. But at the end of the day, when making my decision, he just wanted me to be at peace and not regret anything."
"I was at peace with not playing, but I knew if I did get better in the coming months, there would be some regret if I didn't at least attempt it."
Foster did just that, turning a corner after receiving his first round of the COVID-19 vaccine in early April. Not even a week after his initial injection, Foster's condition improved enough for him to resume routine exercise. Within the past 14 days, he's begun lifting weights again, as well.
Foster decided to rejoin the team after a recent appointment at Duke University's post-COVID practice.
His doctor informed him of his ability to return to football from a physical standpoint but reiterated that plenty of mental obstacles were still ahead.
"Physically, I'm in a better place, but overall, how I feel mentally is the big thing. I do see myself getting better," Foster said. "The doctor told me I needed to suck it up on my off-days and push through. Just knowing that I can push through is big."
"In the next month or two, she thought I'd recover enough to compete at the college level, and she motivated me and said that if I wanted to play again, she'd encourage me to and support me, and she would do the best she could to get me back healthy. She believed that I would be healthy and, for me, that was a big stepping stone."
Swinney recalled Foster's declining mental state earlier this year.
"I'm just really, really excited because I know he wasn't in a good place mentally in January. I tried to talk him out of [moving on] then, but I did tell him, 'Hey, if something changes, the door is open for you,' and things have changed. He's feeling a lot better. Like I said, he's back training, and I think being away has rekindled that fire for him."
"It's not often you get a call from a great player that you think is gone and he says he's coming back, so just a great thing… Justin's a great leader with great experience and a really talented football player."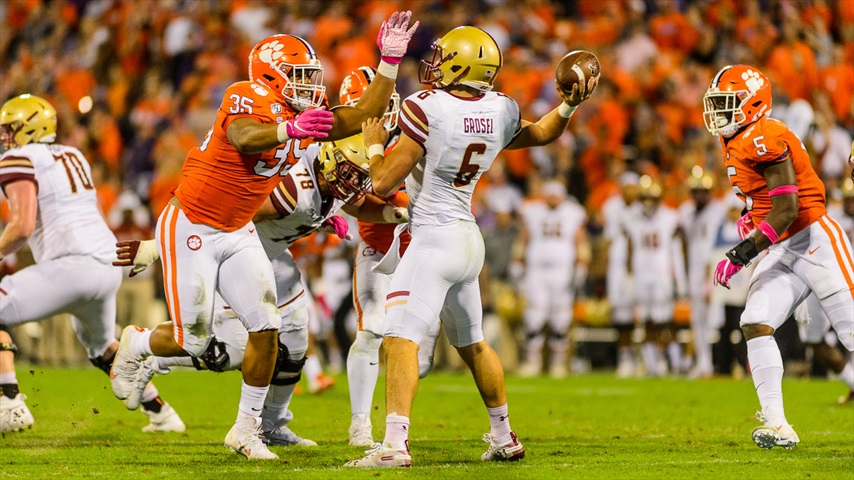 Clemson Sports Talk
Foster says he isn't entirely sure he'll ever be able to return to his previous Honorable Mention All-ACC form. But that won't stop him from trying.
"[Swinney] said if you're feeling better, even if you're not 100 percent, you can start working with the team, and we'll build you up from there. He said, 'You don't have to play 60 snaps a game; you'll just do what you can do.'"
He'll have the chance to help anchor a defensive end unit touted as one of Brent Venables' most promising in years — alongside Myles Murphy, Xavier Thomas and K.J. Henry.
"I'm excited about it. I'm going to go out there and work hard each day and feel like I'm starting from the bottom, getting back in shape, getting back where I want to be and competing and fight each day to get ready for the season."
Never miss the latest news from Clemson Sports Talk!
Join our free email list