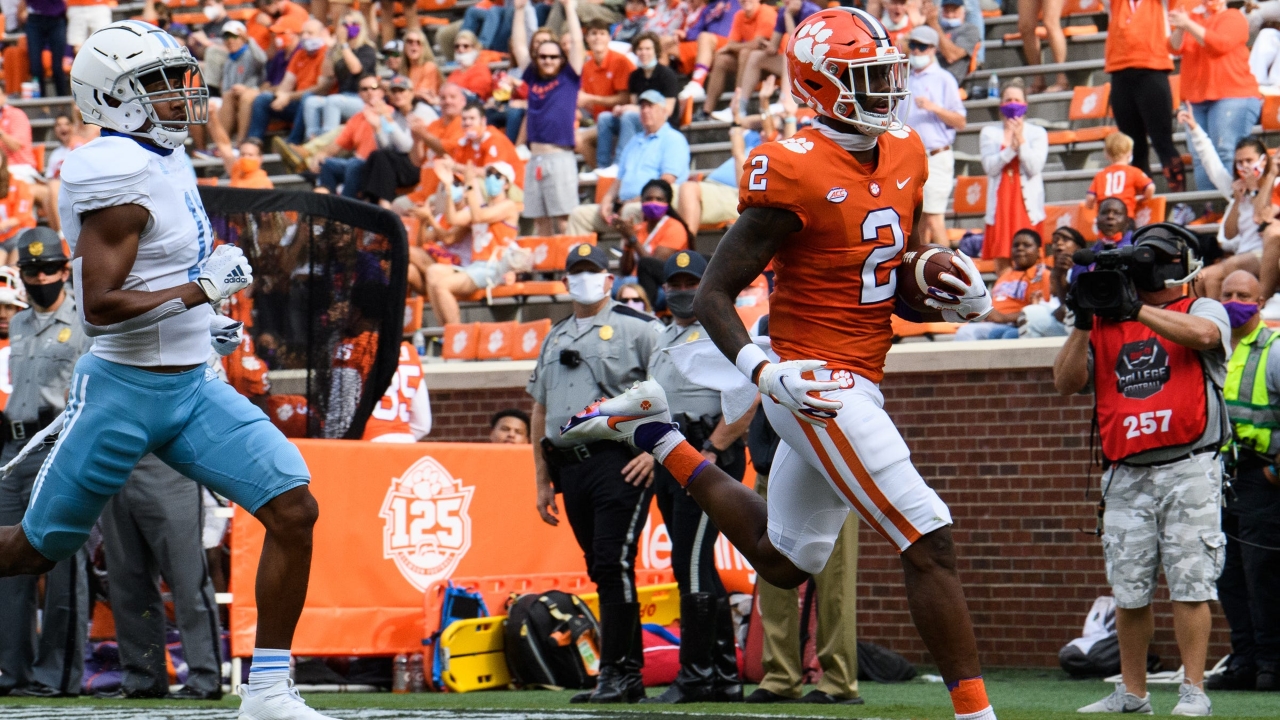 Photo by © The Greenville News-USA TODAY NETWORK via Imagn
Clemson Football
Speed Kills
---

Feel the difference - The MOST DIGITAL CONTENT covering your CLEMSON TIGERS! Avoid clickbait and sites bloated with advertising!
---
With the graduation of running back Travis Etienne, the ACC's all-time leading rusher and one of the most electrifying players in college football, Clemson must find someone to make explosive plays this season.
Etienne used his 4.4 40-yard dash speed to run away from defenses the past four years, but he is now in the NFL.
The Jacksonville Jaguars first-round pick (25th overall) rushed for 914 yards and averaged 5.4 yards per carry in 2020, substantially lower than averages of over 1,600 yards and 8.0 yards in 2018 and 2019. His numbers were affected by an inconsistent offensive line which led to more vertical opportunities for senior receivers Cornell Powell and Amari Rodgers.
So, where will the offense turn for explosive plays in 2021 without Etienne, Powell, and Rodgers?
The offense could look to junior receiver Frank Ladson for passing plays.
Ladson finished an injury-plagued 2020 season with 18 receptions for 281 yards and three touchdowns. He averaged 15.6 yards per reception, slightly above his career average of 15.1
At 6-foot-3, 207 pounds with 4.44 speed, last season, Ladson was regarded as the fastest receiver on the roster.
"Frank is definitely the fastest receiver on the team," said Rodgers, who had reported unofficial pro day 40-yard dash times of 4.44 and 4.52, in a preseason interview. "When we were racing this summer, he beat me by a couple of yards, which I'm going to get him back. I told him that."
But there are questions surrounding Rodgers' statement's accuracy because Joseph Ngata (6'3, 220), also in a preseason interview, claimed he is faster than Ladson.
"Oh no, he's not," a smiling Rodgers stated as he rebutted Ngata's claim. "He's not. He's third, though. He's behind me. I'll give him that one."
Ladson may still be challenged verbally by Ngata, since the two have yet to settle the debate on the field, but two true freshmen could challenge them both or anyone else for the title of "fastest man" on the team.
Running back Will Shipley, an early enrollee, and receiver Troy Stellato have game-breaking speed. Shipley ran a 4.46 laser timed 40 at a Nike The Opening regional in his home state of NC and was an elite 55-meter indoor sprinter. During his sophomore year, he was clocked at 6.36, the 10th best prep time in 2019.
Even with his great speed, Shipley will have a tough time taking snaps away from senior Lyn-J Dixon, who has a career average of 6.6 yards per carry, and spring game rushing leader Kobe Pace. However, he could see time as a return specialist on special teams to impact games.
Stellato has no track and field background, but a 4.42 time in the 40 and runner-up finish in the "fastest man" race at Nike The Opening regional in Miami places him in any conversations about speed in Clemson, SC.
Stellato (6'1, 185) has the size and speed to line up outside but presently projects to slot behind starter Justyn Ross and Brannon Spector.
Clemson has Ladson, Shipley, and Stellato with speed to instantly impact games but here are other players in college football, including a few the Tigers will face, who also have game-breaking speed.
Here are players with impressive 100-meter prep times under 10.4 (wind-aided times and incoming freshmen included)
.
1) Kalon Barnes CB, Baylor 10.04
2) Omari Walker WR, Arkansas State 10.16
3) Tevin Williams CB, Baylor 10.20
4) Kesean Carter WR, Houston 10.22
5) Kenan Christon RB, USC 10.26
6) Terence Horne WR, South Florida 10.29
6) Tyler Owens DB, Texas 10.29
6) Shaun Shivers RB, Auburn 10.29
9) Marquez Beason WR, Illinois 10.30
10) Drew Donley WR, Cincinnati 10.31
11) Kazmeir Allen RB, UCLA 10.32
11) Jordan Byrd RB, San Diego State 10.32
13) Noah Daniels CB, TCU 10.34
14) Jason Bean QB, Kansas 10.36
15) Tyler Harrell WR, Louisville 10.37
16) Ameer Speed CB, Georgia 10.39
Here are top 40 times (only laser) from four players who made their marks at Nike The Opening events.
4) Chris Tyree RB, Notre Dame 4.38
3) Kelee Ringo CB, Georgia 4.35
1) Derek Stingley CB, LSU 4.30
1) Dax Hill S, Michigan 4.30
Here are the fastest players in college football for the 2021-22 season. Each player competed on their college track and field team this season (wind-aided times included).
3) Marcellus Moore WR, Purdue 10.12
Moore's second-best time is 10.24.
2) Arian Smith WR, Georgia 10.10
Smith also ran 10.14 at the NCAA Division I East Preliminary Round.
1) Devon Achane RB, Texas A&M 10.04
Achane was also clocked at 10.14 in 2021. He used his speed to rush for a season-high 140 yards and two scores in the Aggies 41-27 Orange Bowl victory over UNC. The freshman was named the Orange Bowl Most Outstanding Player.
Never miss the latest news from Clemson Sports Talk!
Join our free email list
PRESENTED BY