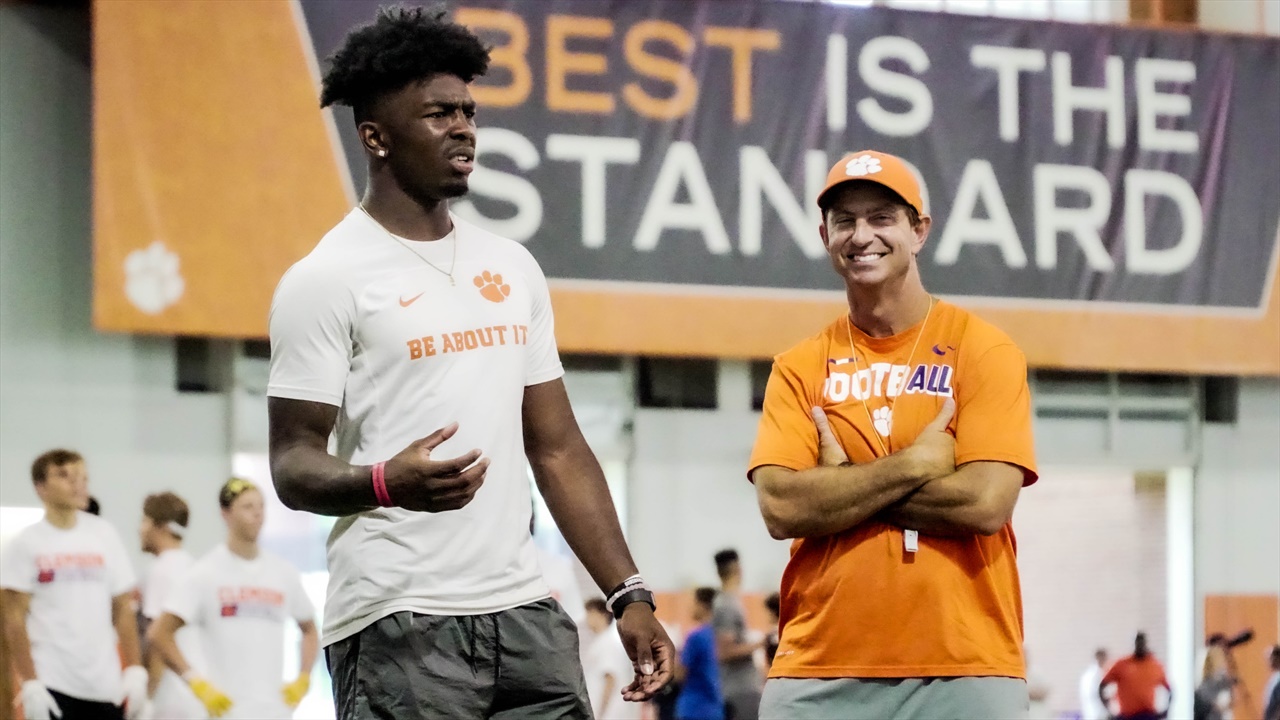 Clemson Football
Swinney on Justyn Ross in team's final scrimmage 'He had a great day'
---
After missing the entire 2020 season and the first scrimmage of fall camp, preseason All-American receiver Justyn Ross was a full participant in Thursday's scrimmage.
Dabo on having Ross back on the field:
"I just can't tell you how awesome it was to see him out there today. And he reminds you quickly [of] who he is. So [he] had a few big plays and just good to see him back out there playing football. So really excited about that for him. He needed to get some live work today, because he missed the first scrimmage. And he didn't disappoint."
A week ago, after his first official practice, Ross said he was ready to take a hit.
Dabo on Ross's reaction to contact:
"He popped right back up. He took a couple of good hits and kept on to the next play. He had a great day, and it couldn't have worked out any better as far as what I needed and what he needed. He's been ready to go since last spring in his mind as far as ready to play. But it's been a long process and today was finally the day he done some thud work. Today was finally the day to let him get about 12 plays live. He had three great catches but got knocked around a few times, and I don't think I've ever seen a player so happy to get tackled. But he was great. He was ready to go. So, just a blessing to be able to see him out there today, and everybody was excited for him."
The defense was in control in the previous scrimmage but on Thursday, the offense made more plays and less mistakes.
Dabo on what he saw from the offense in the final scrimmage:
"Yes, today was much better. I think we had.. I think we went from 10 penalties to two. And we had no bad snaps, we had a couple with our third group, our pride group. But you know, the guys that we know, that we got to count on and go play in a couple of weeks they were excellent today, right on point. Right where they need to be. So it's good to see. That's what we wanted to see."
Dabo on the progression of quarterback D.J. Uiagalelei:
"He hadn't really had a bad day. I just thought this was his best day as far as just putting it all together. Now, some of that is because of other people, you know, a little cleaner up front, but just command of everything that he's doing. Fundamentally, I thought he was his best today, made the right decisions, made some critical plays at critical times.
"But just very clean, very clean with his exchanges, clean with his footwork, made all the calls right, and made good decisions. I just thought he had a game-like mentality today."
Dabo on having fans back in the stadium:
"I'm super excited about our fans. I think everybody that was a part of last year, would tell you that was the number one thing that we missed -- was the passion of the fans. We got a lot of passion to play the game but the passion of the fans is an awesome part of college football. So definitely looking forward to that."
Never miss the latest news from Clemson Sports Talk!
Join our free email list
PRESENTED BY