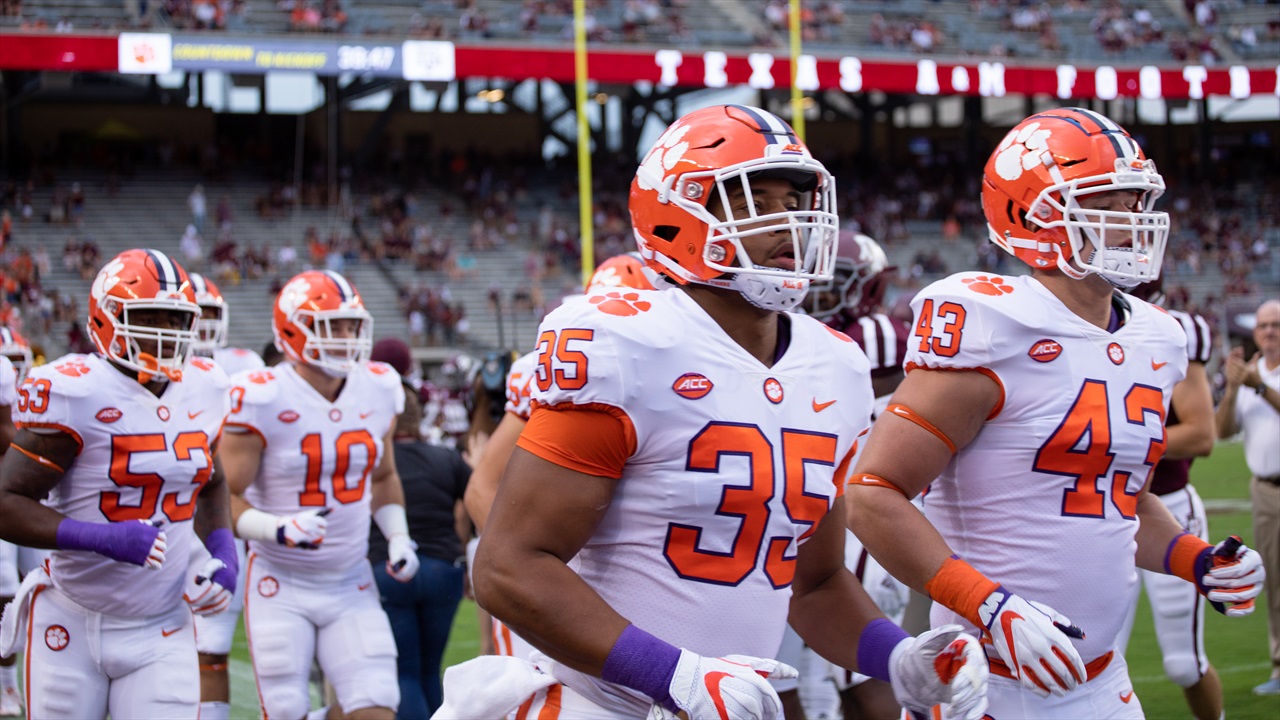 Photo by © Rey Romo/TexAgs
Clemson Football
Justin Foster wasn't 'in a good place' last season while dealing with COVID
---

Feel the difference - The MOST DIGITAL CONTENT covering your CLEMSON TIGERS! Avoid clickbait and sites bloated with advertising!
---
On getting back to playing football:
"Oh, it was great. I mean, I didn't think I was gonna have the opportunity to step back out here. Lots of doctor's appointments, a lot of discussions with Coach (Swinney), and many other people. I'm just happy to be out here. I kept the face and I'm just having a great time."
On where he was last year dealing with his situation:
"I was very frustrated with the whole situation of what's going on. I'd been back and forth to doctors, and I was going to MUSC, and the last visit the doctor recommended for me to hang up football and rest. He didn't know how long it would be a couple of months or if would linger on even longer. I just kind of just made the best decision for my health at the time. Mentally, I wasn't in a good place-- to kind of sit around the whole year-- not knowing what's going, struggling with my health it was just best for me to step away."
On the most frustrating part:
"The most frustrating part is you go to the doctor and it was still new at the time and the doctor was like, 'we don't really have anything at the moment. We've got this going on, but we don't really know how to help you at the moment. That was the most frustrating part. You feel good for a week-- 'I'm back to myself, then like the next day you are back at ground zero."
On if he was 'shut down' most of last season:
"Throughout the whole season, I was more shut down. I was very limited. I didn't do much at all during the season. We tried to do things every day, but it was just kind of hit or miss. Just kind of being cautious-- just protecting myself."
On the worst part of dealing with COVID:
"The main thing I was dealing with was breathing. I was having a really bad allergic reaction. Just causing a lot of inflammation in the longs-- throat area-- and things like that. I would say the main thing was the breathing, that really affected everything."
On getting the vaccine:
"At first with the vaccine, I was a little bit like, 'I don't want it,' (it was) kind of fresh out. I'm not against it at all. It was new and I'll let it work its course-- I'll get it eventually. So at first, I was just kind of like, 'Nah, I'm not going to get it.' Then I went to my doctor's appointment and it was recommended. I still wasn't trying to feel it all, but then one day, I was like, 'You know, it's best if I just go and do this to myself to protect myself for when I do get better.' I'm not against it at all, it was just that it was new at the time."
Never miss the latest news from Clemson Sports Talk!
Join our free email list
PRESENTED BY