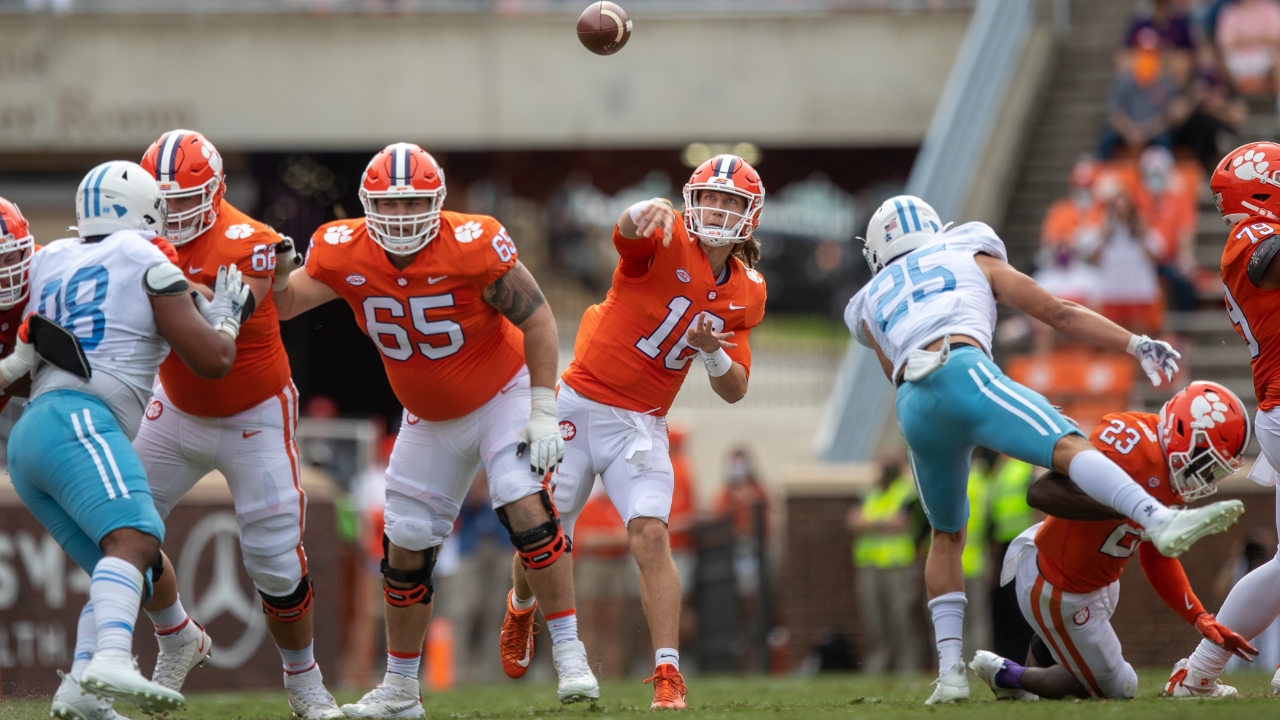 Photo by Courtesy of ACC Media Portal
Matt Bockhorst on possibly playing center against Georgia: 'I will be ready'
---

Feel the difference - The MOST DIGITAL CONTENT covering your CLEMSON TIGERS! Avoid clickbait and sites bloated with advertising!
---
On whether he had played center prior to fall camp:
"Um, well, I played center at The [Nike] Opening before my senior year, and I tore my ACL. So that wasn't very long lived. Prior to that, no, I've never played center. And but like I said, going back to the value it might add for me potentially projecting to the next level -- it's something that number one makes me more valuable, just to be able to have played now in college, potentially all three inside positions. But also just the fact that it might be my best position-- and to have the ability to snap and also from the intellectual side making the calls and adjustments and all these things that go into playing center. I think that reflected me well, so it's something that I hadn't really seriously done until this year. But I really took it upon myself to accept the challenge."
On his ratio of reps at left guard and center this fall:
"Oh, I'm not much of a math guy. We're splitting reps and it's just one of those things. I think that they're sliding guys in and out. I mean, there'll be days when we will feature Pennington sliding in there and getting right guard reps. So it's great to have these young guys challenge and just kind of forged in the fire, if you will. So we're splitting reps, and guys are getting comfortable playing different positions.
On when it was determined that he would take reps at center:
"That's a great question honestly. For me personally, I think I try to be a very self-aware guy, and I know, from a projection to the NFL perspective that moving to center would be advantageous for a lot of reasons. I think there were conversations about that long ago, just having the ability to snap -- not necessarily to be the starting center -- but potentially getting film at center.
Then it just became a conversation of who's our best five [offensive linemen]? Who are we going to get on our field? And then it transitioned from, hey, this could be advantageous for me too -- this could be advantageous for the team. With that in mind, I kind of conducted myself this summer with that possibility so that when fall camp rolled around, I wasn't taking my first snaps. So I'm not really sure how it really started off, but I knew that both sides thought it might be mutually beneficial."
On how he feels presently taking reps at center:
"I'm really getting comfortable, and when I'm getting those reps, I'm feeling pretty good. Obviously, getting consistent with my snaps, that's the big thing. So just kind of continually getting better."
On being comfortable enough at center to man the position against Georgia on Sept. 4:
"Well, you know, I mean, we'll see what happens as far as the lineup goes, but I feel prepared, I'm confident and like I said, you know, if we didn't have this defensive front, and the defensive packages to go up against every day I don'tknow if I would feel that way, but when you're going up against Tyler Davis, Brian Bresee, Tre Williams, Ruke Orhorhoro and on and on and on every day, either you lose all the time, or you're forced to get better and get comfortable with it. And so like I said, Now, at this point, I'm really confident and comfortable and, and if my number is called, then I will be ready."
Never miss the latest news from Clemson Sports Talk!
Join our free email list
PRESENTED BY