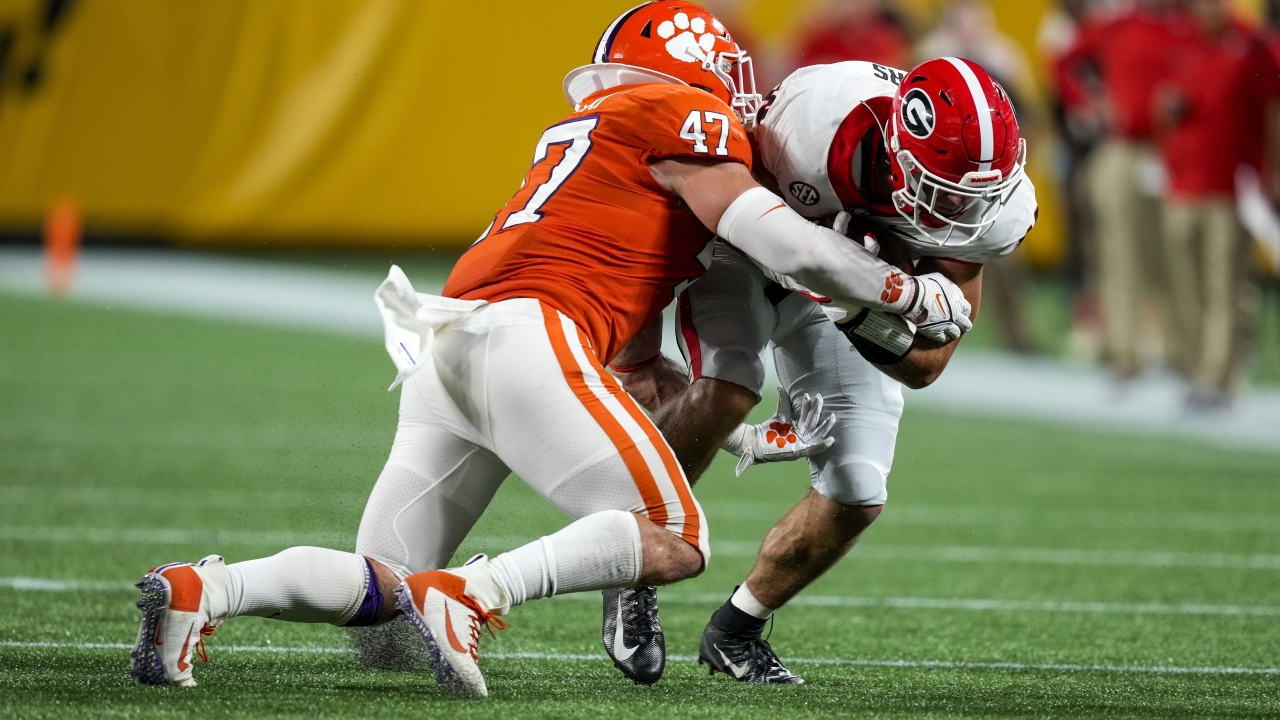 Will Shipley
D.J. Uiagalelei
Marcus Tate
Andrew Booth Jr.
Joseph Ngata
James Skalski
Myles Murphy
Andrew Mukuba
Clemson Football
The Players' Lounge: Skalski on UGA 'That was a hell of a football game'
---

Feel the difference - The MOST DIGITAL CONTENT covering your CLEMSON TIGERS! Avoid clickbait and sites bloated with advertising!
---
Will Shipley
On his first game as a Clemson Tiger:
"Yeah, it was, it was unreal for me. You know, going back to Charlotte, then playing a top-five matchup for my first college game, really my first football game and in almost two years, so just get back out there-- play for Clemson University. You know, it was unreal. It's something I'll remember for the rest of my life."
On playing in his hometown for the season opener:
"The whole family showed up, you know, a bunch of friends pretty much as many ticket tickets as we could get-- people were there. So I really appreciate all the support from them as well as all the Clemson fans."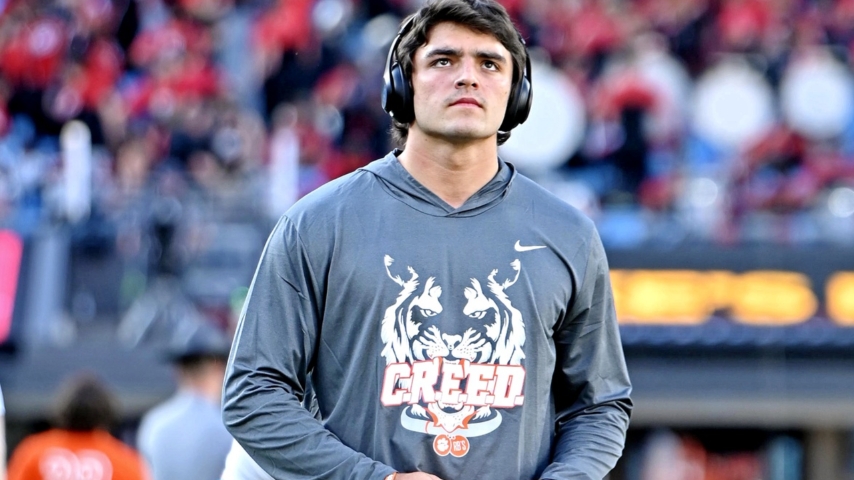 © Griffin Zetterberg-USA TODAY Sports
On coming as a freshman:
"I think the most important thing, I've just kept my head down, I've worked. That's the one thing when I came in here, I told myself I was going to do and I was going to hold myself to that. If you don't do that at Clemson, then the opportunity isn't going to present itself. So you know, coming in here, as a freshman, I really just wanted to gain the respect for my teammates, keep my head down, work, stay true to myself. And the opportunities have presented itself."
D.J. Uiagalelei
On the Georgia game:
"I think the main thing was that I didn't play very well. There were times in the pocket where I should have scrambled out and made a play-- where it wasn't the offensive line's fault-- it was my fault. There's a bunch of stuff. Missed some wide-open receivers. It's a challenge, but I'm ready to get back out there in Week 2.
On getting back out there Saturday:
I'm eager and ready for a challenge. Ready to get back into a game plan. Ready to correct my mistakes."
On falling in the opener:
"It's definitely difficult. You don't see yourself scoring three points. Hats off to Georgia they had a great defense. It was a tough night that night. I know everyone is coming into it with a different mindset and ready to go in Week 2.
Marcus Tate
On moving to guard:
"The biggest adjustment for me is my feet. I have to take quicker steps-- and also my state of mind it's a more physical position. That's what I've been emphasizing since moving to guard these past couple of months."
On if it was hard to start as a true freshman:
"I think when I was being recruited-- just seeing the depth chart-- and also just the foundation my high school coaches gave me-- they really set a good foundation for me. And for me knowing I can go in here-- I'm good enough-- and I have to tools to start as a freshman. And they chose me to come here-- so that's something I just kept in my mind."
Andrew Booth Jr.
On the defensive vs Georgia:
"Very proud-- felt like Coach V-- he had their number all night. Very proud-- felt like we dominated out there."
On if there was pressure as the game went on given that it was an offensive struggle:
"Not really too much pressure. We wanted to go out there and create a touchdown on the defensive side of the ball-- obviously, that didn't happen, but we did what we could do."
On Andrew Mukuba:
"Man, Mukuba-- he looked like he really belonged. I mean, freshman? It was crazy. He wasn't timid out there, he wasn't scared. It really showed all week in practice. He acted like he'd been here for a minute-- that was great to see."
Carl Ackerman
Joe Ngata
On playing on Saturday night:
"It was a blessing to just be out there and it just goes with all the hard work that I've been putting in."
On dealing with injuries last season:
"It was a big struggle, but nevertheless I can't complain and just taught me a lo. Taught me to be patient, taught me to work harder and it was a good lesson."
On his inspirations last year:
"It was very frustrating but I would say the one person that would give me a lot of inspiration throughout last year was Justyn (Ross). Just seeing Justyn's situation knowing that he might not be able to play ever again just gave me a little hope."
James Skalski
On the atmosphere:
"It was awesome. Obviously, we didn't win, but I had a great time. I thought the defense played really well. That was a great game, but there is a lot in front of us."
On getting in the mix with Georgia again:
"I think that would be awesome if we could see them again-- in the playoff or something. There's always talking, but there wasn't any hostility. I don't even know how to explain the talking that goes on in a game. I've got a lot of respect for Georgia it was fun playing them. The conversations were healthy. It was a really good time out there. A lot of respect for them. It was a bunch of guys having a good time playing football."
On the low scoring game:
"At halftime, I was like, 'this is my kind of game right here.' We did not give up a touchdown. That's awesome. That's just an old-school classic match. The majority of the country would be like, 'what a boring game,' but if you love football and defense especially, you appreciated that one-- it was a hell of a football game. I enjoyed every second of it."
Myles Murphy
On falling in the opener:
"The entire team played with lights-out effort. There was really no regret walking away from that stadium."
On areas of emphasis:
"Honestly, just improve the point of attack. Film study to have a better understanding of what the offensive coordinator is looking for. Knowing the different looks ahead of time-- better film study going into the game."
Andrew Mukuba
On when he found out he was going to start:
"I didn't find out until Thursday, but the whole week I was running with the 1s so I had a feeling I was going to start."
On being the first Clemson true freshman defensive back to start a season opener in records back to 1973:
"It's really crazy. Coach Venables' defense is a lot to learn-- it's a lot to take in. Me being one of those guys is impressive to me-- it speaks to what work I've put in. I thank the defensive staff for believing in me as a true freshman-- it's a big honor."
Never miss the latest news from Clemson Sports Talk!
Join our free email list
PRESENTED BY