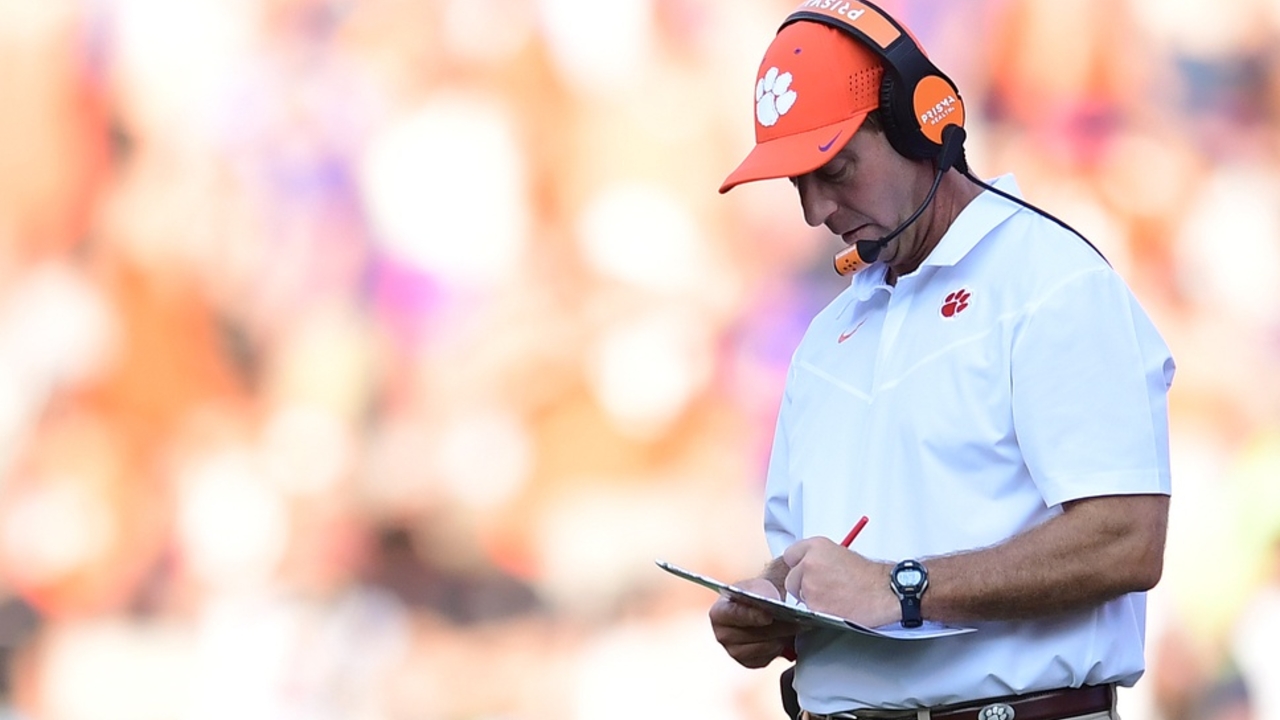 Photo by © Adam Hagy-USA TODAY Sports
Clemson Football
Swinney on Shipley as a kick returner: 'Sooner or later, he's going to bust one'
---

Feel the difference - The MOST DIGITAL CONTENT covering your CLEMSON TIGERS! Avoid clickbait and sites bloated with advertising! Support a 100% Clemson-owned business.
---
Opening Statement:
"All right, well proud of our guys you know, in how they handled the week we had a really good week of practice. This is a very mature team with great leadership and just love how they went to work this week and a great perspective, so not surprised to see him show up ready to go."
On the offense:
"Offensively, we created some good balance. We got the run game going. Good to see Koby (Pace) and (Will) Shipley have the type of day they had. Thought D.J. Uiagalelei had a really good day-- really had one miss-- little high on the screen and tips are usually picks and that was a tough break there."
On Justyn Ross' performance:
"Awesome to see Justin Ross come back. Had a really good day and man, he beat himself up all week after last week. Really proud of him and pretty special to see him get in the endzone. Kind of miss timed his jump on the one-- I thought he might have had another one. Awesome to see him score."
On the defense:
"The thing I'm most pleased with is the defense. Two weeks in a row no touchdowns-- it's been since 2017 since we've done that. Not only no touchdown, but a goalline stand on top of it. Four downs, down there, and all the backups in. I can tell you that's been some of the most frustrating times for us around here especially with Venables is when you get in some of the games like that and you sub guys and all of sudden you see a drop-off and guys give up a score and things like that. But man, those guys played their tails off. We had a couple plays here there, but to see them dig in and get that goalline stand."
On Lyn-J Dixon playing the first two snaps then sitting for a while:
"He just needs to grow up, needs to grow up. It's just that simple. He needs to be a team player-- just grow up. He's a very good player. Obviously, he's very talented and we've seen that, but just need him to stay out of Spiller's doghouse. That's really it."
On Tony Elliott's start to the season as a play caller:
"Everybody's getting into the rhythm of the season, and things like that, but man, Tony (Elliott) has been doing this since 2014. He's been pretty good. It's kind of laughable when you get into some of the stuff, you lose a game and the next thing, you know, you've forgotten football. But it comes with the territory. Tony's outstanding, and he called a lot of great plays last week, and we didn't execute. So when we execute the calls that are made, then we complain about playcalling. But when you call plays, and it's everything's there, and we're not executing what's called, well it's hard to really be disappointed or mad about playcalling."

On Will Shipley's performance:
"He's great. He didn't get a whole lot of opportunity last week. I love having him back there at kick return. Sooner or later, he's going bust one. I love his passion for the game. His toughness-- he is relentless. Every time he gets it, he runs the ball like his life depends on it. That's just how he plays the game. As the game continues to slow down for him, and he gets more and more experience, he's gonna be a great one. No doubt about it."
Never miss the latest news from Clemson Sports Talk!
Join our free email list
PRESENTED BY