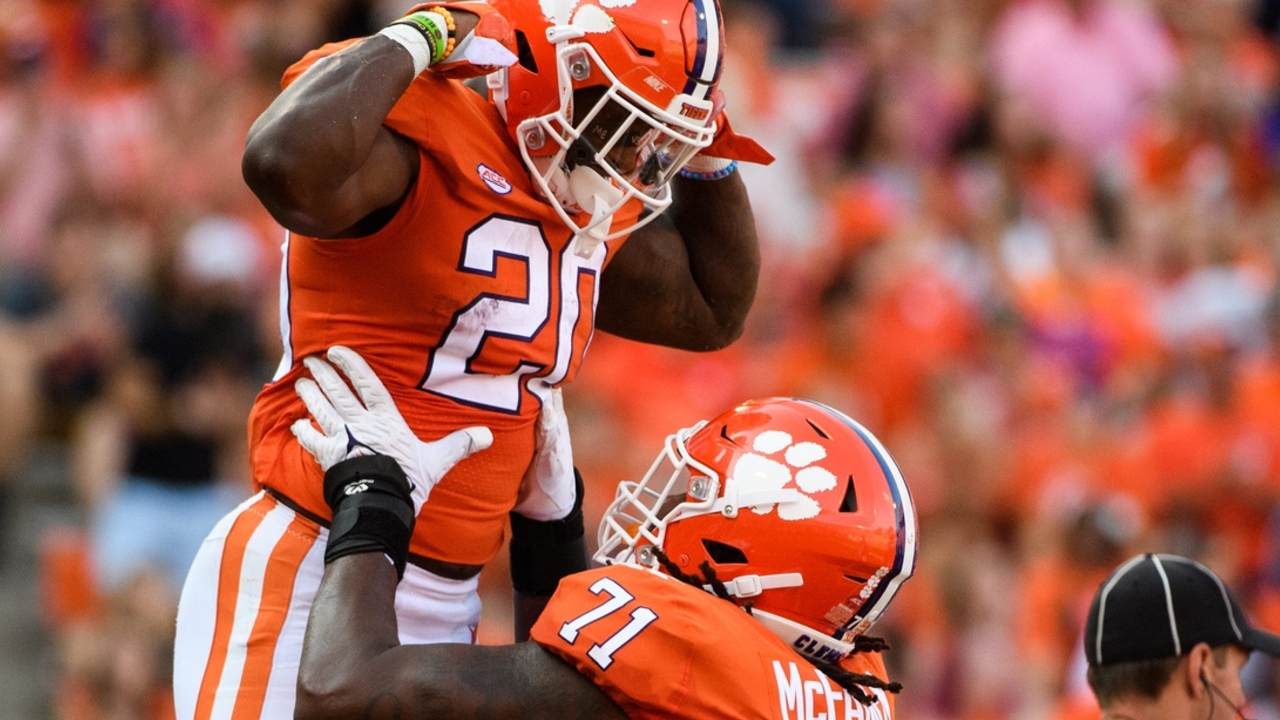 Beaux Collins
Ruke Orhorhoro
Kobe Pace
Bryan Bresee
Will Taylor
Jeremiah Trotter Jr.
Clemson Football
The Players' Lounge: "I just love the combination of athletics and academics here"
---

Feel the difference - The MOST DIGITAL CONTENT covering your CLEMSON TIGERS! Avoid clickbait and sites bloated with advertising! Support a 100% Clemson-owned business.
---
Beaux Collins
On playing in Death Valley for the first time:
"It was really, it was a little nerve-wracking at first being able to run down the hill, seeing all the fans. As the game got going and I got my catch, I was a little bit more calm and after the catch most definitely got a little more relaxed in the game."
On having a former high school teammate in D.J. Uiagalelei as his quarterback:
"It helps a lot-- on and off the field-- it helps to be able to have a friend off the field that I've known for a while now. Then on the field, just having a guy that I've played with-- know how he throws a ball. I know his tendencies and things like that. It's helped a lot in the process."
On his recruitment to Clemson:
"I would say before my junior season, I came here on a visit. It was during the summer camp in June. I came out here, performed well, during the camp-- the coaches, I already kind of known about me through DJ and things like that. When I came out here, I performed well at the camp and received my offer from Coach Dabo. Ever since then, it was a pretty good relationship between Coach Scott that used to be here, and when Coach Grisham got the job, we really hit it off. I just fell in love with the place."
Ruke Orhorhoro
On what these first two games have meant for him:
"I've gained a lot of confidence, but most of my confidence came from practice. I feel like, practice is where you boost your confidence and gain the trust of your teammates-- and start trusting yourself more. Yeah, I've gained a lot of confidence throughout these last two games."
On who he's tried to learn from:
"I used to watch Aaron Donald a lot and that's pretty much it. I used to watch a lot of Aaron Donald clips just to see the way you get to the quarterback relentlessly. I just tried to take some tips from that."
On who he hangs out with on the team:
"I usually hang out with the same guys Jaylen Phillips, Andrew (Booth), Joe Ngata, Frank Ladson, Sheridan Jones, and just all those guys. Those are my guys. Most of them are my roommates and stuff and Taisun (Phommachanh). I'm pretty skinny myself, you know, I look good, but we're not gonna get into all that."
Kobe Pace
On how the season is going:
"Things are going good. I'm just here to keep working, working my craft, and just helping out the team as much as I can."
On the feeling coming into the season for the running backs:
"Just to prove that we are a good running back room. We call ourselves the best offense in the nation, so just to go out and prove that every weekend. I think that's what drives us to keep going."
On playing alongside Will Shipley:
"We feed off each other's energy, so when one person is going, we all go. So I feel like with him running a certain way it affects all of us and with everybody in the room."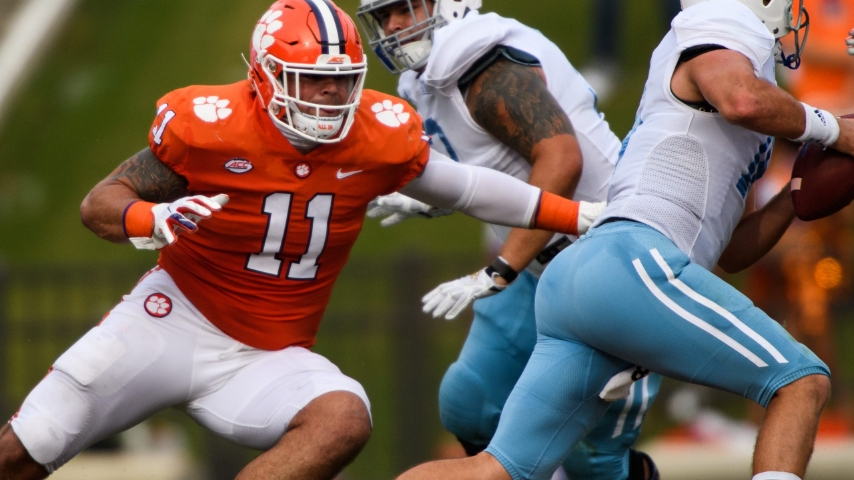 © The Greenville News-USA TODAY NETWORK via Imagn
Bryan Bresee
On how the defense has played:
"I just think the defense as a whole is played very well. We all come in every week with a really good mindset-- taking on the week. It's always a new game plan. So just everyone getting in, watching film, learning our game plan for the week, everyone's done a really good job taking that on and doing it every week and staying on it. Everyone's just done a really good job."
On if there was a big jump from Week 1 to Week 2:
"I think everyone took the offseason really, really serious and did a really good job of learning their plays. I don't think it's a big jump from Week 1 to Week 2, just I think everyone came in really prepared Week 1. So there's not really a huge jump to be made in Week 2. We have stuff we need to work on, obviously, but as a defensive performance, we played pretty well-- and there's not a big drop-off from the 1s to the 3s. Everyone continues to play well,. Everyone knows what they have to do. Some younger guys make some mistakes that some older guys might not, but everyone does a really good job."
On if the defense is talking about keeping the 'no touchdown' streak alive:
"I wouldn't say just in that streak-- just in general, playing good defense, Playing good defense is really important to us and if that means they don't score then great. We have goals set every week throughout the whole season. Goals that we try to hit. So just to play good defense-- (we'll) probably let up a touchdown throughout the whole season, but to continue to keep working at everything on the defensive side of the ball, and doing what we can."
© JOSH MORGAN/Staff via Imagn Content Services, LL
Will Taylor
On when he got the nickname Maverick:
"Coach Elliott said 'I'm gonna call you Maverick,' I was like, 'Maverick?' He's like, 'Yeah, like Goose and Maverick from Top Gun.' I was like, 'Okay, I kind of like that.' So it started a couple of weeks ago and it's been catching on ever since. So that's what he's been calling me."
On why he thinks Elliott chose the nickname:
"I don't know, I guess me and Maverick have some of the same qualities together. I like Top Gun. Maverick seems like a very confident guy. I like that."
On working out for Coach Swinney in camp several years ago:
"I just came out with a couple of buddies just trying to get better-- trying to come up and not necessarily get a look, but I was just trying to get better at a camp. I started out at quarterback-- it was a three-day camp. Started out at quarterback the first two days, and I had a baseball tournament upcoming weekend. I want to save some throws for my arm. So I brought my receiver gloves and started running some routes. Next thing I know, I'm over there talking to Coach Swinney. It was just kind of a cool experience to just start getting some interest for the first time. Ever since then, we've kind of kept contacting each other and it's been a real fun journey."
Jeremiah Trotter Jr
On being in South Carolina from Philadelphia:
"Up there, where I came from, I felt like there was a little bit more, where I lived at rather than Clemson. On-campus, there are not too many areas (to) go around and hanging out. but I still love it down here. It's a great experience. I just love the combination of athletics and academics here."
On if his father was heavily involved in his recruitment:
"My dad actually tried to sit back and let me take in the recruitment. He gave me some tips on what to look for and whatnot. But other than that, he let me decide on where I wanted to go. So he was more in the background. I would say."
On what it's like to have a father who knows so much about the game:
"He tries to let the coaches coach and everything, but I he'll still give his tips and everything because I know, he's got so much experience from playing in the league. I try to listen to him too because I know what he has done and what he's accomplished. So I try to take that all in. I mean, it feels great to be able to ask questions and get tips, that not everybody has access to. I try to soak it all up, and use it out there on the field whenever I need to."
Never miss the latest news from Clemson Sports Talk!
Join our free email list