D.J. Uiagalelei
James Skalski
R.J. Mickens
Will Shipley
Clemson Football
They Said It: Uiagalelei, Skalski, Mickens, Shipley
---

Feel the difference - The MOST DIGITAL CONTENT covering your CLEMSON TIGERS! Avoid clickbait and sites bloated with advertising! Support a 100% Clemson-owned business.
---
Take a listen to what the players had to say after Clemson's 49-3 win over South Carolina State.
D.J. Uiagalelei
On how he thought he played:
"I feel good. This felt good to be able to play back in the stadium. Felt good to be able to respond. Have a great week of preparation. I just wanted to come back out and play with a little bit of fire. I feel like I left a lot of stuff out there on the table against Georgia. I just wanted to come out and just prove to myself and just come out and just play a great game. I feel like I did a pretty good job. Still, a lot of stuff to work on. Definitely keep growing from the game-- just continue to keep doing getting better and better and better.
On going through progressions as a young QB:
"I mean on the screen overthrew Joe Ngata right there-- pick-- dumb mistake. Just make sure I'm locked in right there and just be able to focus in on every single little detail and just not let my head go somewhere. Make the easy play. It's not given right there and in a big-time game that could be a game-changer. So just got to continue to be locked in to make the easy plays and to make all the hard plays too."
James Skalski
On the performance against SC State vs. Georgia:
"It's definitely different-- different opponents, but I love how focused we were. The intent we played with. We wanted to keep them out of the endzone-- we did that. I thought top down a lot of younger players got in there operating the defense were they supposed to be-- overall I thought it was a good performance."
On the key to not giving up a touchdown:
"Coach V says all the time, 'make the layups and no one's got to be Superman,' just do your job. You get 11 guys doing your job, and-- money, so you just keep doing that. Just play free, play fast and do your job-- we've got all the pieces we need and good things are gonna happen. So hopefully, we keep this thing rolling as far as no touchdowns. That's our goal."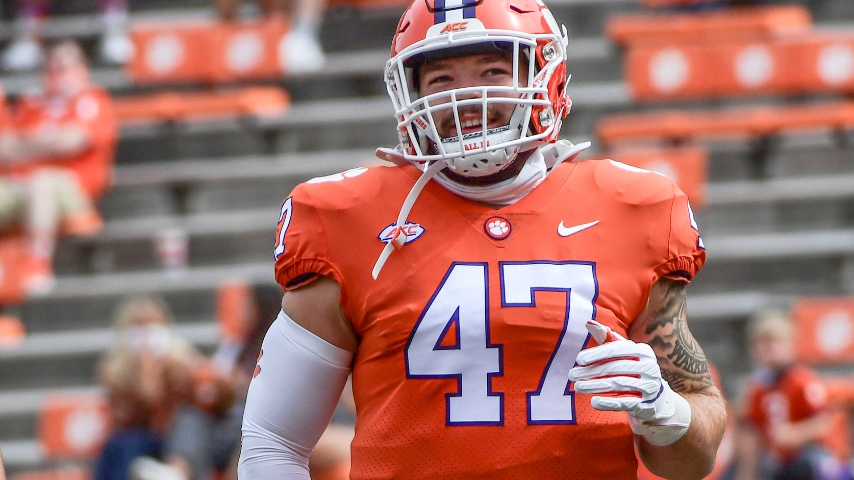 Courtesy of ACC Media Portal
R.J. Mickens
"Oh shoot, it was like some out of a movie. I've seen it on the recruiting trips and I've seen it on TV and stuff, but never really got that full college experience-- especially home experience. Charlotte-- it was a love-hate environment, it was still crazy to see that. Playing in Death Valley is special."
would you see on that play when you came up with the interception?
"Honestly, I don't really know. I prayed about it, saw it happening, and right before the play, got the signal, knew my assignment. I knew our front front front seven was gonna get pressure and then a quarterback just staring down the receiver, so I just broke up with him. I mean, it was a pretty surreal moment. Crazy moment. All glory to God though."
Will Shipley
On fellow freshman Will Taylor:
"So happy for Will Taylor. He made a couple of big plays, he should have been the first to score a touchdown. But you know, got called back. Even how I did last week at UGA dispatch. That's a lot of pressure. He's done such a great job. So I'm really proud of him and just really proud Coach Swinney puts the trust in us as freshmen."
On comparing and contrasting himself to Kobe Pace:
"First of all, he's been so awesome. As a leader for me, he's kind of taken me under his wing since I got here in January. Helped me out with the playbook. Done everything to help me. As runners, we're like a one-two punch. We have a lot of the same characteristics, but also different characteristics. We both play our own game and we have a lot of confidence in ourselves and in each other, as well as all the other words in the room. He's such a great player. I love being his compliment and I really look forward to seeing how that kind of progressed throughout the season-- just to see how successful he's going to be."
Never miss the latest news from Clemson Sports Talk!
Join our free email list