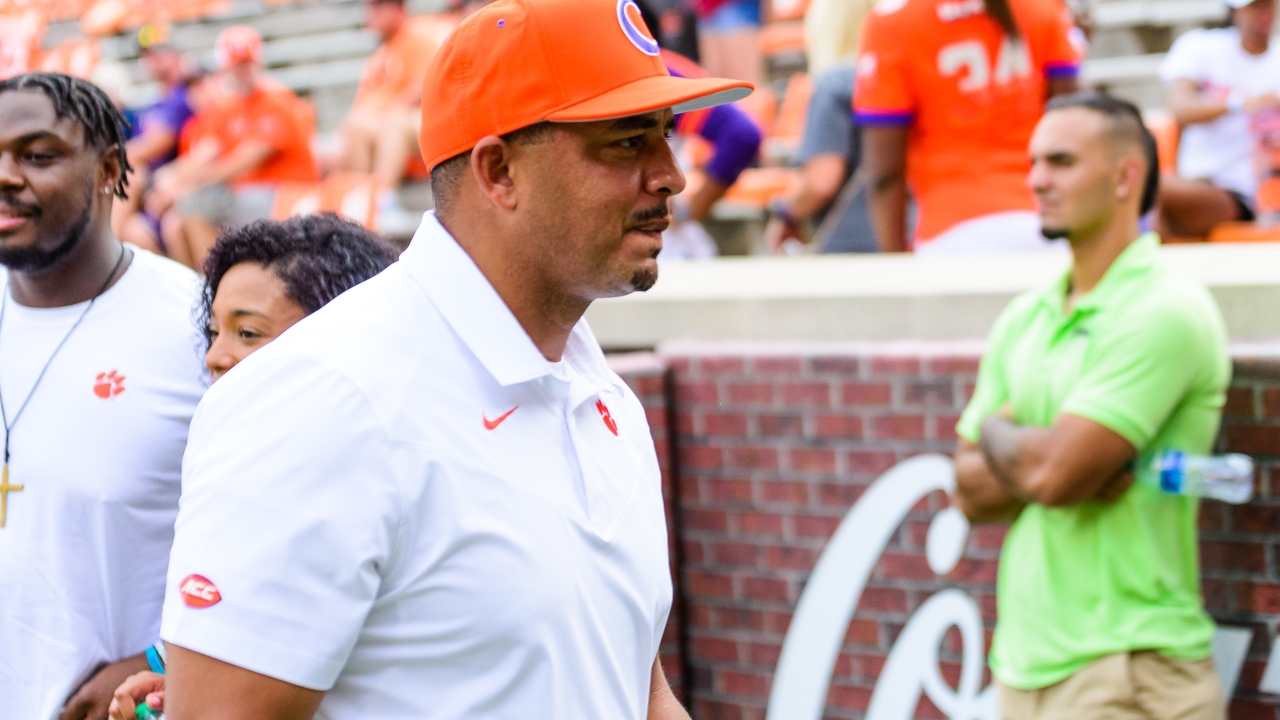 Tony Elliott
Brent Venables
Clemson Football
Coach Speak: Tony Elliott and Brent Venables
---

Feel the difference - The MOST DIGITAL CONTENT covering your CLEMSON TIGERS! Avoid clickbait and sites bloated with advertising!
---
Tony Elliott
On the offense:
"Really, really proud of our guys, because we prepared for who we thought they were going to be. They came out in a structure that was completely different than what we've seen. We've really only seen them do that one other time and that was last year versus UCF. I thought the guys did a good job of settling in, especially in the second half and doing what they needed to do. Structurally, they weren't going to give us a big play. They were going to make us be patient."
"So proud that they found a way to win the game-- to do what was necessary. We're just still leaving too many points on the field. You look at the situation, it felt kind of like we were playing an option team, just from a number of possessions-- we had eight possessions outside the last one, they're coming off the goalline. We put together some good drives but just didn't finish. Two times in the red zone we had a fumble, and we got stopped on fourth down. Proud of the fact that we were solid on third down for the most part, it could have been even better. No sacks, so there are some positives to build off of, but also there's gonna be some things that we can learn and grow from."
On the offensive issues:
"I think the turnovers and then critical mistakes-- and not coming up with plays. We got to play there in the first half where with receivers coming open, we triggered just a little bit quick on third down, which would extend the drive. Then you have a situation there in the second half, where we get a ball to Ross and we don't come down with it. So it's a combination of a lot of things, but in particular, this game, if you look to structurally what they were doing is they said, 'we're gonna sit back and we're gonna give you a three-man front, we're gonna drop at the coverage, so we're not gonna give you anything over the top. Right, we're gonna see if you can be patient,' so our whole game plan had to have to switch once we saw that they came out and the structure was going to be different than what the what we were anticipating."
On going shotgun in your own endzone:
"Coach talked about in that situation, we want to see if we can try and draw them offsides. We haven't been a much under center team in the past. So we were gonna do what we did, and we had a ball off, we get out, we just happen to fumble. We hold on to that ball, we get out of the endzone there and the game is over. That was a situation, where the discussion is, 'Do you take the slow safety there, and then kick it off?' So the biggest thing for us is we tried to draw them offsides that first play, took the delay a game and then came back and you say, 'let's do what we do,' and we're a shotgun team and we hand the ball off."
On if they debated throwing a deep ball out of bounds from the shotgun to run out the clock:
"The first part of the question wasn't really something that we that we discussed in that in that situation."
On what D.J. Uiagalelei needs to fix mechanically:
"The biggest thing for DJ is just is constantly working on his footwork in the pocket, making sure that he's not throwing off balance. That he's not leaning away from the throws. Just keeping his front shoulder locked in on his target. He missed a couple of throws, like to see him do a little better job on that back-shoulder throw and then that third-down throw that we missed in the first half on the post route or the slant route that that Joe (Ngata) was coming open on."
Brent Venables
On James Skalski:
"I mean what can you say, man? It's funny he was on the sideline and he was like 'Man, I haven't made a play all night,' I said, 'just keep playing hard, man.' I thought he played an amazing game. The game is slow for him because of all the preparation that he puts into it-- week in and week out. He takes nothing for granted. Embraces and seeks out the competitiveness of every play and wanting to be on the right side of it. It's incredible will, heart, toughness. Just makes you so proud. He's an amazing young guy. He really is epitomized what that whole group put on display tonight. It was fun to watch them keep swinging and keep fighting and competing and finding a way."
Never miss the latest news from Clemson Sports Talk!
Join our free email list