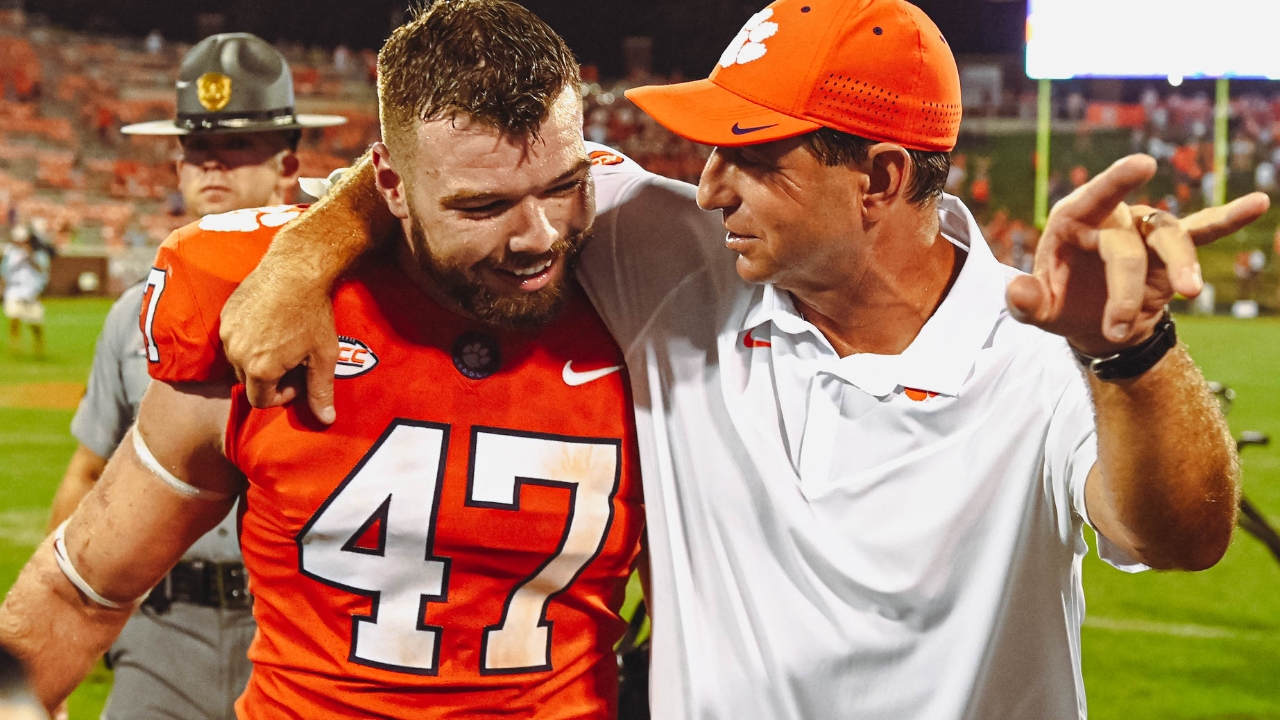 Photo by Adam Hagy-USA TODAY Sports
Clemson Football
Swinney on heading to Raleigh: 'We're gonna have to play a lot better starting this week'
---

Feel the difference - The MOST DIGITAL CONTENT covering your CLEMSON TIGERS! Avoid clickbait and sites bloated with advertising! Support a 100% Clemson-owned business.
---
Opening Statement:
"Really proud of our team for finding a way to win the game really hard-fought game-- film shows that as far as just effort from our guys. We didn't always do everything like I like to see us, but their effort-- their will to win-- those are those are great things that you can continue to build. Proud of our defense-- no touchdowns. Of the three games it's probably our worst game defensively of the three-- more missed tackles in that game. Did not contain the ball very well."
On facing NC State:
"We're gonna have to play a lot better starting this week, ain't no doubt about that, to have a chance to to win up in Raleigh against a good team."
On special teams play:
"Special teams, we continue to do some good things, they made a great kick on the hands team. Ajou Ajou just kind of missed it, he was trying to bat the ball out of bounds but-- continue to do some good things-- been overall pleased with that area and solid."
On Bryan Bresee playing though a shoulder issue:
"They've got him in a brace, which kind of keeps him from getting to the pain area. If it gets back a certain way, that's where he really feels the pain. So they've gotten kind of braced down pretty good to where hopefully his arm can't get in that position. He's amazing. That's kind of been the injury of the year, I guess. We've had a bunch of shoulder type things over the past year. He's battling through it and doing great. Just playing fast and physical and disruptive. He's a special, special player."
On keeping young players' spirits up when you're dealing with these issues:
"Yeah, well, there's a fine line there, because, again, this is a developmental game. We have good players, and we're seeing a lot of great things. Last week was a great week of practice, and seeing so many good things. Then all of a sudden you get in the game, and you got a bunch of young guys, and it's very different. We've got to not let one mistake lead two more."
On how the staff handles situations like being thrown a look you weren't prepared for:
"Well, it depends on what is the makeup of your team. If you've got a veteran team, it's not as difficult-- if you got a bunch of young guys, then it's more of a challenge. What they played us in, I we only saw at one time, that was to get Central Florida a little bit last year, but we hadn't seen it since. We knew we had to run the football and so making the adjustments and the guys up front and how we're gonna have to target things. You spend all week, it's not something that you practice against, and you've got some guys that haven't played a lot. So it's different for everybody. It's different for the backs, different for the OL, different for the quarterback, different all around. Different structure for the receivers. I was proud of the staff and the guys for for kind of hanging in there and making the adjustments that we need. We just didn't finish some of the drives. Again, 9-15 on third down, we were efficient. We just we messed it up-- critical penalties and missed opportunities, putting the ball on the ground almost cost us big time."
Never miss the latest news from Clemson Sports Talk!
Join our free email list
SPONSORED BY