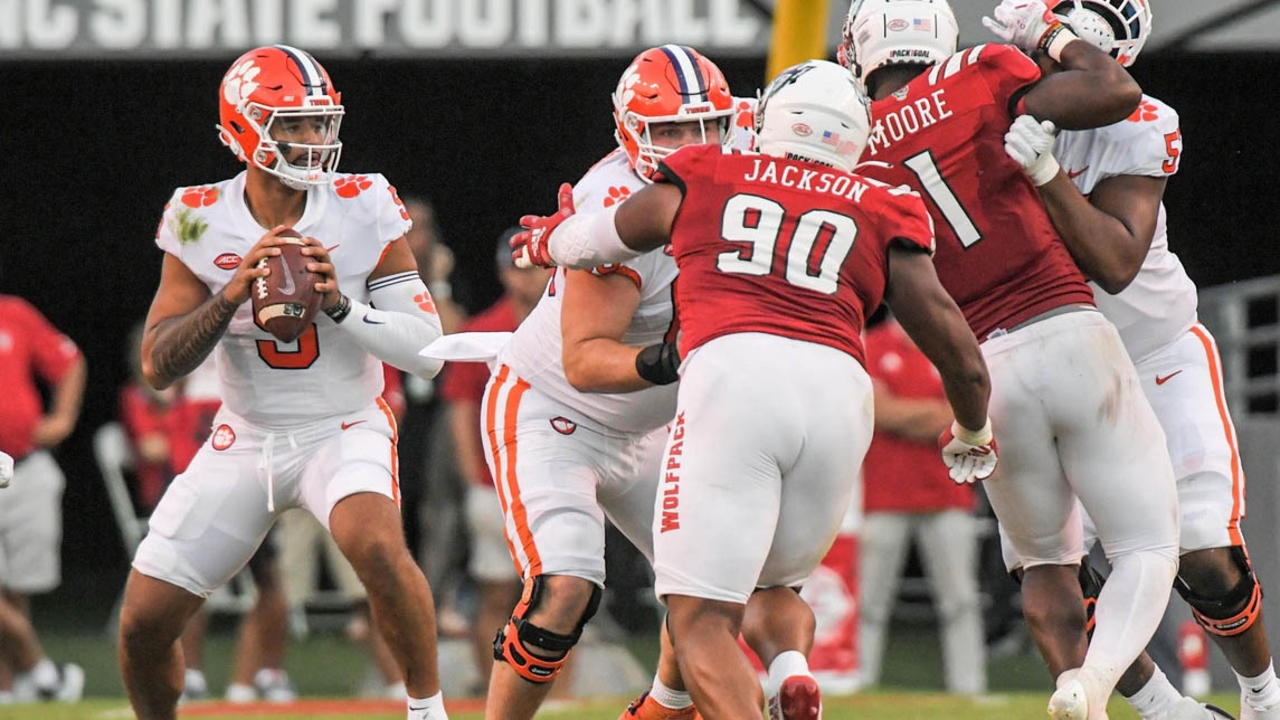 Photo by Ken Ruinard / staff via Imagn Content Services, LL
Clemson Football
Elliott on D.J. Uiagalelei taking the blame: 'it's not all on his shoulders'
---

Feel the difference - The MOST DIGITAL CONTENT covering your CLEMSON TIGERS! Avoid clickbait and sites bloated with advertising!
---
On if he's seen the post on social media about him and the offense:
"You know what? I haven't. I shut my social media off and I ain't even I'm not even worried about it. I'm sure they are. I get a lot I get a lot of text messages from friends just encouraging me, but I hadn't seen anything. It is what it is. It's part of it-- comes with the nature of the position. That's kind of their space, I'm going to let them have their space."
On the issues with the offense:
"The biggest thing is we're just out of sync right now. It's 10 guys and then one guy not doing the right thing or it's nine and you got two guys not doing the right thing. Some of that can be you know attributed to youth. The game speed is a little bit different. Even though practice speed is pretty fast here for us, it still happens fast in the game. It takes time just work through those things to be able to anticipate. Some of the mistakes were some of the younger guys. From a quarterback perspective, we've got to do a better job up front just to make him get comfortable again."
On D.J. Uiagalelei taking most of the blame:
"First of all, that's just the type of young man that he is. He understands the magnitude of the position that he's in. You get a lot of the credit, but you get all the blame too. He's been in a good spot, I haven't seen any changes in his demeanor. I think he understands that. He knows that's the right thing to do, but it's not all on his shoulders-- there are a lot of things I can do better. From a coaching staff standpoint, we all can do things better. Each individual player can do things better, it's not all on him-- he is the face so he gets the majority of the blame. He does have to improve some of the things that he can control, but some of the things he's taking responsibility for are actually out of his control."
On Robert Griffin III's calling the offense 'archaic' and what input Swinney and Streeter have:
"Well, I call it a plays, but I get input. I rely on those guys to just give me suggestions because I trust her eyes and what they've seen they've been a part of the process. The response that I would have to 'archaic' is this is the same place that they're running at North Carolina. It's the same plays that are being run all around the country, we're just not having success. We're not executing at a high level. There's gonna be critics, it comes with the territory. We've just got to do a better job of executing the plays. You execute the plays, you have success, you score points, then it's not questioned as much. That would just be my response to that."
Never miss the latest news from Clemson Sports Talk!
Join our free email list
SPONSORED BY