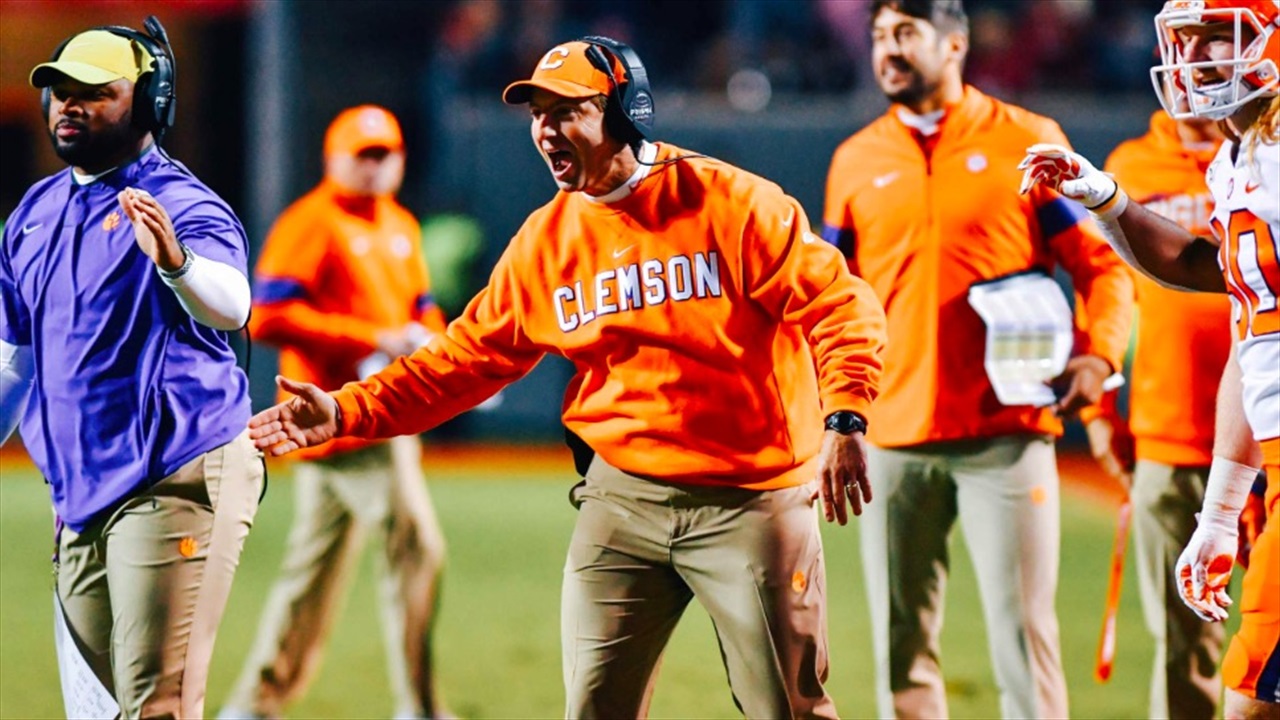 Photo by ClemsonTigers.com
Clemson Football
Swinney says Clemson 'earned' 2-2 start, Tigers have 'to get better'
---

Feel the difference - The MOST DIGITAL CONTENT covering your CLEMSON TIGERS! Avoid clickbait and sites bloated with advertising!
---
On his first win as a head coach that came against Boston College:
"No matter how long I get the opportunity to coach that'll always be a great memory. Special moment I always think about that when we play Boston College that was an incredible night up there Chestnut Hill. A lot of emotion, hurting football team that came together and found a way to get a big win that night-- never able to forget that one for sure."
On if facing really good defenses magnified the mistakes:
"You're not gonna beat good people when you don't play with details and discipline-- we've been in position too-- as I said we're literally two or three plays, a couple of less mistakes, your 4-0. Still not much better, but you're in position to win both of those games. It's hard to win when you don't do little things well. You've got to master the details right now-- that's not what we done so opportunity get better this week and we will have to be better."
On sticking with the same five on the offensive line this week:
"I'm not sure yet. We'll see what Tony and Robbie come up with between now and then. We might run the same guys out there, we might run a whole new five. I don't know?"
On how Paul Tchio played:
"He did okay. He's a redshirt freshman-- he did some good things-- just inconsistent. (He) will get better. He's a tough physical kid, just needs to grow and get some experience. Glad that he got that opportunity and he will learn from it."
On LaVonta Bentley's play:
"He's a good player and it's been great to be able to-- he's a redshirt sophomore-- he's been working around here for last year and a half. Grinding to learn both of those spots. Brent does a great job cross-training those guys. We've got several of those guys that play MIKE or WILL. Good to see him have that versatility and get the experience on game day. He's been a bright spot for us."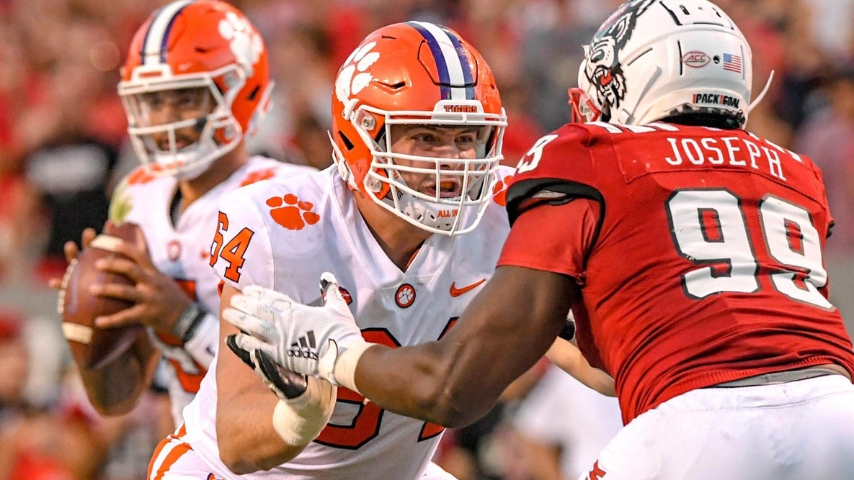 Ken Ruinard / staff via Imagn Content Services, LL
On Jordan McFadden and Walker Parks:
"I'm pleased with both of those guys. I mean, Jordan is about as solid as it goes. He's a really good player. Walker's done a nice job, too. I mean, he gets get some self in a little bit of trouble every now and then-- he's very aggressive. I'm pleased. He's a first-year starter. He's just gonna get better, better better. It's very important to him. He's not what he's going to be, but he's been pretty dang solid."
On Mason Trotter and his health:
"Yeah, he's practicing every day. Does a nice job out here. He's only got one hand. It's hard on him, but hopefully not too much longer, they'll be able to transition to where they can free his fingers up a little bit where he can have I have a second hand to anchor and things like that. Hhe's practicing every day, get some backup reps and staying sharp with the scheme and everything, but he's got a big club on this right hand."
On D.J. Uiagalelei in the RPO game:
"Inconsistent, you know, just been inconsistent. That's really the biggest thing. I mean, sometimes he's throwing-- he should have handed it or ran it, and vice versa. So good at times, and well, not so good at times. So just be consistent. We got to get a little bit more disciplined there and make sure that we're making the right decisions post-snap."
On Phil Mafah's pass protection:
"He's good. He's good. I mean, I feel very confident with him and have you know, all year. With the way we started out the season, and the way we were kind of settled in there-- there's only so many touches. So we were going to just kind of hold him and pick our spots for him. He's been ready to play. He's been practicing every day. He's been in the game plan. He's never left the varsity group. So he's done a nice job. He gets in and understands-- a great player. He's a great player so I'm excited for him to have an opportunity to get out there and play."
On losing to NCST:
"They all hurt. I mean, there's not ever a loss that doesn't hurt. Ever, for me. Especially at a place like Clemson. It's tough. You've got to pick yourself up. So again, we've had an opportunity this week to lead these guys and teach them and use this as a learning opportunity. Don't really have anybody on the team that's dealt with any real football adversity when it comes to winning and losing. We've lost a postseason game or two but these guys have experienced a bunch of winning. Their heart, their will to win, could have won either one of those games, but we earned where we are. We've got to get better. You've got to give those teams credit. Those team's earned the win. We didn't. Just back to work. This is it got to go focus on trying to win this game. That's all our focus is on. Just see if we can find a way to win a game-- and hopefully, have a little momentum going into the open date."
On Troy Stellato:
"Yeah, he's redshirting. Working on the scout team right now and trying to keep him in the meeting, doing some power hour as well. Came in behind, a lot to learn, and then got injured and that set him back-- so he missed a lot of camp. So he's just going through the walk-on process right now. Has all the potential to be a great one."
On the limited contribution of the tight ends:
"We need to get some first downs first. We're not anywhere near what our play count should be. We've had opportunities that we've missed-- the interception should have been a big play. The second play of the Georgia game should have been a big play. We've just had some missed opportunities in some games. Davis has had some opportunities, Brayden hasn't had as many-- but nobody has. We haven't had any type of rhythm. So if they just get us some first downs and get us some rhythm-- that'll come."
On if Uiagalelei was supposed to hold the mesh point on his intercepted pass to Davis Allen:
"Just too fast-- too quick. Got to settle in there, let the play develop, go have a nice play. Young player and knows he's gonna get hit-- little antsy-- just trust what you're doing there."
Never miss the latest news from Clemson Sports Talk!
Join our free email list
PRESENTED BY