Photo by Ken Ruinard / staff via Imagn Content Services, LL
Clemson Football
THE ROAR: Details & Discipline | Talking Crazy | Potential Upsets
---

Feel the difference - The MOST DIGITAL CONTENT covering your CLEMSON TIGERS! Avoid clickbait and sites bloated with advertising! Support a 100% Clemson-owned business.
---
DETAILS & DISCIPLINE.
Dabo Swinney spoke to the media on Wednesday and said, "You're not going to beat good people when you don't play with details and discipline."
He offered some perspective on the team's early-season struggles that might be helpful to some of the crazy fans. Sometimes though, coaches will say things that are meant to motivate their team, and I found myself wondering if that was Swinney's intent. Clearly, the Tigers have not been good this season, but are they closer than we think?
Personally, I just can't buy into that right now, but I'd love to be proven wrong.
Swinney went on to say, "In two or three plays, with a couple of less mistakes and we're 4-0. We're still not much better but, we were in a position to win both of those games."
Dabo's comments are true, objectively. Both of their losses were one-possession games and they had opportunities to win. But if you're like me, and have any sort of emotional investment into this team and this season, the eye test will tell you, they were nowhere near close to beating Georgia, even though their defense was incredible. They were down 10-0 in the fourth quarter, but the lead felt like the score should've been 21-0.
Against NC State, they looked uninspired, and the fact that they had so many three-and-outs shows fans how unprepared they were for that game. Sure, according to the box score, if they have the ball bounce their way a few more times, they could be sitting at 4-0. But the fact of the matter is that the ball has bounced their way multiple times, and they've blown those opportunities.
So what's next for Clemson? They're in a perfect position to regroup and rebuild-- not what we wanted to hear at the start of the season-- but it's necessary. The talent that Clemson's building around will have an entire season to grow and learn without nearly as much pressure and will be returning next year to hopefully bring the Tigers back to where they should be.
TALKING CRAZY.
~Start at 24:30~
I'm sorry to have to do this, but I think I've got to let some of you down not-so-gently... In this segment above, Swanny brings up the idea of whether or not Clemson still has a chance at the college football playoffs. He talks about the possibility if the playoffs expanded, etc. We'll break it down but first, let me just say...no!
I get that things could go Clemson's way and crazy things would have to and could happen, but we're talking monumental things. First, Nick Saban would have to leave Alabama immediately - maybe a Ted Lasso-type position opens up for him in the Premier League.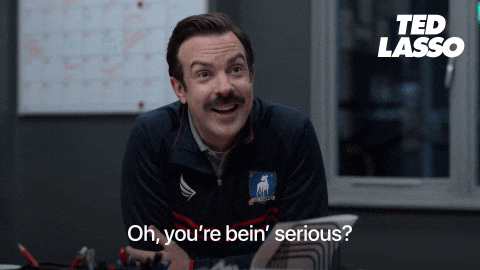 Then, after Saban leaves, a minimum of 11 out of 22 of Bama's players would have to forget how to play football...And that's only the first two things.
After that, every team in the current Top 9 in the country would have to lose twice at least. Once all of those teams fall, there are two possible ways for Clemson to improve so much for the remainder of the season to make the committee forget about what they saw in the first month.
Trevor Lawrence chooses to retire from the NFL today and find some way to become eligible to return to Clemson and start on Saturday.
The entire offense and offensive coaching staff need to fix a plethora of mistakes and inconsistencies and then proceed to blow out every opponent remaining.
Honestly, I don't know which of those two scenarios is more like from where we're sitting today.
I would love for someone to break things down for me on Twitter and explain how the Tigers could even find themselves back in the conversation this season for the playoffs. I love Clemson and want them to succeed, but the team we're watching right now just isn't performing like a playoff team.
I believe that it's time for fans to get excited about the rebuilding and restructuring of the program. Clemson may be down and out for this year, but theprogram was built to weather a storm like this. Don't be surprised to see the Tigers earn their way back into the playoff conversation next season.
POTENTIAL UPSETS.
It's been a crazy season so far with major upsets. I figured that I would go ahead and give you a cheat sheet on which games to look out for going into this weekend! Don't have room for everything so here are my top 3 potential upset matchups this weekend:
#8 Arkansas vs. #2 Georgia
This is a scary game for Georgia and I think the Razorbacks have the potential to pull this one out and shake up the top 4. Georgia has been red hot and playing well but against some easier opponents. This team narrowly defeated Clemson who is now ranked #25, so perhaps they're not as good as we thought.... but I don't believe that. What I do believe though, is how good Arkansas looks. Florida had a chance to know off Alabama and I think Georgia and Arkansas will learn from that game and be ready to take their shots against Alabama, and if anyone is going to do it this season, I believe it is going to be the winner of this weekends matchup.
#7 Cincinnattii vs. #9 Notre Dame
This game is up here for obvious reasons. These two teams have steadily improved the last two weeks but are the Fighting Irish really ready to knock off the surging Bearcats? I really don't know who to pick in this game, and I can't justify why, but I don't think it's going to happen. Cincinnati has played well, and I think they continue to do so this week.
Boston College vs. #25 Clemson
I didn't want to do it, but I have to be objective. Should Clemson win? Yes. Will they? I really don't know. The homer in me says that they will come out with a vengeance and beat the brakes off of the Eagles, but my eyes tell me something different. If Clemson continues to play frantic and uninspired football, they will lose this game. The ACC smells blood in the water and these teams have been chomping at the bit to get a piece of a vulnerable team. I hope I'm wrong... I really want to be wrong. Hopefully, I look bad on Monday, and Clemson handles business winning by 30+. Hopefully.
JUST A TASTE.
Sure do miss seeing him in orange and purple—great game for #16 last night. Even in defeat.
CAN'T ALWAYS GET WHAT YOU WANT
Saw lots of Tigers fans headed to Charlotte last night for the Rolling Stones concert...seeing how the year has started for Clemson, this song seems fitting this morning.
Never miss the latest news from Clemson Sports Talk!
Join our free email list
PRESENTED BY