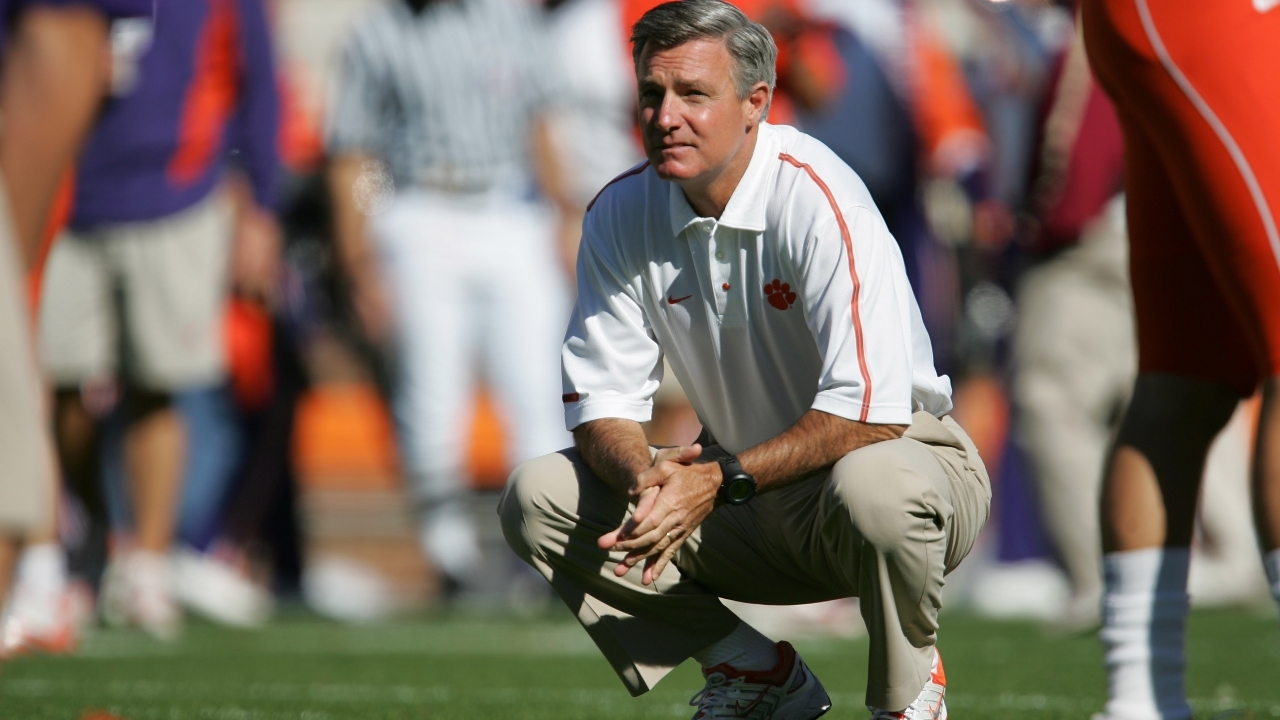 Photo by Christopher Gooley-USA TODAY Sports
Clemson Football
Friday Night Lights: Tommy Bowden chimes in on Clemson vs. Syracuse
---

Feel the difference - The MOST DIGITAL CONTENT covering your CLEMSON TIGERS! Avoid clickbait and sites bloated with advertising! Support a 100% Clemson-owned business.
---
In this wide-ranging interview, former Clemson head coach Tommy Bowden discusses playing in the Carrier Dome, Friday night recruiting stories, and much more.
On Friday night recruiting:
"So the access to those planes is really, really helpful. And a lot of times, what they'll do is they'll take two or three coaches, drop one off, go to the next, drop one off in Mississippi, dropping off in Louisiana, then finish up in Texas with another coach. Then on Friday night after the game, they will pick one up and take off from Texas, and maybe at halftime of the Texas game, dropped over to Louisiana, pick up the coach, and then drop over to Mississippi and get in late Friday night for a Saturday game."
On Syracuse's plan of attack:
"Yeah, they'll probably mentally-- philosophically think if they can get to where that like like Boston College did. If they can keep the game close to the fourth quarter-- right now, there are no surprises or no secrets that Clemson is struggling offensively. It doesn't look like they have found a solution yet. I don't know if the problems are such that they could be corrected over an open date. I'm sure they're going to make some improvements, but they, unfortunately, need a lot of improvement offensively. I'm sure Syracuse is saying, 'Hey, let's don't give up the deep ball. Defensive backs keep everything in front of you. Let's tackle well if we get this thing the fourth quarter.' They look at those teams that you just mentioned; those will be plenty of opportunities you find some game plans that can keep it close in the fourth quarter like most Clemson games have been."
On playing in the Superdome during his time at Tulane:
"The on-campus venue was not built at that time. Maybe seats about 30,000 right around there, but no, we only had Superdome. That's when you are happy that they had colored seats-- you know the seats are multicolored-- you go out there and might have 18,000 fans and a 76,000 seat stadium, so as the head coach, I remember if you squinted your eyes-- if you closed them-- just barely open-- the colored seats look like people were in there. I thought I had a sellout."
Never miss the latest news from Clemson Sports Talk!
Join our free email list