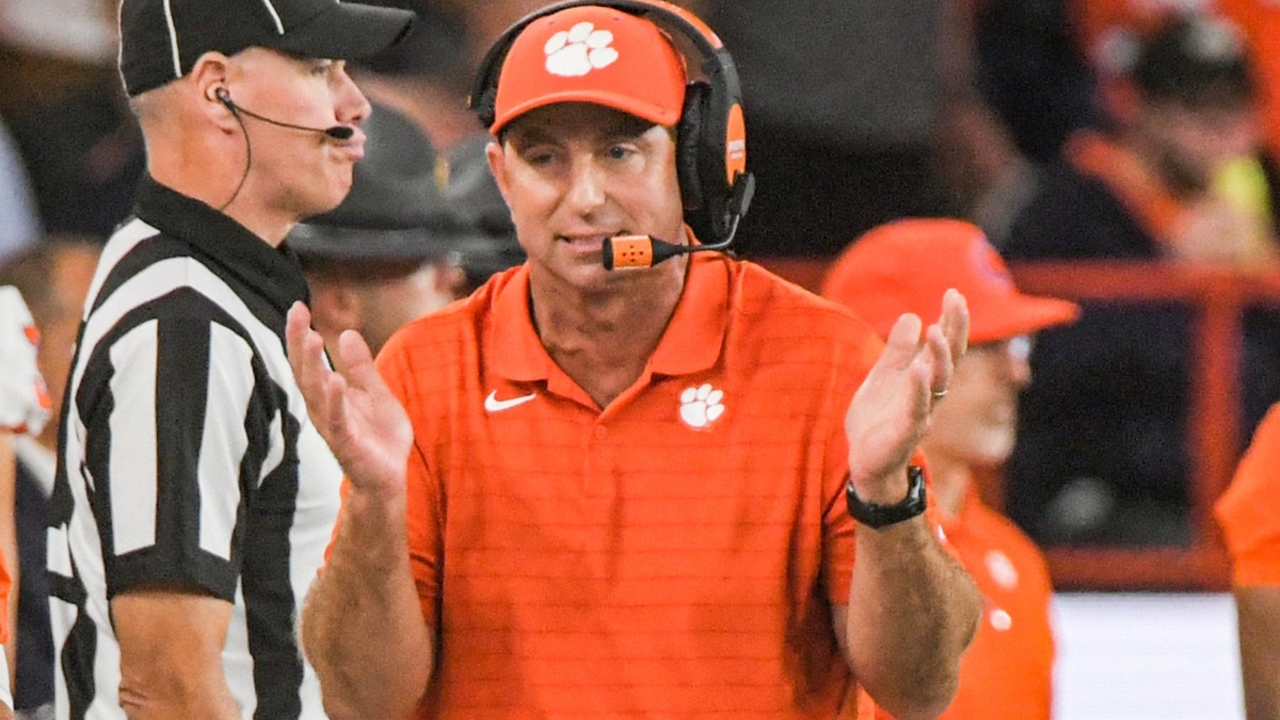 Photo by © Ken Ruinard-USA TODAY Sports
Clemson Football
With the Win: Clemson 17, Syracuse 14
---
Clemson improved to 8-2 all-time against Syracuse.
Clemson won its fourth straight game against Syracuse, matching the longest streak in series history (four from 2013-16).
Clemson improved to 4-1 in road games at Syracuse all-time.
Clemson improved to 32-25-5 all-time in Friday games and is now 26-20-5 in Friday regular season games all-time.
Clemson won its first game on a Friday since 2016 against Boston College.
Clemson improved to 28-1 in October games in the College Football Playoff era (since 2014).
Clemson defeated an ACC Atlantic Division opponent for the 39th time in its last 41 opportunities. Those figures include games against traditional Atlantic opponents in a divisionless season in 2020.

Clemson improved to 55-4 against ACC opponents (including postseason play) since the start of the 2015 season.
Clemson improved to 71-5 in regular season play since the start of the 2015 season. All five of Clemson's regular season losses in that span have been decided by a final margin of seven or fewer points, including two double overtime games.
Clemson, which was unranked in the AP Poll this week after being No. 25 in the AP Poll prior to its most recent game, improved to 28-6 under Dabo Swinney in games in which it enters ranked lower in the AP Poll than it did in its previous contest. That record includes season openers in which Clemson opened a season lower than its ranking from the final game of the previous campaign.
Clemson improved to 112-13 against AP-unranked teams under Dabo Swinney. The win made Clemson 89-3 against unranked teams since the start of the 2012 season.
Clemson improved to 43-19 in regular season games following an open date since joining the ACC in 1953. The Tigers are 16-2 in regular season play after an open date under Dabo Swinney. Both figures include a win against Pitt in 2020 in which a bye week was followed by an additional game cancellation.
Clemson is now 62-3 when scoring first since 2015.
Clemson led 14-7 at halftime and has now won 91 of its last 93 games, including each of its last 54, when leading at halftime.
Clemson also led 14-7 after three quarters, improving to 113-2 since 2011 when leading after three quarters.
Clemson had 20 first downs to Syracuse's 18 and now has a 110-2 record when totaling more first downs than its opponent since 2011.
Clemson has won 93 of its last 94 games when holding teams under 23 points (dates to 2010), including 89 straight prior to a season-opening 10-3 loss to Georgia in 2021.
Clemson has now won 30 of its last 37 one-possession games since 2011, adding to the highest winning percentage in the country in one-score games in that span.
Never miss the latest news from Clemson Sports Talk!
Join our free email list