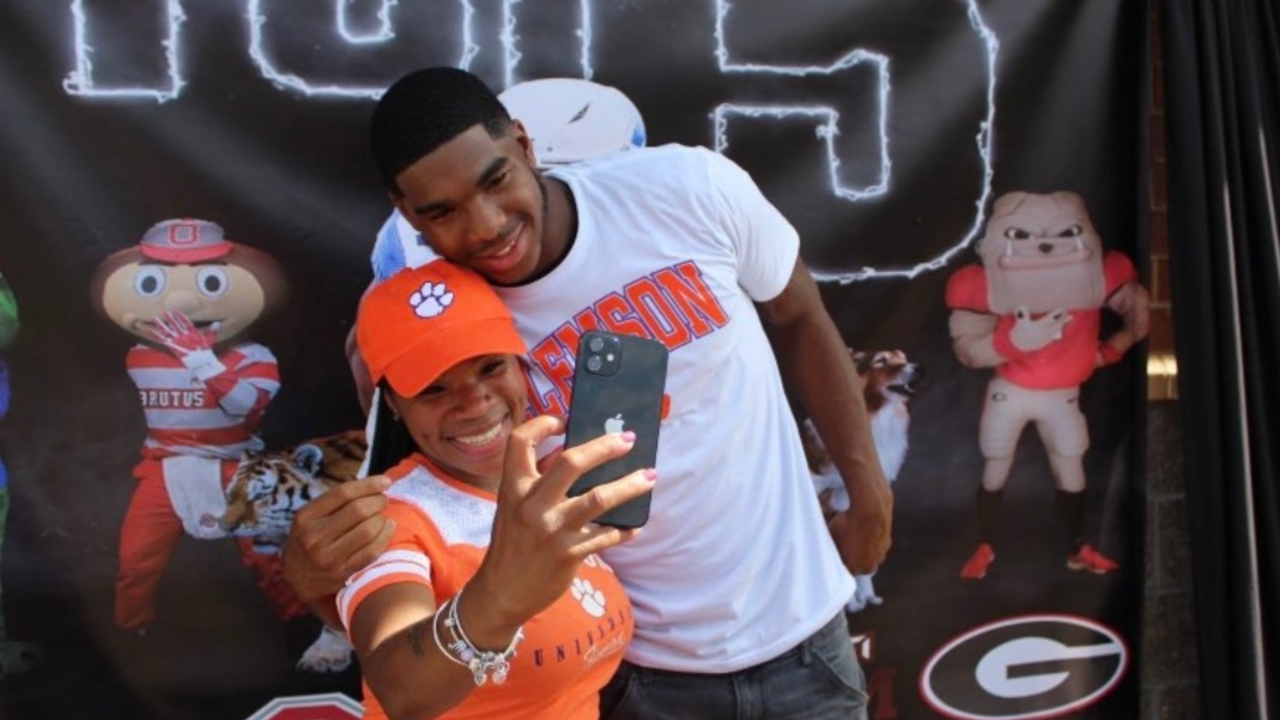 Photo by Jihaad Campbell Twitter
Friday Night Football: A pair of Clemson defensive commits have tough matchups
---
Two of the top three teams in the USA TODAY Sports Super 25 high school football poll have 2022 Clemson commits on their rosters.
No. 2 IMG Academy (FL) 6-0 will play East St. Louis High (IL) 7-1 at Madison-Ridgeland High in Madison, MS at 7:00 PM EST.
IMG is arguably the most talented team in the nation and three of Clemson's 2022 commits are on the team. Safety Keon Sabb‍, cornerback Daylen Everette‍, and athlete Jihaad Campbell‍ all committed to the Tigers this summer along with East St. Louis cornerback Toriano Pride‍.
There are potentially two intriguing perimeter matchups in this game. Pride could shadow IMG junior receiver Carnell Tate and Everette, Luther Burden, a former Oklahoma pledge who committed to Missouri over Georgia and Alabama on Thursday.
Tate is a top 10 receiver in the 2023 class and Burden, No. 1 for 2022 according to ESPN and Rivals.
Pride and Everette have locked down their side of the field this season. Two weeks ago, Pride made five tackles and picked off a pass in East's 68-0 win over Alton (IL.), and a week ago, Everette intercepted a pass in the final minute of the Ascenders surprisingly close 24-14 victory over St. Thomas More Academy.
Player Spotlight: Jihaad Campbell
At 6-foot-3, 215 pounds, Campbell is a versatile defender for IMG. After spending some time in Clemson's training program, he could bulk up enough to be an edge rusher or linebacker on the defense in 2022.
On Friday nights and sometimes Saturdays, Campbell plays both positions and even occasionally lines up on a receiver. With long arms, 4.5 speed, and a relentless approach to the game, he is the type of player that makes Clemson defensive coordinator Brent Venables smile.
Campbell has 22 tackles, five sacks, three pass deflections, and a 75-yard fumble return in six games.
No. 3 Austin Westlake, TX (7-0, 4-0) will face Akins High, TX (4-3, 2-2) at home without Clemson quarterback commit Cade Klubnik‍.
Klubnik injured his left shoulder (his non-throwing arm) in the first half of the Westlake 35-0 win over Bowie (TX) on Oct. 8.
Before leaving the game, Klubnik, who was recently named to the Maxpreps National Player of the Year watch list, threw a 93-yard touchdown pass in the first quarter and ran 13 yards for a score in the second.
Klubnik's injury is not believed to be serious, and he is expected to return this season. In six games, he has completed over 70 percent of his passes for 1,476 yards with 20 touchdowns and two interceptions. He also has 196 rushing yards and six touchdowns on 33 rushes.
Westlake had beaten 5 of 6 opponents by an average of more than three touchdowns with Klubnik under center and handled Hays High (TX) 77-0 last week, their first game without the five-star recruit.
Klubnik's future target and roommate at Clemson, Adam Randall‍, is having an All-State season for Myrtle Beach (5-1, 4-0).
A week ago, Randall scored three touchdowns, the first of the game, in the opening quarter of the 48-6 blowout win over Wilson.
He amassed 208 yards on six receptions, scoring twice, one from 50 yards out, and added a rushing touchdown before sitting out the second half of the Region VI-4A victory.
In six games, Randall has 768 receiving yards with eight touchdowns. This week he was selected to the Touchstone Energy Cooperatives North vs South Bowl game slated for Dec. 11 in Myrtle Beach. It's the state's most prestigious game this season since the Shrine Bowl of the Carolinas won't be played for a second consecutive year due to safety concerns.
The Seahawks will face region foe South Florence (7-1, 4-0) on Friday for a chance to nail down the top playoff seed.
Palmetto Player to Watch: Marvin Gordon (5'9, 175 pounds)
Gordon is a junior running back for Lake View High (7-2) in Lake View, SC. He is currently out with a shoulder injury and missed the last two contests.
Before the injury, Gordon rushed for 811 yards on just 77 carries with seven touchdowns. He was also honored as the WBTW Blitz Pee Dee Player of the Week after rushing for 265 yards and three touchdowns in the Wild Gators 28-12 win over Scott's Branch.
His numbers are phenomenal, and if cleared to play on Friday, he hopes to build on them.
Gordon has yet to receive a college offer but is interested in Clemson, South Carolina, Florida (his dream school), South Carolina State, and others.
On Dec. 19, he's invited to play in the Schutt's Junior Showcase Bowl Game at John McKissic Memorial Stadium in Summerville, SC, where he will have the opportunity to impress college coaches.
Never miss the latest news from Clemson Sports Talk!
Join our free email list