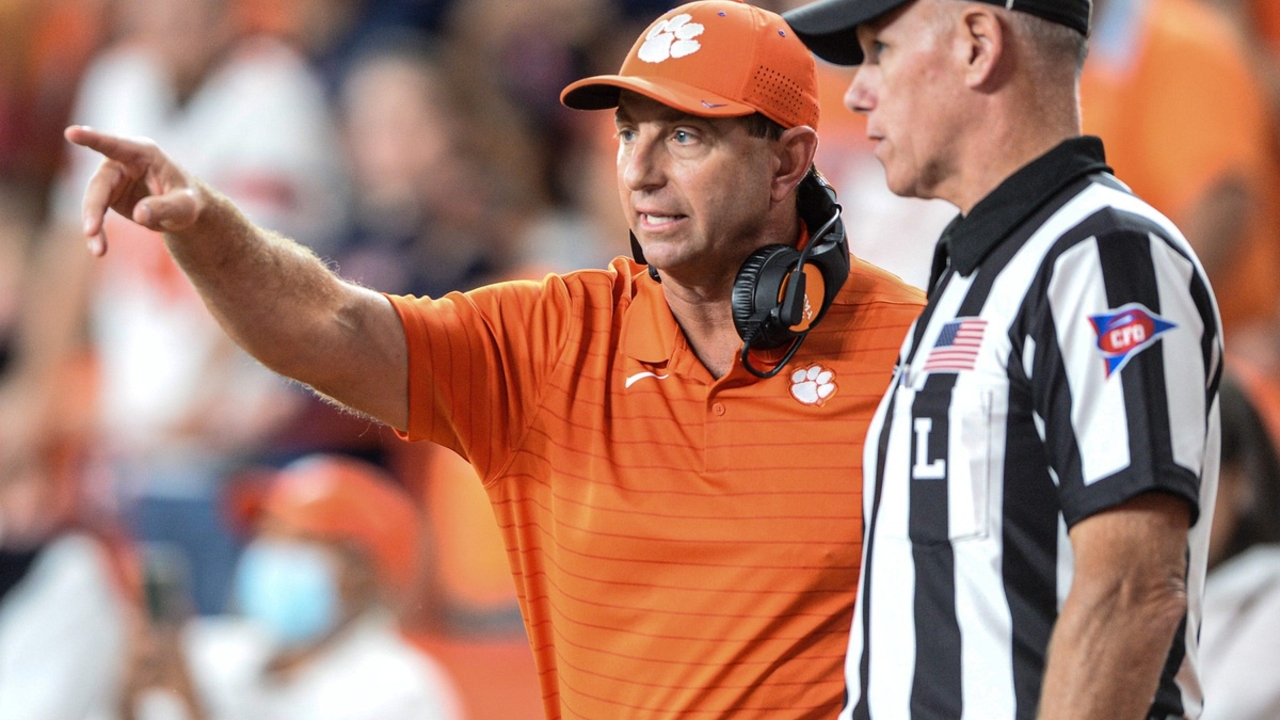 Photo by © Ken Ruinard-USA TODAY Sports
Clemson Football
Swinney: Ships 'sink because the water gets in them', not 'because of the water around it'
---

Feel the difference - The MOST DIGITAL CONTENT covering your CLEMSON TIGERS! Avoid clickbait and sites bloated with advertising! Support a 100% Clemson-owned business.
---
On facing Pitt:
"A really good football team, we're getting ready to play. I mean, they're playing with a ton of confidence. This quarterback is special, he's a sixth-year player, the game is very slow to him-- very slow. He knows where everybody is-- we call it the game within the game. He's a master of the game within the game, really understands all the nuances of their offense."
On slowing Kenny Pickett and Pitt last year:
"Well, we turned them over early. They had I think three linemen kind of playing in their first game. Had some guys out last year against us-- that's a little different story this year. We affected him. He's a rhythm thrower, man. You can't let this guy sit there and get comfortable. He's just too good. He's too good. He knows where everybody's going. He sees everything. He's seen every coverage. He's like Skalski playing linebacker, right? I mean, you just don't fool that guy."
On if the team is putting pressure on itself to play perfectly:
"I mean, I don't think there's any question about that. I mean, how else do you explain some of the things that you see from some of our best players? I just think it's kind of human nature. Especially in today's world. When I was coming up, somebody maybe wrote a bad article in the local newspaper and, that's about it. You hoped your Grandmother didn't read it or something. [You] still had the people at the barbershop, but now all the people in the barbershop have a national forum. All the media sees it. So, that's all they get right now is how bad they are. How much their coaches stink. That's all they get, but that's just comes with it. As a young person, you've got to learn how to block stuff out-- the noise. If you don't, you get burdened down and try to do too much and you get outside of things, and then you're not playing free. And next thing, you know, the weight of the world is on you.

"It's a very loud, loud, loud world we live in, and if you don't put your armor on every day, and stay inside out, it can. As I always say, 'Ships don't sink because of the water around it, right? They sink because the water gets in them.' You let all that garbage-- who are you going to listen to? What are you gonna believe?"
On Joseph Charleston hitting the transfer portal:
"He just came to me last week and said that he just feels like he wants to get a fresh start somewhere. It's always disappointing, but I'm just kind of numb to it. I mean that's just 2021. I mean, that's probably gonna be news every week-- eventually, y'all are gonna quit reporting it-- it's just gonna be like, 'oh and by the way,' because that's the world we've created. I love Joseph. I think he's a really good player."
On if he's spent any extra time with the receivers this week:
"I spend time with everybody defensively, offensively. I spend time with everybody on this roster. It's not just the receivers. It's everywhere. It's a funk. It's just a stink lingering in the car, and we got to get rid of it. It's like Seinfeld-- remember that Seinfeld show where the stink was in the car and you couldn't get rid of? I don't remember which one it just pops in my head right here. Oh my lord, man, we're gonna get there. We're gonna get there. The good news is we're still Clemson. The good news is we got a bunch of great kids. We've got a bunch of great people. We're just kind of in a little bit of a funk."
On national media mentioning his name for the LSU job:
"I'm gonna tell them to call you and you'd be the middleman okay. I'm telling them to call PhilKornblut.com and we'll go from there. How about that? I'm a big-time coach? Wow, I made a big-time list? Wow. I'm gonna tell them to call you. I'm gonna let you negotiate that. Okay? All right. Yeah, this is the only Death Valley I'm concerned about right here. That's for sure."
Never miss the latest news from Clemson Sports Talk!
Join our free email list
PRESENTED BY