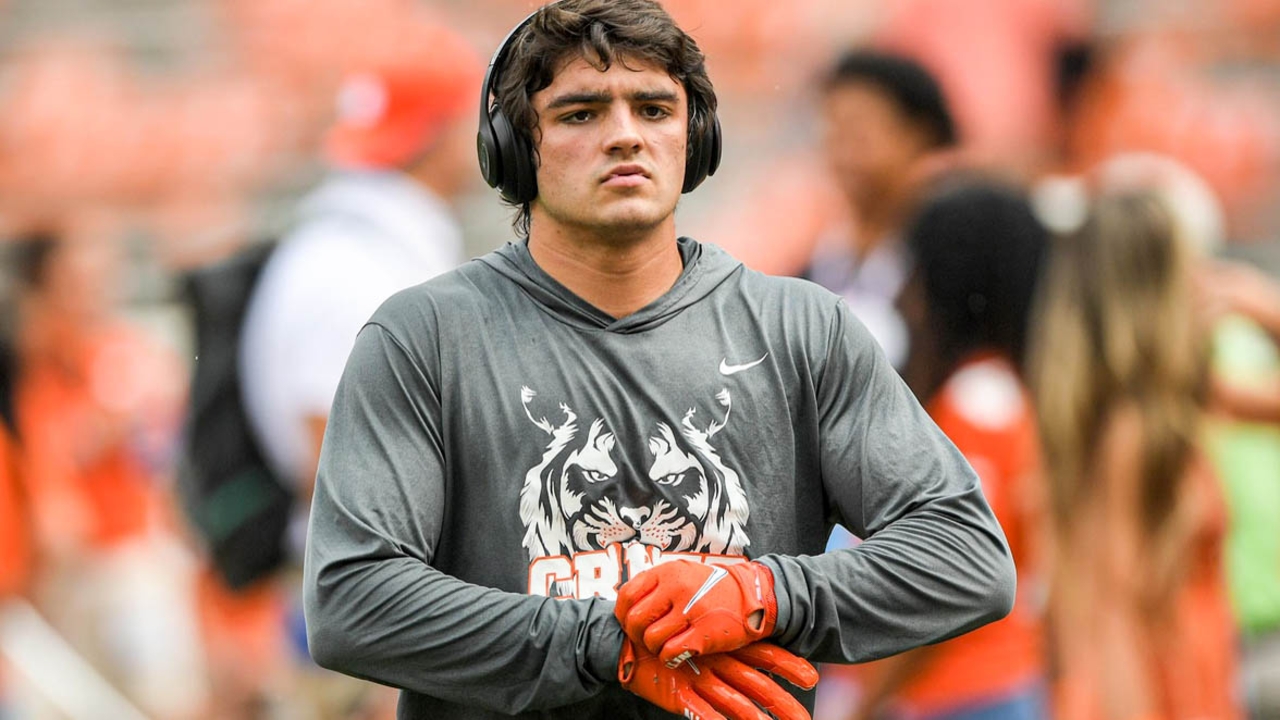 Photo by Ken Ruinard / staff via Imagn Content Services, LL
Clemson Football
As Clemson preps for Pitt, Swinney says improving is about 'making the layups'
---

Feel the difference - The MOST DIGITAL CONTENT covering your CLEMSON TIGERS! Avoid clickbait and sites bloated with advertising! Support a 100% Clemson-owned business.
---
On how the running backs have done in pass protection:
"They've done a nice job, they really have. The thing they need to get better on is getting out-- where we don't need them. That's the one area that we need to see a little bit of growth and that will come with a little more experience, but getting out into the pattern when we don't need them in. So that's the area I think they need to get better, but as far as their protection and their assignments and techniques, they've done a nice job."
On Pitt's improvement since Western Michigan had success in the RPO game:
"I mean they're just very polished in what they do and again that's the sign of a very experienced group. They are very experienced on the back end. They don't do a lot, they just do what they do very well. They're very good and they believe in pressure-- attacking style of play. They do a good job inside of getting after your offensive line getting after the run game. Their safeties are down in there, but I think the biggest thing is they gave up a few plays in the Western Michigan game. They did a nice job and they kind of got them on the game plan stuff, but you can just see that they learned from that and kind of cleaned up some of their issues with their eyes."
On any injury updates:
"It seems like every day there's something. We've still got-- what is today Wednesday? We've still got a couple more days, but it's crazy-- we're down a bunch of guys so our depth is being challenged. But man, what an opportunity for a great story for these guys to be a part of. I don't focus on the guys we don't have, I just focus on who we do have. We don't make excuses. Man, we've got everything we need and it's our job to get it done."
On Will Shipley's status:
"Yeah, he will be a game-time decision and he looks good. He looks better than I anticipated at this point."
On how Pitt uses their receivers and tight ends:
"Well, I mean you know the biggest thing they do is I mean they're gonna try to feature No. 3. He's a great player. He's had four games in a row that he's averaged 120 plus yards game. They'll feature him in different ways just like we try to feature our guys over the years if we feel like we've got a guy that's hot. They just do what they do. I mean it's not complicated but it's hard to stop."
On how Clemson's wideouts practiced this week:
"Their efforts always been good, they had a great week last week, you know, and it's been the same thing another really good week. These guys have been really easy in that regard, it's just taking it to game day and making the layups and making the routine plays all the time, and the impossible most of the time. That's what we try to live by around here. Right now we're not doing the routine stuff very well. Hopefully, this will be the week that'll turn for us."
Never miss the latest news from Clemson Sports Talk!
Join our free email list
PRESENTED BY