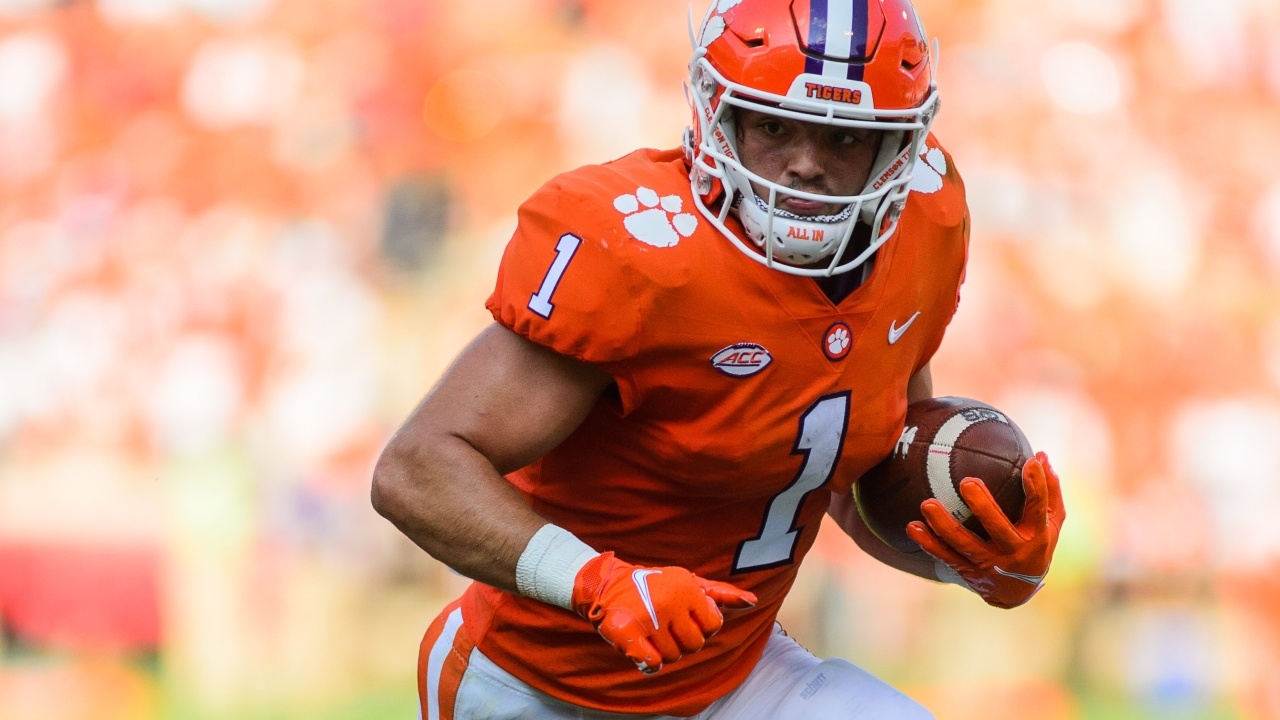 Photo by © David Grooms/Clemson Sports Talk
Clemson Football
Will Shipley on being an 'alpha leader' says, 'I want to be that guy'
---

Feel the difference - The MOST DIGITAL CONTENT covering your CLEMSON TIGERS! Avoid clickbait and sites bloated with advertising!
---
On thoughts right after injury:
"Initially right when it happened I heard something pop, and your first thought always goes to the worst. Danny (Poole) and training staff came out and do a couple of tests-- it didn't look good. I got carried back into the locker room and was told a couple of things. I was just really trying to keep my head high, especially with the loss-- trying to keep the energy up around the guys. I was very fortunate that divine intervention came in and helped me out and allowed me to continue on the season."
On having any hesitation going back on the field Saturday:
"I was full for it. I put my full confidence in that training staff and the people that allowed me to come back as early as I did. Also my work ethic and wanting to be back on the field. When I step foot on that field, I had full confidence in myself and in my body."
On his first dropped pass vs Pitt:
"It's very frustrating for me personally. I feel like not only did I let myself down, it let my teammates down, coaches, and whole fan base down. I'm very frustrated with that play. I played it back in my mind 2000 times already, so it's something that's in the past and something that and I'm going to try to learn from. Great play call by Coach Elliott-- coming off a first down run. Just trying to catch the defense by surprise-- seam right up the middle. I knew I was gonna be isolated with the Nickle/SAM. I got my job done. I beat him down the field and D.J. (Uiagalelei) throws a perfect ball and I just didn't get my eye on it. No excuses, I have to bring that one in. Totally shifted the momentum of the game and I'm very aware of that. So frustrated.
On taking an offensive leadership role:
"I'm 100% ready to step up and take that role. Leadership isn't something that you have to force, it's something that comes naturally. It's something that I naturally have, so I'm doing everything in my power to lead. D.J. does a great job of leading this team and leading this offense, Matt Bockhorst did a great job. I mean, we've got leaders on the offense, it's just a matter of having that alpha leader that everyone looks up to. If I can work into that role, that'd be awesome. But if someone else does it, then I'm perfectly fine with following them and being one of those side-leaders."
Never miss the latest news from Clemson Sports Talk!
Join our free email list
PRESENTED BY