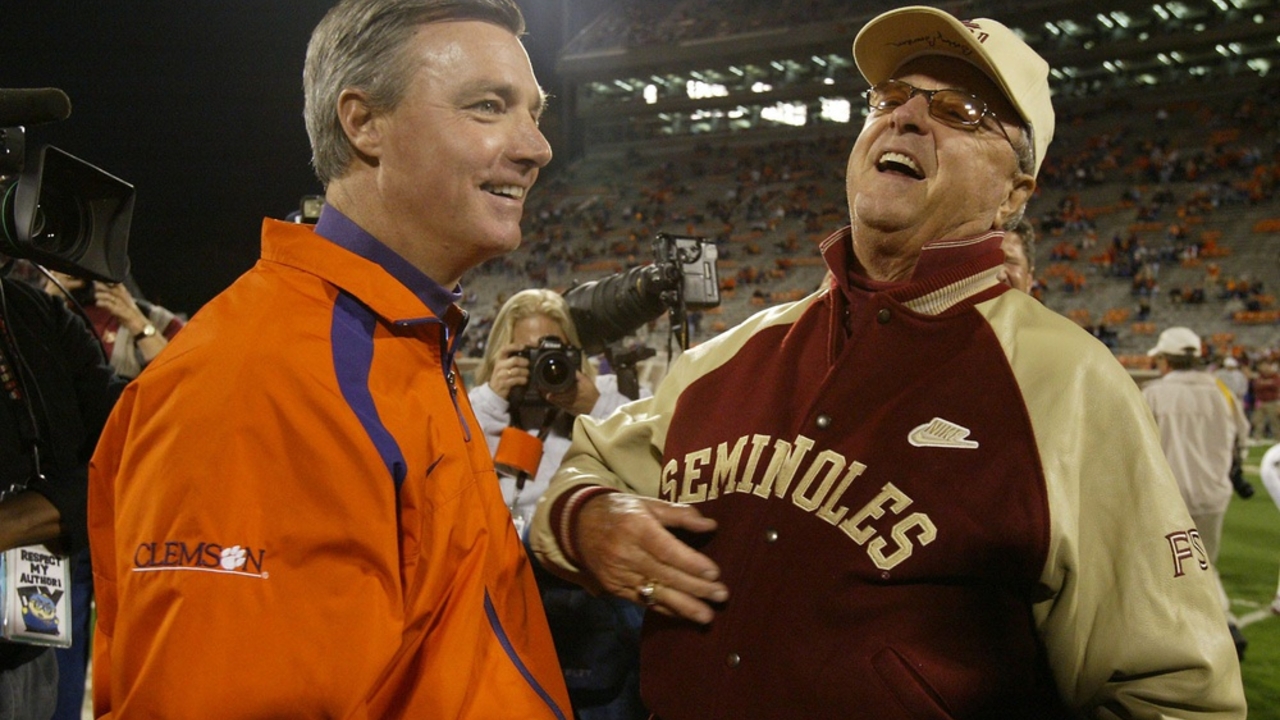 Bowden Pt. 1
Bowden Pt. 2
Bowden on Swinney
Clemson Football
Tommy Bowden on Clemson honoring his father: 'It's going to be an emotional time'
---

Feel the difference - The MOST DIGITAL CONTENT covering your CLEMSON TIGERS! Avoid clickbait and sites bloated with advertising!
---
For seven years, throughout the college football season, former Clemson head coach Tommy Bowden has joined Lawton Swann to give his thoughts on the Tiger program, Dabo Swinney, and the upcoming matchup.
This year, Swanny has worked to get an even better peek behind the curtain of being the head coach at Clemson learning about travel, game planning, and the overall management of a Power Five program from Bowden.
This weekend, the former Clemson head coach will enter Death Valley for the first time since 2008 as Swinney and the Tigers will honor the life and legacy of former FSU head coach Bobby Bowden on Saturday.
Listen to a few recent conversations Swanny had with Bowden about the events that will take place on Saturday.
---
On if his father's funeral was the first time he's really been around Swinney since the coaching change:
"It really was. Yeah, I talked to him on the phone several times. But you know, we're getting right into TV after coaching, I worked on Saturdays. So I've never been back to Clemson. Then he said something about coming up for the Florida State game, but me and my wife coming up."
On what he saw in Dabo Swinney:
"You know Lawton, I think the fact that being raised in an environment with No. 1 - One of the best coaches in the history of college football. Seeing the intangibles that he had-- I'm talking about my father's personality, sense of humor, ability to say things, ability to recruit, the way you handle staff, around staff-- trying to build staff morale. I saw along with the other aspects, the fact that he was a good Christian guy, his wife Kathleen looked like she would be a great head coach's wife, I think my wife was, my mother was, I think I saw the whole ball of wax in my father. My brother Terry had been a successful, Power Five coach. So I think I had some things to draw on as far as evaluating that a lot of coaches don't have. I saw all those in Dabo. I had put him in a position the year before to do some things with the administration, from an academic standpoint. That would show his skills to decision-makers, so I thought that he had all those. So when I left-- or Terry Don (Phillips) came in and talked to me, I said, 'I think he's got all the ingredients to be a successful head coach,' now whether he took what I was saying, worth a grain of salt, I don't know. Being in that environment for so long, I just thought he had all those things and obviously, Terry Don saw the right thing and some of the administrators saw the same thing also."
On his father's relationship with Burt Reynolds:
"Oh, yeah, they were. My father wore one ring, he didn't wear his national championship rings. They weren't and bowl rings. He always wore a ring that Burt Reynolds gave him. I don't know. They were really really close. In fact, my father, supposedly towards Burt Reynolds' end of his life-- before he passed away. He went down and had a conversation similar to the one he had with Mark Richt about salvation, Jesus Christ, and eternal life. He had that conversation with him before he passed away. So they were really really close. Burt Reynolds came up for a lot of the games and spent a lot of time with my father, before the game one on one in his office. So they were really really close."
On when he found out Clemson would be honoring his father's life and legacy:
"Yeah, my mother was really honored. Dabo initially asked me at the funeral. He came to see my mother and family in a little private room we had right before the service and extended the invitation at that time along with Dan Radakovich. It's something that Dabo initiated and put together and my family is appreciative for that because Clemson won that national championship and has won two since then and they are now the Florida State of when I took the Clemson job."
On the 2003 game against No. 3 ranked FSU after a 45-17 loss against Wake Forest:
"Oh, yeah, I was just a little bit of trouble. I was in a lot of trouble. Let's clarify that it was a big game. There's no doubt, my tenure at Clemson could have easily ended had I lost that Florida State game and probably been deserved. But I remembered going into the locker room after the Wake Forest game-- being in a locker-- a small locker and guys are taken off the shoulder pads and undoing the Velcro on their shoes. There's not a lot of time, but there's a lot of noise. So I had to be fairly vocal to get their attention. I just told him, I said, emphatically, 'We will win the game next week,' I said, 'I promise you that.' I remember Charlie Whitehurst making reference to that, after the Florida State game when we won. The important thing after the Wake Forest game is that my players believed that we could be Florida State. I might not have believed it, but the point is to get them to believe that they can win. So yeah, that was no doubt a pivotal point of that season, I think we won the rest of our games and beat Tennessee in the bowl game. So I remember very vividly, I don't remember much about the Florida State game. I do remember more about the Wake Forest game."
On what the wives of head coaches face when times are tough:
"It's more difficult for not only the wives but for the children that are in grade school or in high school or middle school or something that they catch it really bad. I can remember in 1974 my father had his only losing season in West Virginia and they voted to the board voted to either keep him or let him go and it's like a 2-2 vote and the president voted to keep him one more year. You're exposed to that as a child or as a wife-- if my wife is in the grocery store or PTA meeting or shopping they hear the public ridicules. Coaches are sheltered and don't hear it, but it's hardest like right now to be the Swinney boys in class in college or Kathleen out shopping or, or going to the grocery store or something like that. Those are the ones that it is toughest on. Coaches are isolated, they're in a cave all day and go to bed and go to go home, go to sleep, come and go back to work. So it's, it's tough on the families. I saw it firsthand when my father and my wife and children went through it-- like most coaches' children do."
On the Puntrooskie and his father's most memorable plays:
"That's the one that most people remember. I think it made him think that like go down in college football and only in my father's tenure or legacy. But in college football is one of the greatest gutsy calls in college football. That's the one that the people remember, regardless, whether you're on the West Coast, or northeast or southwest or a Florida State fan, or Clemson fan, people know that play. It's been played so many times on ESPN and other venues."
On his father's relationship with FSU play-by-play man Gene Deckerhoff:
"Oh, they were really close. I think he was there for my father's whole tenure, which is a long time. Gene's done NFL games along with basketball on probably done some baseball at Florida State. You develop a relationship-- you're with those people so much through the good and the bad. And, of course, for my father, it was mostly good. But Jim Phillips when I was at Clemson passed away then Don Munson, they're really, really great allies of a head coach, because when you do lose a game, you should have won, they do a really good job of kind of transitioning the story to the fans into the media. Those people like Gene Deeckerhoff, they become tremendous friends, other than just business partners."
On Clemson honoring his father tomorrow:
"I really don't know what they're going to do. I just know what I'm probably Yeah. As I think about that game, the Florida State, a couple of things about that particular game. I mean, just the Florida State-Clemson game. When I went to Clemson, Florida State was the Clemson of present day. I'm sure when I walk in that stadium, I'm going to think about the first time I played Florida State-- since they're playing each other. And my father went undefeated that year. We had them 14-3 at halftime. Father vs. Son, first time ever played. Night game ESPN Bowden Bowl. Then the tribute to my father because like a lot of sons I've got a lot of respect, and admiration for my father, a very godly man, a great coach and a Christian man. So being down there on the field will be a little emotional, but I think most of my memories will be of that game and hopefully they don't say too much about him so I can keep my composure. It'll be a very emotional time I think because they are honoring him. So much respect for Clemson, I do, and he had for Clemson and then the Florida State so it's going to be an emotional time."
On who will be there from the family:
"I got the most important member of my family will be in attendance Bobby Bowden himself, my grandson who is about eight years old is coming up. My daughter lives a little bit too far away and her son's got some sports activities that weekend. But my son Ryan, his wife, Amy, the Tennessee graduate, and then my two grandsons from his family. But Bobby Bowden will be there in person. So should be a good time for all our family."
Never miss the latest news from Clemson Sports Talk!
Join our free email list
PRESENTED BY