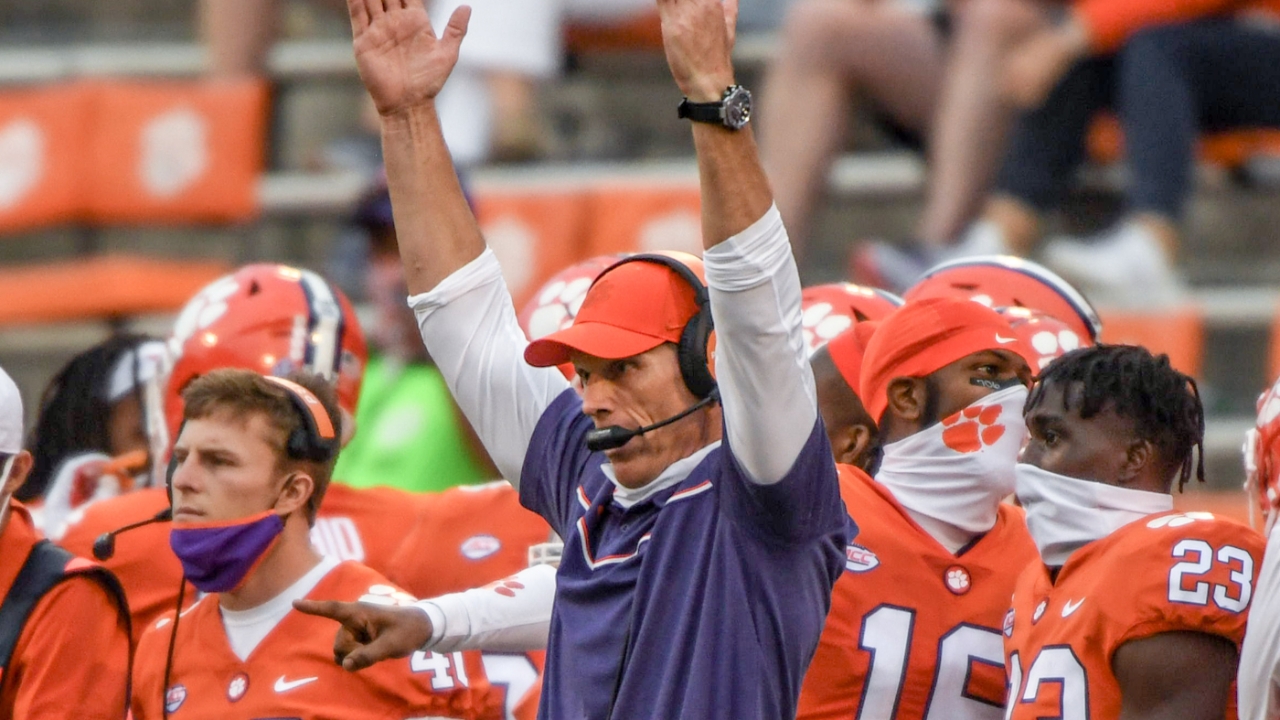 Photo by Courtesy of ACC Media Portal
Clemson Football
Venables likes what he's seen from the freshmen on defense: 'It's a great group'
---

Feel the difference - The MOST DIGITAL CONTENT covering your CLEMSON TIGERS! Avoid clickbait and sites bloated with advertising! Subscribe to our site and YouTube Channel today!
---
Clemson freshman running back Will Shipley scored a fourth-quarter touchdown, a 21-yard score with 55 seconds remaining, to give the Tigers a 24-20 lead over a feisty Florida State football team on Saturday.
He was a standout for offensive coordinator Tony Elliott's offense with 128 rushing yards and two touchdowns, but defensive coordinator Brent Venables saw a pair of freshmen defenders play well too.
Linebacker Barrett Carter scooped up a fumble at the FSU three-yard line to make the final score 30-20 after the Seminoles botched a lateral attempt, and safety Andrew Mukuba recovered an FSU fumble on the FSU 41 in the fourth quarter. Mukuba's fumble recovery occurred on the play after Clemson receiver E.J. Williams fumbled a pass from quarterback D.J. Uiagalelei on the FSU 39.
Venables on the play of the freshmen defenders:
"It's a great group, good football players. It's obviously part of their maturation. The more they play, the better they'll get and find in rolls what they can do well -- what you can trust them with. A lot of times, you go into the year and you think you know, and then things change or it's validated with what you thought. So, two really good young players to go along with the other good players that we have and kind of gives you a glimpse of what you can hope for in the future."
Venables on the most important part of getting the freshmen ready to play:
"Obviously, you want them to be able to play fast so the more natural things come, the better you feel about putting them in any situation.
"And so just having a really good foundation for what it is that you do so that you can apply it and tweak it from week to week once you get into the season. So just having a good knowledge base. [For] some guys it happens sooner rather than later. Again, I would say guys like Mukuba and Barrett Carter, and they've had plenty of struggles. They'll be the first to tell you mentally and things like that. Just transitionally, that's very natural, is that they do understand football. They got good instincts. So, the more they play, the better they get."
On November 6, the Clemson defense will face Louisville quarterback Malik Cunningham, a quarterback with running skills like FSU's Jordan Travis and Syracuse's Garrett Schrader. Cunningham has 556 rushing yards and 13 touchdowns on the season. He has completed over 60 percent of his passes for 1,903 yards with nine touchdowns as well.
Venables on facing Cunningham:
"Very dynamic. A little better thrower than a Jordan Travis -- more consistent. He's just very explosive, very tough to contain. They do a great job moving him around and does a great job in their zone-read game and on their boot game. He can launch it.
"They've got a great understanding of what they do. Play with a lot of confidence and a very aggressive approach. Both of their backs are tight ends, got big long receivers. They got one guy that's averaging 30 plus yards a catch, number eight. And they've done a good job with that offense and he's a great fit for it."
Venables on if Carter's increased playing time was dictated by the offenses they faced:
"Well, it is not really as much as the offense. It's really just how he's maturing within our defense. And again, he's a good football player.
"Looking at utilizing him, he runs really, really well. He's a 4.5 [40-yard dash time] guy all day. He's got great hips and feet. And really again, he's got a dynamic skill set. But just trying to continue to develop our team. He's got a great future."
Carter played a season-high 46 snaps against Pittsburgh and 10 versus the Seminoles. The 56 snaps in consecutive games are by far the most he's seen this season.
Venables on whether Carter is similar to former Clemson linebacker Isaiah Simmons, who is in his second year with the Arizona Cardinals:
"A little bit. Some things are similar. Some things aren't, but he's probably a little more natural at an early age than Isaiah."
Never miss the latest news from Clemson Sports Talk!
Join our free email list