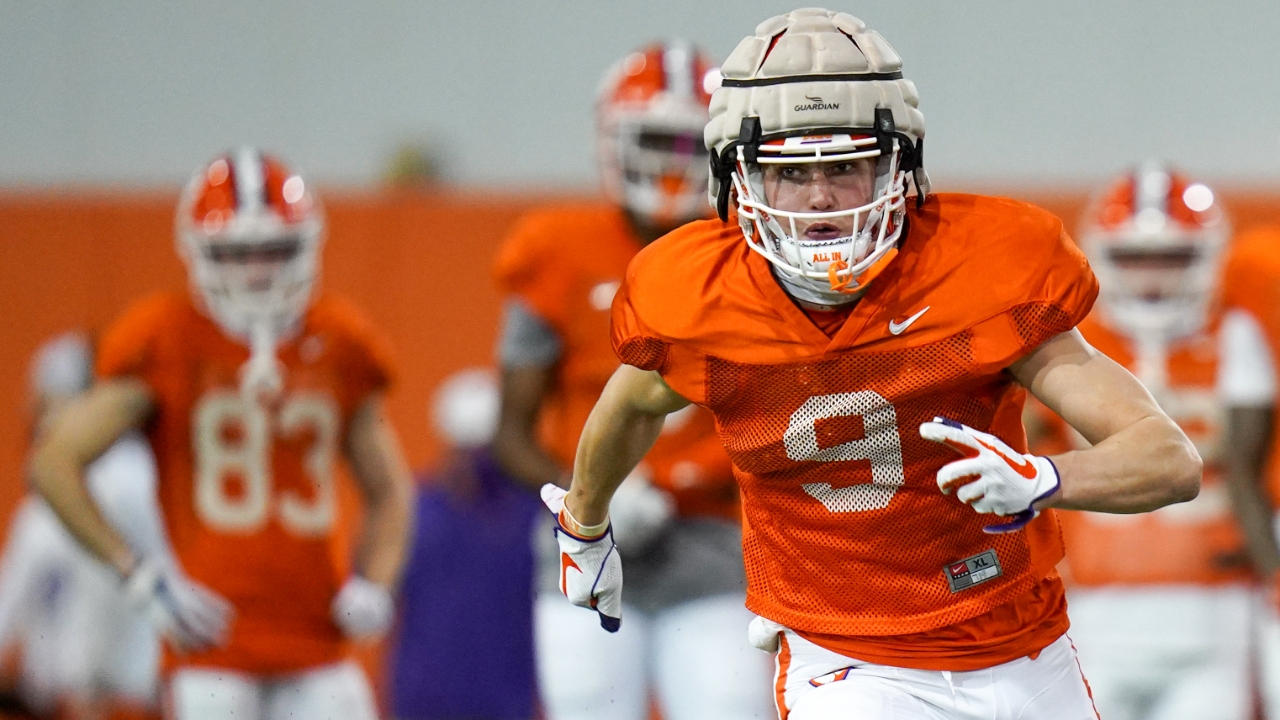 Clemson Football
Briningstool understands what he brings to the tight end position
---
Freshman tight end Jake Briningstool, who was expected to redshirt until Braden Galloway was sidelined for the year with a shoulder injury, talked to the media for the first time on Tuesday.
Briningstool caught his first pass, a second-quarter 11-yard reception, as Clemson defeated Florida State 30-20 on Saturday.
On his first collegiate reception:
"It was definitely good to get the first one under my belt. I thought it was no better place to do it than in Death Valley in front of the home crowd. So, I thought that was really cool, and I was glad I got the opportunity to do it.
"If I would've stayed on my feet, I think I could have scored because when I got up I saw literally nobody. But I was glad I got that the first one under my belt."
On his response to being told the redshirt was lifted:
"I was excited. I think I have the opportunity to help the team out from a dynamic part of the tight end position. So I was happy that I got the opportunity to play and then more opportunities to come, hopefully."
On what he, specifically, brings to the tight end group:
"For me, personally, I think I'm more of a dynamic receiving type tight end, as you guys probably can see. But I think just learning from Davis [Allen] and like specific blocking techniques and stuff like that can help better my game and become an all-around tight end."
On fellow tight end Davis Allen setting the tone as a blocker:
"Something rare about Davis is he loves to block and he loves to hit people. He's just a leader in that aspect to where he'll do whatever it takes to get the job done or whatever is best for the team. So I feel like just going under his wing and like learning from him of the stuff -- that maybe you don't want to do but you have to do it. So just doing the dirty work essentially."
Adam Hagy-USA TODAY Sports
Sophomore linebacker Trenton Simpson was also available for the media on Tuesday. Simpson had one of his better games on Saturday with a team-leading six tackles, a sack, and three tackles for loss.
On his performance against Florida State:
"I was just playing free, having fun and that worked out for me. I just played free, fast as I could and when the tackles came, I just tried to make every one of them."
On the challenges of facing dual-threat quarterbacks:
"I mean it's definitely a little bit more challenging than a standstill quarterback in the pocket, but we like the challenge and I know we'll just have to cage him in like we did the last quarterback."
On why the defense has been successful against dual-threat quarterbacks:
"That's a shout-out to the D-line. The D-line cages them in a lot and the DBs are back there covering so good -- that's why we've had a lot of sacks through the season."
On whether he is one of the secret running backs, available if needed, that head coach Dabo Swinney alluded to during his press conference:
"Well, I don't know nothing about that but I know I could definitely play running back."
On playing on the road:
"It's a great feeling definitely for me just being able to go see new places and new schools I've never been to. And just the excitement of going into somebody else's home stadium and feeling that crowd and just going in there trying to win."
Never miss the latest news from Clemson Sports Talk!
Join our free email list
PRESENTED BY