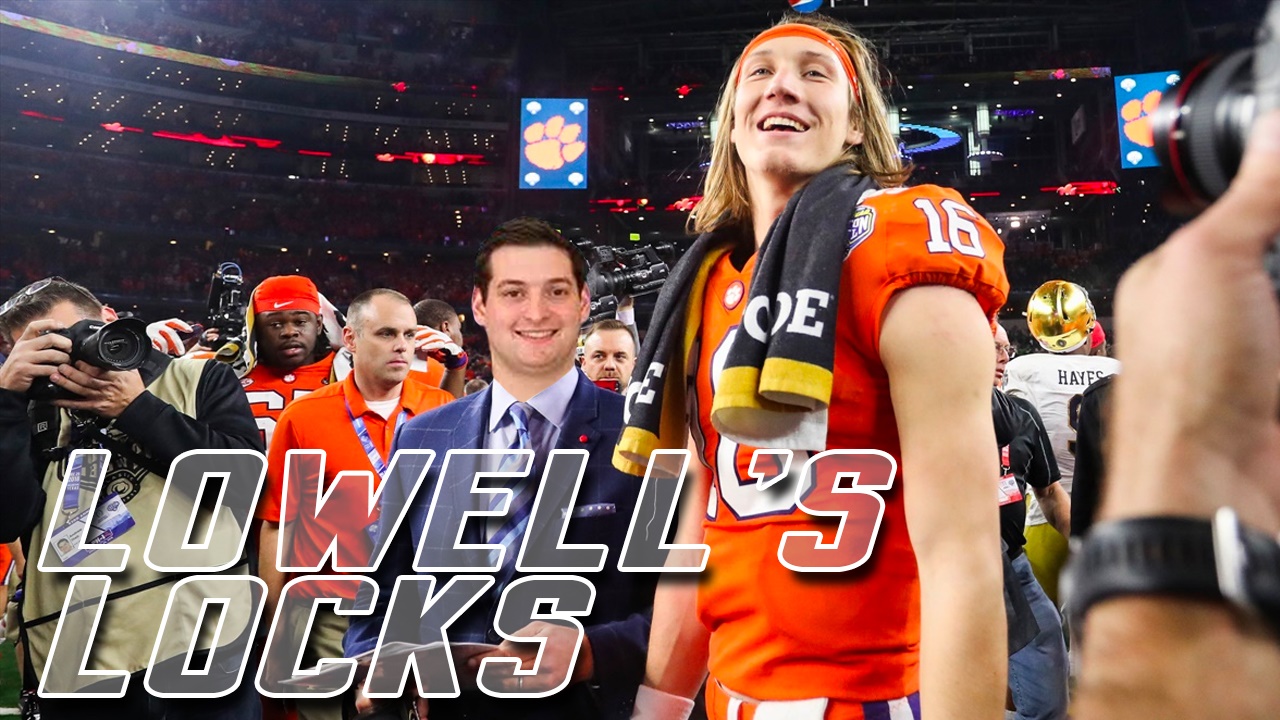 Clemson Football
Lowell's Locks: Week 12
---

Feel the difference - The MOST DIGITAL CONTENT covering your CLEMSON TIGERS! Avoid clickbait and sites bloated with advertising! Support a 100% Clemson-owned business.
---
Yet another 2-4 week and now I am five games under .500. Like I said last week, this is a salvage operation to attempt to finish the season with a winning record. I can feel it though, this is my week. Let's go!
Saturday, November 20th
#7 Michigan State at #4 Ohio State (-19):
Michigan State has had some issues in the secondary, and that bodes poorly in a game with an Ohio State team that has finally found their stride passing the ball. Ohio State is going to hit on multiple big plays, but I do think the Spartans will be able to bully to Buckeyes a little up front and get Kenneth Walker going. The Spartans keep it within three touchdowns.
Lowell's Lock: Michigan State covers +19
#21 Arkansas at #2 Alabama (-20.5):
Arkansas has been on a roll lately, with three solid wins in a row. Alabama has been sputtering in recent weeks, like with six rushing yards against LSU. That has to worry you against an Arkansas defense that doesn't give up a ton on the ground. Arkansas is going to make things a little scary for the home team, but the Tide pull it out at home.
Lowell's Lock: Arkansas covers +20.5
SMU at #5 Cincinnati (-10):
Let's be honest, the Bearcats have been stumbling through games as of late. They don't look all there and appear to be unfocused, which is wild for a team that's firmly in the college football playoff hunt and can't afford any slips. SMU's wide open offense is going to give Cincinnati some issues, but the Bearcats put together their most complete game of the season as they finally focus on a decent opponent.
Lowell's Lock: Cincinnati covers -10
#3 Oregon at #23 Utah (-3):
Oregon is firmly in the playoff hunt, and has been rolling teams on the ground lately. The Ducks are starting to look like prime Chip Kelly Oregon again. The Utes do much of the same, but with less talent around them. The Ducks get it done on the road and stay alive.
Lowell's Lock: Oregon covers +3
Auburn (-7.5) at South Carolina:
The good news for South Carolina? Auburn starting quarterback Bo Nix is out for this matchup. The bad news? His replacement is TJ Finley, who the Gamecocks know well after he torched them for 265 yards and three touchdowns while leading his former team, the LSU Tigers, to 52 points last season. A week after the Gamecocks stomped the Gators, they came back and lost to Missouri, and I do not see their luck against Tigers changing in this one.
Lowell's Lock: Auburn covers -7.5
#10 Wake Forest at Clemson (-4):
The Wake Forest offense is outstanding, but has yet to play a team that can blow up its slow mesh read option offense like Clemson has the capability of doing. The Tigers are going to pressure and hit Wake Forest in the backfield a lot, and the Tigers have the secondary to hang in the backend. Wake Forest will get theirs, but it won't be enough to overcome their own porous defense, or the pressure Venables is going to bring all game in front of a rocking Death Valley crowd.
Lowell's Lock: Clemson covers -4
Lowell's Locks

Weekly Results
Season Results
Week 1
1-3-1
1-3-1
Week 2
4-2
5-5-1
Week 3
2-4
7-9-1
Week 4
4-2
11-11-1
Week 5
2-4
13-15-1
Week 6
4-2
17-17-1
Week 7
2-4
19-21-1
Week 8
5-1
24-22-1
Week 9
1-5
25-27-1
Week 10
2-4
27-31-1
Week 11
2-4
29-35-1
Week 12
Never miss the latest news from Clemson Sports Talk!
Join our free email list