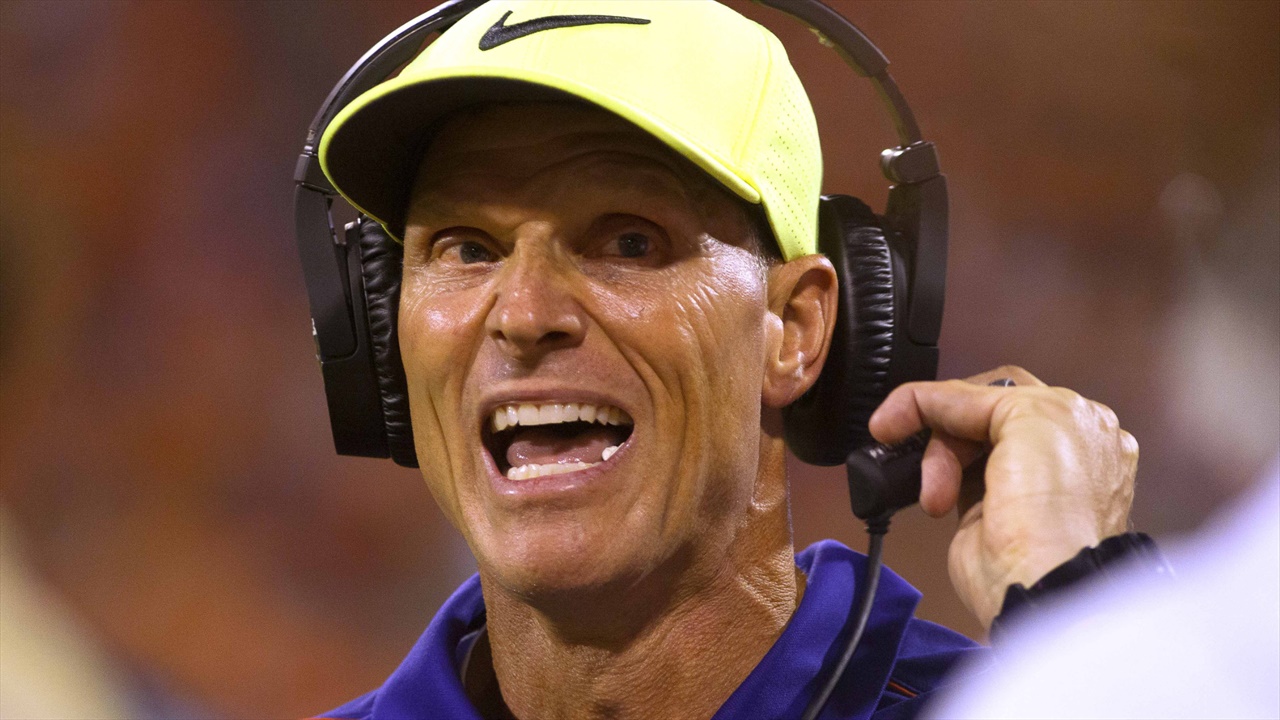 Photo by © Joshua S. Kelly-USA TODAY Sports
Clemson Football
Coach Speak: Venables, Elliott break down South Carolina
---
Tony Elliott
On Offensive Game Plan:
"We knew were going to have to run the ball you look at the breakdown on South Carolina's defense they're top 15 in pass defense. Where we were from a personnel standpoint at wideout, and the backs have really started to come on—finally had some cohesion and continuity on the offensive line. Coming off the performance against Wake I knew these guys had some confidence."
On Offensive Line play and run game:
"Good push in the run game—the backs were able to get going and get some momentum before any contact—thought they did a good job of just establishing a line of scrimmage from the get-go. We were able to run the football and had a lot of success in the first half. Would like to have run it just a little bit more effectively in the second half."
On run game's effectiveness:
"There's nothing more demoralizing to a team than to have the ball ran on you—it just sets the mentality, the mindset, from a physicality standpoint in the trenches—it allows you to stay ahead of the chains. You feel like you're in control because you're able to stay ahead of the chains. Whenever you can establish a line of scrimmage and run the ball it just ignites the sideline and it helps to control a game."
On Dacari Collins's Development:
"You saw some big plays in the run game last week very physical—we were really proud of him because he was a guy that came in mid-year and maybe did not have the start of the season that he wanted. When he needed him, he was ready and he stepped up—we needed him here down the stretch. He's made big plays both in the passing game and running game and he's going to continue to get better."
On Phil Mafah's Touchdown:
"That was fun for Phil and all those guys because it felt like honestly we had to settle for some field goals—wanted to try and score touchdowns as much as we can but you got to play smart football at times and take the field goals. The situation there-- we were going to run it, we weren't going to kick the field goal. For those guys to go in and not only convert the 4th-and-3 but to be able to punch it in for a touchdown was a cool moment."
On the importance of establishing something early with the crowd:
"We had to prepare our guys because there are several guys on the team that never had been down here—we didn't get to play these guys last year. Always respect for the fan base of South Carolina—the atmosphere, the environment is always great when you come down here. We knew it was gonna be our responsibility especially with the opening kickoff to put together with a drive and see if we can take some of the energy out."
On scoring without a lot of passing:
"Just doing whatever it takes—try to put the young men in the best position to be successful, trust the eyes of the coaching staff to help make adjustments. For us this year each week it's been a season of it's own—the last couple of weeks we've had less of adversity. Just trying to play to the strengths and do what we feel like we have confidence in and the last couple weeks the guys have really been confident running the football."
On where this performance for his defense in this game ranks all time for him:
"Proud of our guys, that doesn't just happen, that takes a lot of work, a lot of people together, staff, players. Remember whatever it was three, four, five weeks into the season, everybody's asking about how hard it could be to get you guys to play something-- just a lot of belief in one another and a lot of guys that care. You know they care for that paw and what it represents. Probably our best performance of the year."
Brent Venables
(There are lots of audio issues with this file.)
On early-season criticism:
"Remember whatever it was three, four, five weeks into the season, everybody's asking about how hard it could be to get you guys to play something. Conversational circumstances I guess. But I'm really glad our guys have listened to it."
On if he was nervous on the last drive:
"Nervous isn't the right word. We kept him out."..."(a shutout) is hard to get man against your rival, everybody puts in a lot to the game, and know each other very well in the same state. So, great feat by our guys."
On the performance of Andrew Booth Jr. vs South Carolina:
"Yeah Andrews played well, he's one really good player. He'll be the first to tell you that if you can still shoot for more there's more, there's more to be had. But he's played really well."
On the performance of the defensive line:
"Yeah, they played well. They've played well all year round, played well tonight. Set the edge, got some knockback, got off the blocks well-- really physical. It all starts up front."
Never miss the latest news from Clemson Sports Talk!
Join our free email list