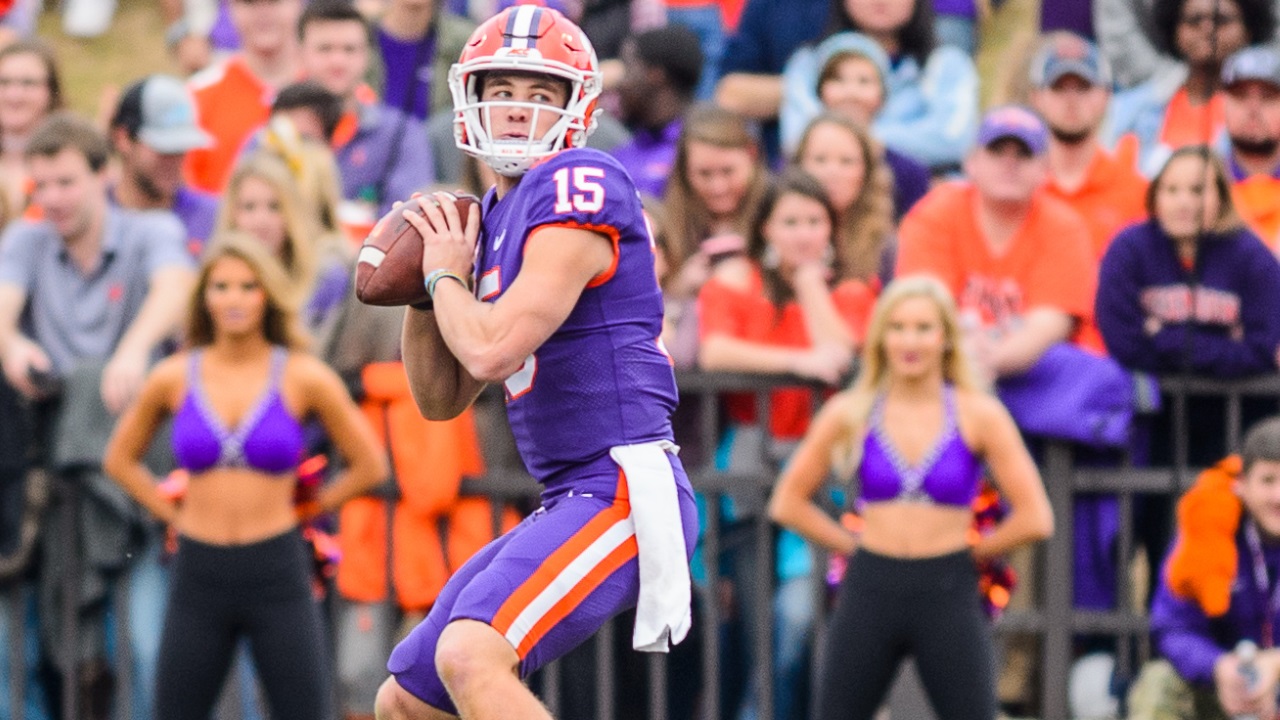 Clemson Football
Former five-star quarterback Hunter Johnson returns to Clemson
---
When Hunter Johnson transferred out of Clemson's program back in 2018, Dabo Swinney said that the two would be "connected" forever. Little did Swinney know the duo would be connected again in Tiger Town as Johnson, who recently entered the transfer portal, will return to Clemson to finish his collegiate career.
**Additional notes about Johnson follow the article below.
---
The following is an article written by Sanders Sullivan just after Johnson left Clemson in 2018:
When Hunter Johnson stepped on Clemson's campus as an early freshman enrollee, he had three distinct goals in mind.
As a communication major, he had a goal of pursuing a sports broadcasting or journalism career. The Clemson communications department made the five-star recruit feel extremely welcomed during a recruiting visit with his family.
After his visit and meeting with Dabo Swinney, the No. 1 dual-threat quarterback in the 2017 class decided to flip his commitment from Tennessee to Clemson.
His second goal, of course, was to lead the Tigers as the first-string quarterback as a freshman. He battled alongside Zerrick Cooper and Kelly Bryant during spring and fall camp for the starting position, but fell short after the veteran Bryant took the job.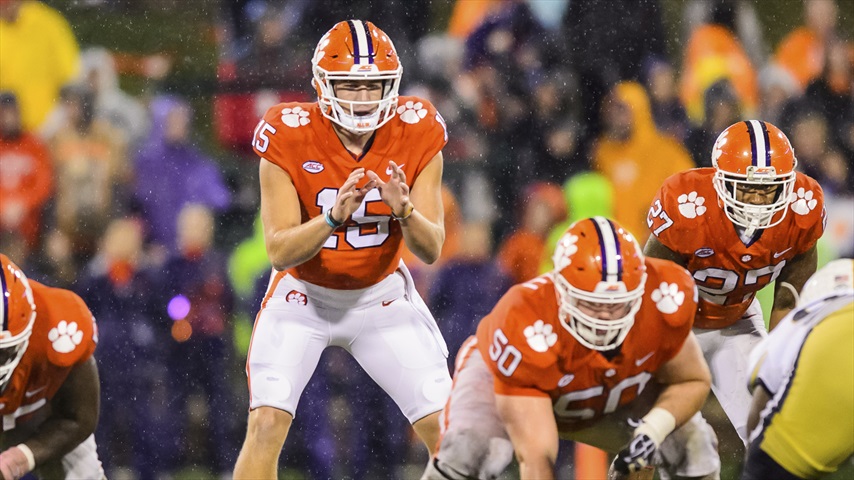 Clemson Sports Talk
Although he never saw significant time in what became his only season in a Clemson uniform, Johnson showed tremendous promise and upside with each rep. It took the freshman some time to get used to the speed of the college game, but every time we saw a glimpse of what he could do with his arm, we always came away impressed.
But Bryant kept the job all season long, and after a banged-up Bryant went down with a massive head injury at Syracuse, Cooper got the call instead of Johnson. The true freshman could only watch as the Tigers suffered their only loss of the regular season, 27-24.
In seven games as a true freshman, Johnson completed 77.8 percent of his passes for 234 yards and two touchdowns. All signs were pointing towards him as the best bet to challenge Bryant in 2018. Tre freshman Trevor Lawrence brought tons of expectations but would be forced to prove his worth in a short amount of time.
After 15 practices in spring flew by and the conclusion of the spring game, Johnson and Lawrence both made up some ground on Bryant. Their respective bodies of work led Swinney to not officially name a starter heading into the summer.
At the time, Johnson told us he liked the position he was in. But when it appeared the freshman phenom Lawrence had moved past him on the depth chart and wasn't going to let the spot go, Johnson thought it was best to explore other options.
After all, there was still his third goal: being a professional quarterback.
Right now, his former head coach believes he is still in the perfect position to achieve that goal.
"He's an unbelievable talent, player, and is going to be a pro."
"He's an unbelievable talent, player, and is going to be a pro," Swinney said. "He's going to be a kid that's going to play this game a long time."
So in Johnson's best interest, he decided to head back up north towards his Indiana home choosing to play at Northwestern, a place that already has family ties. Hunter's brother Cole played for the Wildcats from 2013-16 primarily on special teams.
When Johnson approached Swinney and told him the news, there was a bit of a surprise from his head coach. Swinney knew one of his quarterbacks may very well decide to leave at any point, but didn't expect one to happen until after the 2018 season.
But that didn't stop Swinney from helping his quarterback out.
Once the name Northwestern came up as a possible landing spot, Swinney called Northwestern head coach Pat Fitzgerald, a friend of his, and linked the two together.
After sitting out a year and learning the ins and outs of the Wildcat offense, Johnson will presumably take the role as "the guy" with three years of eligibility left. In 2017, Northwestern ranked No. 64 in the NCAA in passing offense with 233 passing yards per game. Johnson will bring a much needed "live arm" for the Wildcats.
With Johnson at the helm and the right pieces around Fitzgerald, Northwestern could find themselves winning a Big Ten West title before Johnson hangs up his new purple jersey. The Wildcats haven't won a conference title independently since 1995.
Swinney wished Johnson nothing but success and said he'll be pulling for him as he moves forward in pursuit of his ultimate goals. The head coach said he's looking forward to keeping an eye on Johnson once he hits the field in Evanston, Illinois.
But as he leaves Clemson, the bond between Johnson and Swinney will never be broken.
"He is truly one of the best players and best young people that I've been around," Swinney added. "He's a guy that I'll be connected to forever. We'll be friends forever."
---
Notes from Northwestern on Johnson:
2021: Voted Team Captain ... Completed 30 of 43 passes for 283 yards and three touchdowns, without throwing an interception in the season-opener against Michigan State (9/3) ... Threw for 66 yards and a touchdown in a win over Indiana State (9/11).

2020: Appeared in two games as part of Northwestern's 7-2 campaign.

2019: Appeared in six games with five starts as a junior, throwing for 432 yards and a touchdown while rushing for 64 yards and a score ... Made Northwestern debut against Stanford (8/31) ... Recorded a career-high 165 passing yards and a touchdown while adding 55 yards on the ground and a rushing score to help defeat UNLV (9/14).

2018: Sat out as a sophomore due to the transfer rule.

2017 (Clemson): Was 21-27 passing for 234 yards and two touchdowns against an interception in 76 snaps over seven games ... Completed 77.8 percent of his passes and had a 167.6 pass efficiency rating ... Was 5-6 passing for 39 yards against Kent State on Sept. 2 ... Was 5-5 passing for 42 yards and a his first career touchdown against Wake Forest on Oct. 7 ... Was 7-8 passing for 144 yards and a touchdown against The Citadel on Nov. 18.

High School: Rated as the top quarterback in the nation by ESPN ... The best player in the state of Indiana, he was named Mr. Football in 2016 ... A 2016 Elite 11 quarterback, his highest prospect rating is No. 18 by Rivals, which also ranks him as the best player in Indiana and second-best quarterback in the nation ... Top prospect in Indiana and No. 2 quarterback nationally by 247Sports ... Most Valuable Player in the US Army All-American game ... Invited to the Nike event "The Opening" in Oregon ... Three-year starter for Brownsburg High School played for John Hart ... Completed 166-318 passes for 2,233 yards and 25 touchdowns as a senior when he led Brownsburg to 8-2 record ... Also rushed for 525 yards and three scores ... Had best game against Zionsville when he completed 21-33 passes for 302 yards and five scores ... Had 105 rushing yards in a win over Westfield ... As a junior, completed 174-316 passes for 2,542 yards and 31 touchdowns in just 10 games ... Had three games with at least five touchdown passes, including a win over Lawrence North when he was 25-38 for 445 yards and six scores ... As a sophomore, completed 122-226 for 1,434 yards and 10 scores ... For his career, completed 496-964 for 6,657 yards and 69 touchdowns ... Also had 727 rushing yards, with 7,384 yards of total offense and 76 total touchdowns ... Received IFCA and AP all-state honors as a junior and senior ... Also an all-state track performer in spring of 2015 ... Ran on 4x400 relay team that finished fourth in the state in 2015 ... Wore No. 15 in high school.
Never miss the latest news from Clemson Sports Talk!
Join our free email list