Clemson Football
Swinney: QB room "as good as he's had" at Clemson
---

Avoid clickbait and sites bloated with advertising!
---
CLEMSON, S.C. – Throughout Clemson's spring game, sophomore tight end Jake Briningstool impressed the crowd with several receptions from freshman quarterback Cade Klubnik. Briningstool established himself as Klubnik's preferred target early and often.
Spectators – along with several reporters – immediately took notice. Following the game, Briningstool was questioned about the budding connection.
"The main thing we wanted to do was just come out here and win and we got that taken care of," he told reporters. "We wanted to build cohesion as an offense and work with Cade, who's coming in as a new guy. We wanted to keep getting on the same page. I think we got alot out of it."
Briningstool, who pulled in just 3 receptions for 67 yards and a touchdown as a freshman, figures to factor in with a more substantial role in the Tiger offense this season. Following the departures of wide receiver Justyn Ross and tight end Braden Galloway (both of whom signed free agent NFL deals on Monday afternoon), there are holes in Clemson's passing game just begging to be filled.
Briningstool is primed to help fill them, but one question simmers on many Tiger minds.
Who will be throwing him the ball come August?
The sophomore pass-catcher remained mum on the subject when asked.
"I think [Klubnik and junior quarterback D.J. Uiagalelei] are gonna battle it out for sure. But I'm not really going to get into that."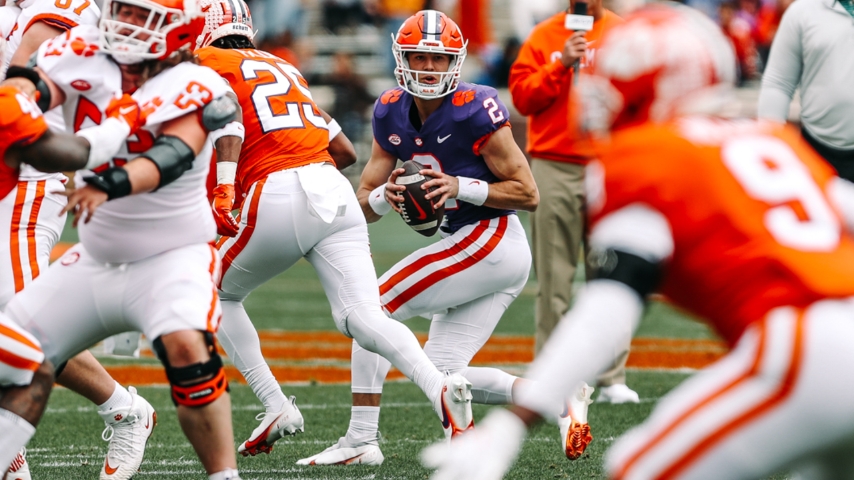 Clemson Sports Talk
What Briningstool did get into, however, was heaping plenty of praise upon true freshman Klubnik.
"I think Cade played great. He stepped up when we needed him to. He's always been a guy we can count on ever since he got here."
When probed on the same topic, head coach Dabo Swinney – in typical, journalistically-appreciated Dabo Swinney fashion – gave a lengthy response about his quarterback room, one which he called "as good as he's had" at Clemson.
Swinney spoke with confidence about both Klubnik and Uiagalelei, but gave the current nod to his returning signal-caller.
"D.J. is definitely our starter," Swinney proclaimed to a swarm of media members after the spring game. "He's had a great spring. And he hasn't done anything to not be the starter. But Cade is really talented player. We've got two guys that I think can win at a high level, just like when Trevor [Lawrence] and D.J. were coming out of the spring. It's not often you can say that, but I've seen enough from both [Klubnik and Uiagelelei] to know that it's a good situation."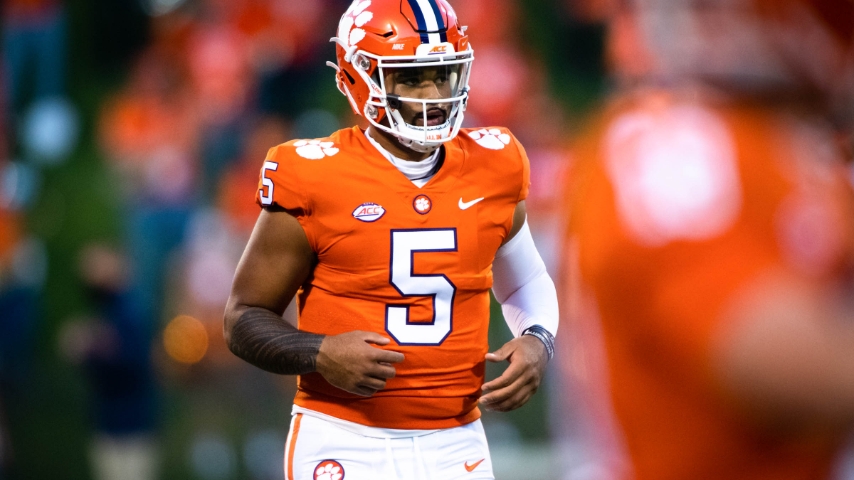 Courtesy of ACC Media Portal
Klubnik certainly outperformed Uiagelelei throughout the spring game, however, solely judging by the stat sheets. The freshman from Texas finished the day 15-23 passing for 106 yards and a score, while Uiagelelei threw for 175 yards and an interception on a less-than-stellar 17-36 clip.
Swinney shared his thoughts on Klubnik's spring game performance, his first true game action – albeit at a lighter pace – in Tiger orange.
"I thought Cade played great. I mean, he took too many sacks. He's got 'purple jersey syndrome,'" said Swinney with a laugh.
Swinney explained that "purple jersey syndrome" meant Klubnik was too comfortable staying in the pocket and taking simulated hits, as opposed to getting rid of the ball quickly.
"I told him I'm going to let him loose a couple times, and he'll get a little more sense of urgency when Myles Murphy smashes him." Swinney laughed. "But he's going to grow. He's one of the most self-driven kids you'll be around. He just keeps getting better and keeps learning."
So while it sounds like Uiagalelei has all of the Tigers' confidence heading away from the spring, Klubnik has done everything expected of him and then some during his brief stint in Tiger Town. It certainly remains to be seen how the competition plays out once the season gets under way in September.
Needless to say, however, no one in the Clemson camp seems to be worried, especially not Swinney.
"I'm proud of all those guys," he said of the quarterbacks on his roster.
"And all I know is that we're going to have a lot of functional guys in that quarterback room when we need them."
Never miss the latest news from Clemson Sports Talk!
Join our free email list