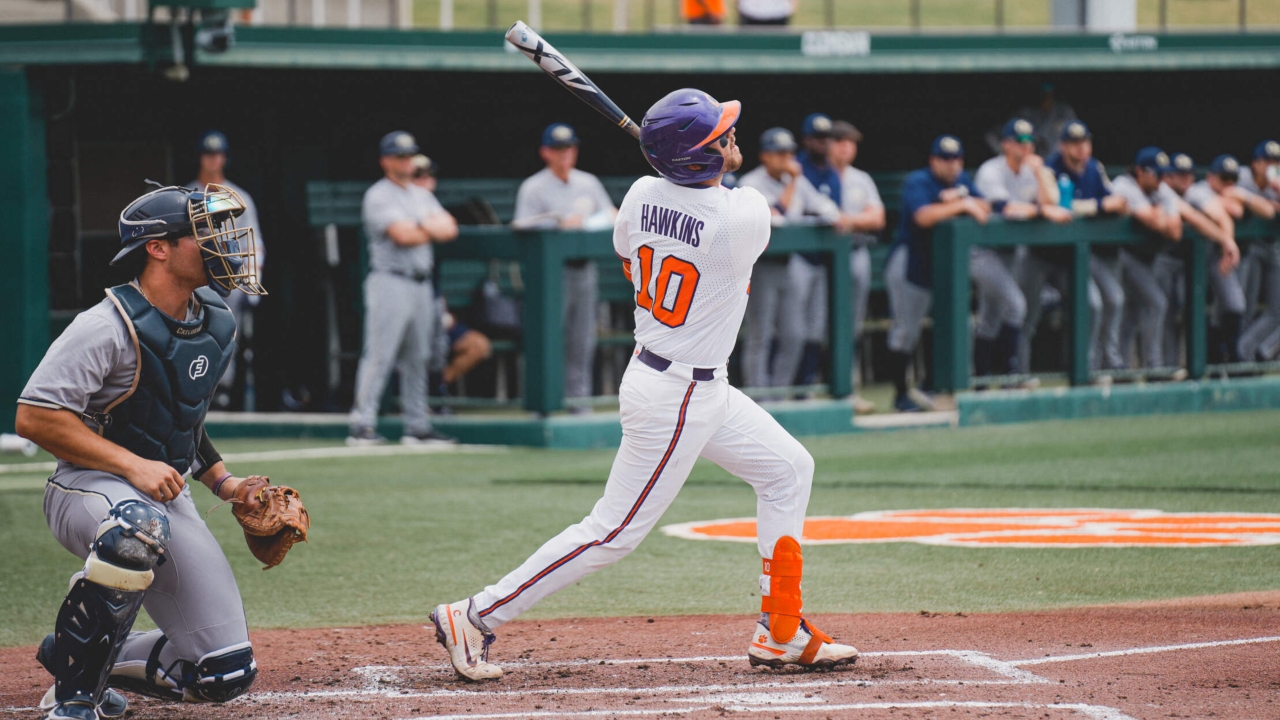 Clemson Baseball
THE ROAR: Sweep, Softball Set, Stillwater Swings
---

Avoid clickbait and sites bloated with advertising!
---
LISTEN. Take a moment to check out yesterday's show. Clemson Sports Talk can be heard around the world on the iHeart Radio App or streamed online. Listen to Fox Sports Radio 1400 from 4-6 PM daily! Subscribe to our podcast if you enjoy the show!
SWEEP. Clemson baseball picked up a much-needed sweep this weekend over the No. 21 Georgia Tech Yellow Jackets. The Tigers improved to 31-17 overall and 9-14 in the ACC with the series win. Even more importantly, Clemson moved up to No. 18 in the RPI and passed Duke in the ACC standings as the Blue Devils lost two of three games this weekend.
Clemson's offense went to work all weekend, dominating Georgia Tech at the plate. The Tigers plated 35 runs in the series, giving up just 14.
Following Game 3, Monte Lee said, "This weekend, we had to move some pieces around… and I'm proud of our guys because we said, 'Hey, we need to win these games anyway so it's the next man up.' And what a great job those guys did."
Up next, Clemson will play College of Charleston at Segra Park in Columbia, S.C. on Tuesday at 7:05 p.m. on ACC Network Extra.
SOFTBALL SET. At the ACC Tournament, No. 5 Clemson will face No. 4 Notre Dame on Thursday at 1:30 p.m. in quarterfinal play.
The ACC Network and ESPN2 will provide 18 hours of live coverage of the ACC Softball Championship. The first three rounds will be broadcast on ACC Network, and ESPN2 will carry the championship game, with studio breaks in between games.
Three ACC teams are ranked among the top 10 of the most recent D1Softball Poll - the most of any conference. Virginia Tech leads among league teams at No. 2, followed by No. 3 Florida State, No. 10 Duke, No. 16 Clemson and No. 20 Notre Dame.
2022 ACC Softball Championship Schedule
Wednesday, May 11
Game 1: #8 Louisville vs. #9 Syracuse, 1 p.m., ACCN
Game 2: #7 Georgia Tech vs. #10 NC State, 3:30 p.m., ACCN
Thursday, May 12
Game 3: #1 Virginia Tech vs. Winner Game 1, 11 a.m., ACCN
Game 4: #4 Notre Dame vs. #5 Clemson, 1:30 p.m., ACCN
Game 5: #2 Duke vs. Winner Game 2, 5 p.m., ACCN
Game 6: #3 Florida State vs. #6 Virginia, 7:30 p.m., ACCN
Friday, May 13
Game 7: Winner Game 3 vs. Winner Game 4, 1 p.m., ACCN
Game 8: Winner Game 5 vs. Winner Game 6, 3:30 p.m., ACCN
Saturday, May 14
Game 9: Winner Game 7 vs. Winner Game 8, 1 p.m., ESPN2
STILLWATER SWINGS. Clemson women's golf returns to the course on Monday, opening the first round of the NCAA Stillwater Regional, held at the par-72, 6,303-yard Karsten Creek Golf Club. The Tigers earned the six seed as one of 12 teams selected for this regional.
The Tigers will tee off of hole No. 10 at 8:00 a.m., playing with Auburn and Michigan State.
Melena Barrientos will lead the Tiger lineup this weekend, with Annabelle Pancake making a return after missing the ACC Championships due to injury. Savannah Grewal, Callista Rice, and Gabriella Tomanka round out the lineup for the 54-hole event.
Clemson has finished in the top-10 in all its spring events and has been led by Barrientos, who enters the postseason with a 73.63 stroke average. Rice is the only Tiger to participate in all nine tournaments this season, with a stroke average of 75.15.
Each of the six regional sites will include 12 teams and six individuals competing, with the top four teams (24 teams total) and the low two individuals (12 individuals total) not on an advancing team from each regional site advancing the national championships at Grayhawk Golf Club in Scottsdale, Ariz. from May 20-25.
SONG OF THE DAY. In honor of summer coming and the Tigers Woman's Golf Team playing in Stillwater, Oklahoma, we drop this classic from The Four Tops. I cannot wait to have some sand between my toes with beach music in the background!
- "Still Water (Love)" - by The Four Tops -
OFF THE PATH. Did you get woken up last night from an earthquake? According to reports-- and those of you that did wake up-- we had another earthquake last night-- with a 3.3 magnitude.
The pre-dawn temblor lasted only seconds but a number of people took to social media to describe being shaken from sleep when the quake hit shortly after 1:30 a.m. A seismic analyst monitoring the quake for the USGS Geological Survey's National Earthquake Information Center in Colorado, called it the latest in a series of shakes in recent months but stronger than usual.
"There's definitely been a 'swarm' here over the past several months. It's not like a swarm like after a large seismic event but we have had a number of them in recent months," geophysicist Amy Vaughan with the 24-hour monitoring service told The Associated Press by phone.
Vaughan said the 3.3 magnitude is an early assessment and could change, adding the quake occurred about 1.9 miles (3.1 kilometers) below the earth's surface near the community of Elgin. The epicenter was about 21 miles (3 kilometers) northeast of downtown Columbia, the capital city.
Be safe out there!
---
Let us know what you think about THE ROAR! If you liked it, make sure you SHARE! Don't forget to sign up for our special! Get THREE MONTHS of coverage for just $1.
Never miss the latest news from Clemson Sports Talk!
Join our free email list
PRESENTED BY