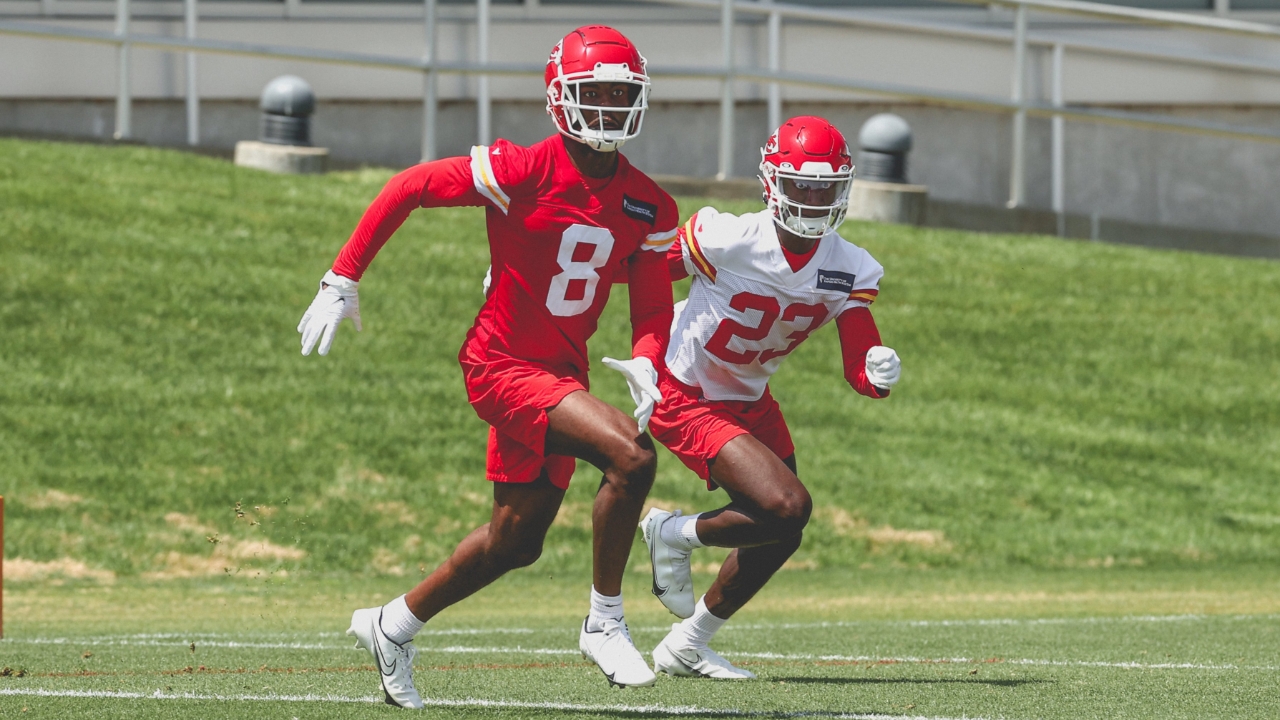 Photo by Twitter: @Chiefs
Clemson Football
Ross ready to make impressions and big plays in Kansas City
---

Avoid clickbait and sites bloated with advertising!
---
In his freshman season, the star pass-catcher put up dazzling numbers with the Tigers, hauling in exactly 1,000 yards receiving and nine touchdowns on 46 receptions. He introduced himself to the college football world on the grandest of stages, torching the Alabama secondary for 153 yards and a score on six catches en route to helping Clemson capture its second national title in just three years.
He knew nothing of a sophomore slump, putting up 865 yards and eight touchdowns the following season.
© Kyle Terada-USA TODAY Sports
For Ross, the coast was clear. One more season with the Tigers, and undoubtedly, NFL teams across the board would be willing to sacrifice early picks and large sums of money to make him their future franchise receiver. Nothing would stand in Ross' way.
Then came the spring of 2020. A "stinger" injury, as Ross called it at the time, led doctors to discover a larger problem lingering. A congenital fusion of his neck and spine would require season-ending surgery.
"It was hard," said Ross of the recovery process. "But I just put everything in God's hands. Just like my grandma always tells me, 'put it in God's hands and let Him work.' So I did everything my doctors and coaches told me to do. I just went with it."
Ross returned in 2021 for his junior season and put up respectable numbers, especially given the Tigers' lack of stability on both the offensive line and in the quarterback room. But for some reason, perhaps a combination of injury concerns and lack of recent high-end production on the field, Ross began slipping through several rounds of the 2022 NFL Draft.
And when the Vegas lights finally went dim, Ross remained undrafted.
"I was hoping [to get drafted]. But I knew it was a possibility that I'd end up a free agent. I didn't really give too much thought to it."
That's what Ross told reporters on Monday afternoon in Kansas City, a place Ross will hopefully call home for years to come.
The Chiefs signed Ross as an undrafted free agent two days after the draft.
Ross had plenty of teams calling his number, but Kansas City immediately jumped out at him.
"Just having Pat Mahomes, who's a great quarterback, and Andy Reid, a great coach. And a great receiver group. It feels like a family here. I've only been here for a day, but they treat me like family."
Ross mentioned that his old partner in crime – former Clemson wide receiver Cornell Powell – has been helping him get settled in since his arrival in Kansas City. The Chiefs selected Powell in the with pick No. 181 of last year's draft.
Take a moment to check out yesterday's show. Clemson Sports Talk can be heard around the world on the iHeart Radio App or streamed online. Listen to Fox Sports Radio 1400 from 4-6 PM daily! Subscribe to our podcast if you enjoy the show!
No more than two years ago, former Clemson wide receiver Justyn Ross appeared to be cruising toward an early-round NFL Draft selection.
"I've seen players like me come here and excel in this offense," Ross said. "Players like Sammy [Watkins] come here and excel, so I feel really good about [the fit]."
But the main goal for Ross right now? It isn't to prove everyone wrong that passed on him in the draft. His number one priority is simply getting back to his top form, quality of play which he simply refers to as "the normal" Justyn Ross.
"It's been a lot of hard work. I've been putting in a lot of time trying to get back to the normal me. I feel good."
Ross added that while not at the forefront of his mind, the fact that he went undrafted certainly sits in the back of it.
"Of course, I want to prove everybody wrong. But right now, I'm just trying to feel out my spot and play my part on the team. I just want to see what I can do. With what I had going on, I didn't know if I'd be out here at all, period. I just want to get my foot in the door and make plays."
As an undrafted free agent, the path toward consistent Sunday production is unlikely to be a smooth one for Ross. But if there's anyone who can handle a little adversity – anyone who can navigate through some bumps in the road along the winding path to stardom – Ross knows he has what it takes.
"I've never really had anything easy for me," Ross said.
"I've had to push through a lot of things. So this isn't really too bad for me."
Never miss the latest news from Clemson Sports Talk!
Join our free email list