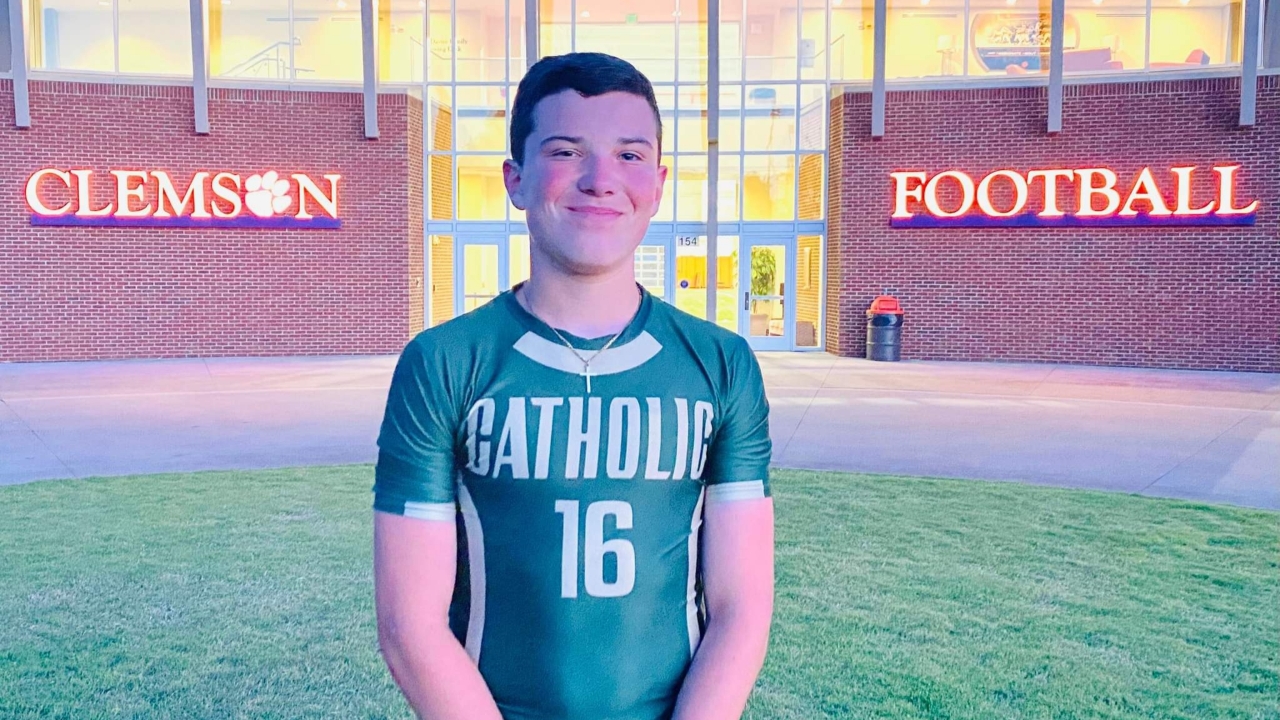 Photo by Casen Jenkins
Clemson Football
Before the Stars: Casen Jenkins is still 'Living the Dream'
---

Avoid clickbait and sites bloated with advertising!
We hope you all had a wonderful Fourth of July! Today, we continue our "Before the Stars" series, profiling young Clemson football fans who competed at Dabo Swinney's Camp with dreams of one day playing for the Tigers. These kids see orange and are passionate about the sport they love -- No star ratings are needed.
---
Casen Jenkins, 15, traveled from Oak Ridge, TN to Dabo Swinney's Camp on June 10.
So what did he think of the camp?
"It was fun," he simply stated.
Last season, Jenkins was an eighth-grader at Robertsville Middle School in TN, where he was a receiver on offense and safety on defense.
Jenkins was a slot receiver at camp and worked with Clemson freshman quarterback Cade Klubnik. So what was his biggest takeaway from the workouts?
"Probably, the releases, to help me get off the line on one on ones."
Jenkins was accompanied to Clemson by his mom, Heather Jenkins. What were her thoughts on the camp?
"Clemson is usually one of the best camps we go to, as far as, its organization, and just the number of reps he gets," she said.
Casen and Heather are no strangers to Swinney's Camp. They have traveled to camp from Tennessee four times since 2017. They are also very familiar with Clemson football.
It was all a Dream
In 2017, Clemson fans were introduced to Casen, a student at Linden Elementary, and Heather, the Assistant Principal at Linden, when for an assignment the third-grader was asked to write a personalized version of Martin Luther King Jr's "I Have a Dream" speech called "I Have a Dream Too."
The nine-year-old wanted to follow in the footsteps of Oak Ridge native Tee Higgins, who committed to Clemson on Independence Day in 2016.
Heather Jenkins
The Cincinnati Bengals receiver and favorite player of Casen was also a student at Linden and played football for Robertsville.
However, instead of making the customary move from Robertsville to Oak Ridge High, where Higgins was a standout in football and basketball, Casen will transfer to Knoxville Catholic High in Knoxville, TN.
Knoxville Catholic is the former school of Clemson offensive lineman Bryn Tucker and former Tiger and current Green Bay Packer receiver, Amari Rodgers.
"Yeah, I mean, I had to leave some of my friends," he said when asked whether the decision to transfer was tough. "But it's a new chapter in my life.
"I really like the coaches and I think it was a better opportunity for me," added Casen.
"I think he has more options, exposure, and opportunities," noted Heather. "And their player development? -- it's unbelievable the difference that I'm already seeing in him."
Former CFL and Oklahoma State receiver Adarius Bowman is on the Knoxville Catholic staff as the wide receivers coach. The former three-time CFL All-Star player and 2006 Big 12 Offensive Newcomer of the Year worked with Casen this summer and took him and a few teammates to camps at Virginia Tech, Tennessee, and UNC.
Since being drafted by the Bengals in 2020, Higgins has emerged as one of the brightest stars in the NFL and played for a Super Bowl Championship in 2021. His life has changed in a short time but Casen remains a part of it.
Casen's pet dog, Koda, originally placed in his care as Higgins participated in Bengals rookie camp, was a gift and Casen has been to five Cincinnati games with Heather at his side. They were even present on December 26, 2021, when Higgins had career highs in receptions (12), yards (192), and scored two touchdowns against the Baltimore Ravens.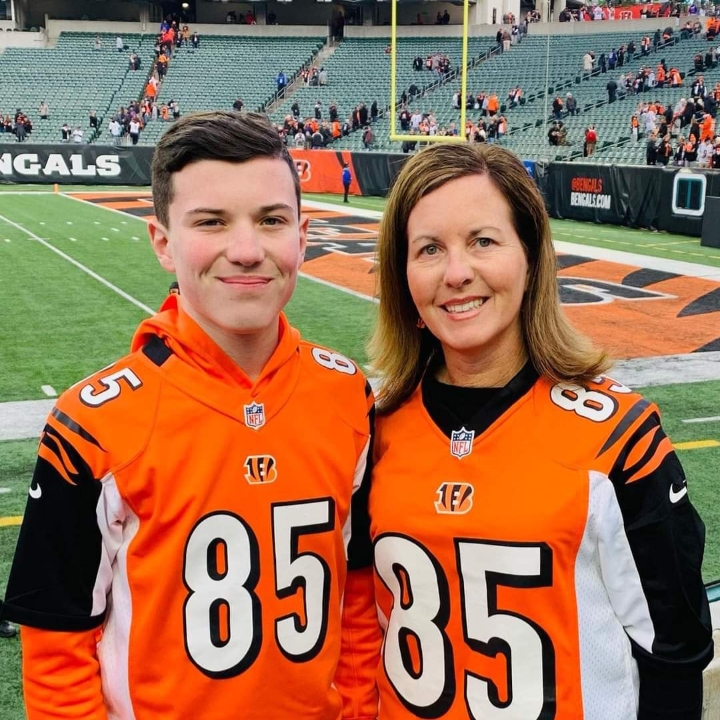 Heather Jenkins
Furthermore, Heather and Camellia "Lady" Stewart, Higgins' mom, communicate regularly.
Decisions, Decisions
The opening sentences to "I Have a Dream Too" are, "I have a dream that one day. I want to play for the Clemson Tigers. I would love to play with the Tigers."
Casen became 'All In' for Clemson in 2016 and part of his dream was to be a receiver for the Tigers.
Higgins won a national championship at Clemson (2018) and his 27 career touchdown receptions are tied for the most in school history with DeAndre Hopkins (Arizona Cardinals) and Sammy Watkins (Green Bay Packers).
During his three years in the upstate, his No. 1 fan was locked in, wearing orange, in the stands for games, and focused on catching passes in Death Valley himself one day.
Is Casen, after all, 'All In'?
"I mean, yeah, [but] I just gotta keep my options open," Casen stated.
"I guess he's gotten older. He's understanding the process and realizing that he does have to keep his options open," said Heather as she weighed on the topic. "You know, he had the opportunity to go to Virginia Tech and UNC, actually with Coach Bowman and Coach [Gerald] Sensabaugh, and I've heard a lot about Virginia Tech recently. He was impressed with the camp and the coaches.
"I do want him to keep his options open because there's a lot of opportunities. Now, am I still biased toward Clemson and Dabo? Absolutely. It's powerful. The messages that those coaches give, their words of wisdom during the camp for the boys," she continued. "It's a special place and it really is like family. As a mom, that's what you want. I know we get focused on football, but there's a lot more to it than just the game."
What does Higgins think about the possibility of his No. 1 fan/friend/little brother going to another college?
"We haven't really talked about it and we really don't talk schools," was Casen's response. "He just always tells me student before athlete. I think he would probably support me on whatever decision I made. But I know he'd probably want me to go to Clemson."
Heather will support her son's decision as well, although she's happy it's years away.
"This whole high school decision helped me understand how stressful the college decision could be. I can't imagine that -- this was enough."
Never miss the latest news from Clemson Sports Talk!
Join our free email list
PRESENTED BY