Photo by © Ken Ruinard / staff / USA TODAY NETWORK
Clemson Football
Swinney indifferent on realignment: "People come to Clemson because we're Clemson"
---

Avoid clickbait and sites bloated with advertising!
---
CLEMSON, S.C. - It was never a matter of whether or not Dabo Swinney would be asked about the changing landscape of college football, specifically, conference realignment.
It was simply a matter of how many questions it would take until the topic came up.
11 was the larger-than-expected number.
Swinney, who has been vocal in his opinion about the recent influx of changes to college football, gave another in-depth answer when questioned about realignment rumors.
"I'm not concerned at all," Swinney said. "I'm just kind of like everybody else. Like, where are we going to be in two years or five years? As I've said a couple of times, I think most people know where college football is heading. It's just a matter of when. Is it next week? Is it three or five years from now? I don't really know. But I think that most people who are really a part of this game can ultimately agree that there's going to be a restructuring of college football."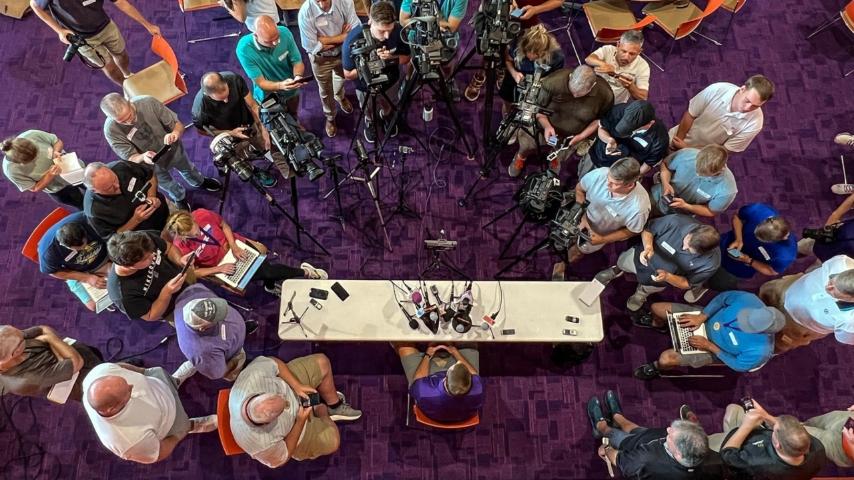 © Ken Ruinard / staff / USA TODAY NETWORK
Swinney used a baseball analogy to drive his view on the matter home.
"Where we are right now, we've kind of rounded second base, and there's a line drive. And everybody's holding halfway to see if it got through. You either get on home or go back to second."
Swinney assured media members that despite the consistent coverage of college football's potential restructuring, he remains focused on one thing: Clemson's opening game on Labor Day against Georgia Tech. "That's what we control," he said. "We don't have control over any of the other stuff."
He reiterated his lack of influence on the matter, stating that these decisions "aren't made by coaches" and that everything would be left to the "presidents and commissioners" in high positions in college football.
"I do know this," said Swinney. "I'm thankful we've got guys here like [Clemson University President] Jim Clements and [newly-appointed Clemson Athletic Director] Graham Neff. These are two very good leaders and people who are incredibly plugged in to all things college football."
Regarding the Tigers' approach to possible incoming changes, Swinney promised consistency. In fact, Clemson's commitment to its roots and previous patterns of success, said Swinney, could make the difference in the future.
"In this world with all the different changes in college football, the more chaotic it's gotten, the better it's been for Clemson. That's because of the foundation we have here and who we are. All the processes we have in place, the people we have in place. The established culture that we have, there aren't many places out there that have that. The more chaotic it's become, the more attractive we are to the people who believe in what we offer."
Swinney conceded that there was little he could do about where college football was trending, yet wasn't hesitant to show confidence that the Tigers would thrive wherever the next few years lead.
"I can tell you this. I don't know whether the ACC will go to 52 teams or if we'll move to the 'New Megatron World Conference.' I don't know. But honestly, people have never come to Clemson because of the league we're in.
"People come to Clemson because we're Clemson."
Never miss the latest news from Clemson Sports Talk!
Join our free email list
PRESENTED BY