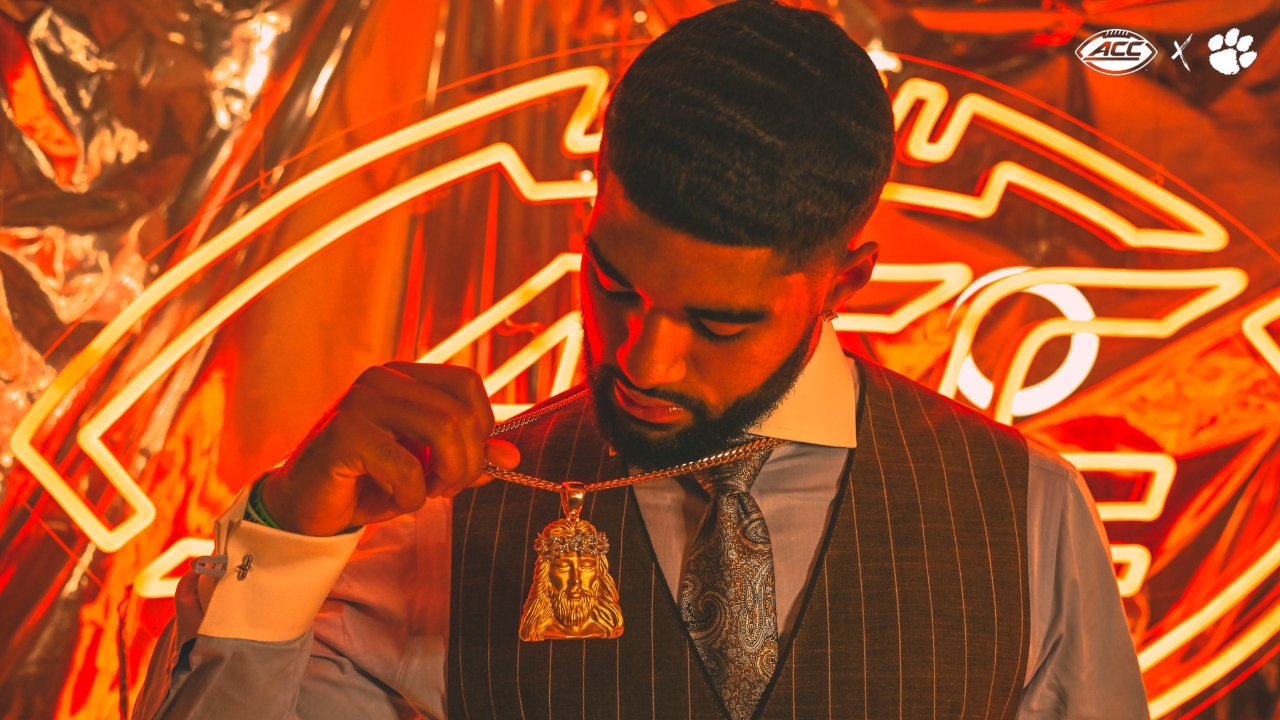 Photo by Jaylynn Nash/ ACC
Clemson Football
A brand new DJ: "Big Sweet Tooth" makes significant offseason changes
---
CHARLOTTE, N.C. — Clemson quarterback D.J. Uiagalelei waltzed through the Westin Hotel in Charlotte, dapper as ever. His fashion sense, which was never in question, quickly caught the eyes of the media in attendance.
"I like wearing different suits," explained the third-year quarterback. "So this year, I wanted to go with a brown suit, double-breasted with a double-breasted jacket, a little bit of blue underneath. I got a new piece, too."
Uiagalelei gestured to the shining chain hanging from his neck. Resting at the bottom of the chain? A gold embellishment of Jesus Christ wearing His crown of thorns. Uiagalelei smiled.
"A new Jesus piece."
Uiagalelei was contagiously energetic all afternoon and appeared noticeably lighter at Wednesday's ACC Media Day. Both head coach Dabo Swinney and offensive coordinator Brandon Streeter commented on Uiagalelei's offseason physical adjustments.
"He's never not been in good shape," said Swinney on Tuesday at Clemson's media day. "He was good. But now, he's become elite from a nutrition and body composition standpoint. He's been taking care of his greatest asset: his body."
"He's made incredible strides," said Streeter. "I'd say he's lost anywhere from 30-35 pounds from last season."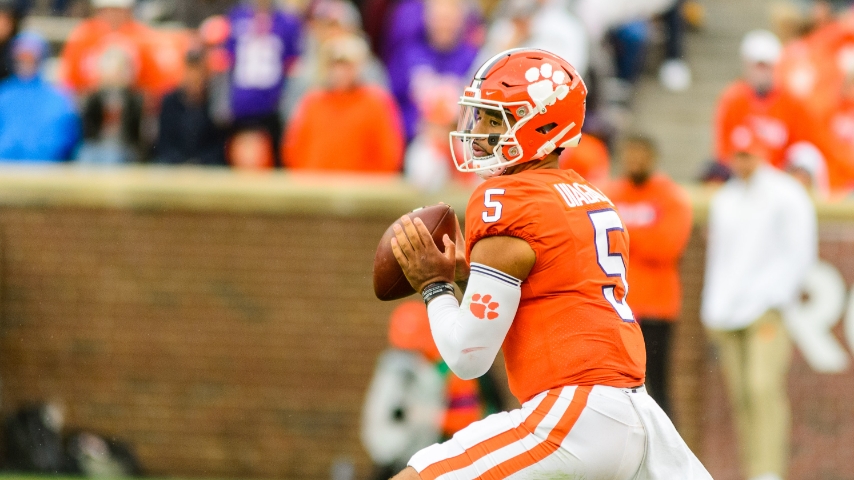 David Grooms
After Uiagalelei's 2021 season, which saw him throw for an underwhelming nine touchdowns and 10 interceptions, fans and pundits had several questions entering his third year in Tiger Town. Would Uiagalelei learn from his mistakes in 2021? Would he even be able to retain the starting job over incoming 5-star QB recruit Cade Klubnik? Murmurs were abounding.
Dabo Swinney addressed them all.
"Last year, as I've said many times, I've never had a young quarterback, a first-year starter who didn't make mistakes. But the past young quarterbacks I've had — Deshaun Watson and Trevor [Lawrence] — they made mistakes. But we were much better around them. Whereas with DJ, we were not very good around him. So his mistakes were magnified.
"I don't need anybody on a message board to tell me who DJ is… He's an unbelievable young man on and off the field. One of the best leaders that we've had come through. Incredibly committed. He has some scars on him and some shrapnel and some wounds. That will serve him well as he goes into this year."
And as for Uiagalelei? He drowned out the noise. This offseason was about self-improvement — mentally and physically — and nothing else.
He spoke about the importance of his physical improvement over the past several months.
"It's been huge," said Uiagalelei. I'm dropping a lot of weight. It was one of my big goals this offseason. After the Cheez-It Bowl, I weighed myself and said, 'I'm a little too heavy.' So I wanted to get some weight down and come into this year in the best shape of my life so that I could put my best foot forward."
And for someone who his teammates call "Big Sweet Tooth," making dietary changes was far from a simple task. He admitted his partiality to ice cream, specifically "birthday cake and cookies and cream" flavors. Uiagalelei laughed when questioned about some of the sweeter sacrifices he made over the offseason.
"Oh man, I do love sweets. That was one thing I had to cut out to lose a lot of weight. I stopped eating desserts. I probably haven't eaten a sweet for six months. From January to June, I didn't have any sweets. That was big."
Uiagalelei also spoke on his relationship with freshman quarterback Cade Klubnik.
"I've tried to tell him the same stuff that Trevor [Lawrence] told me," said Uiagalelei. "First of all, Cade is a great player, great teammate, and a great leader. He brings a lot of affection and youth to the quarterback room and the team. I'm super excited to see him play. Just trying to give him wise words that Trevor gave me and help him along this process."
Heading into the 2022 schedule, and as "talking season" comes to a close, Uiagalelei seems to have a renewed confidence in himself, a firm grasp of the importance of his physical health, and perhaps most importantly, the unwavering faith and support of his coaches.
"I believe in him, and there ain't no doubt about that," said Swinney. "We're going to be better around him, and that's the first thing we've got to do. I know who DJ is. He has to learn from his mistakes. He has to play better in certain areas that he knows.
"And I believe he is going to do it."
Never miss the latest news from Clemson Sports Talk!
Join our free email list