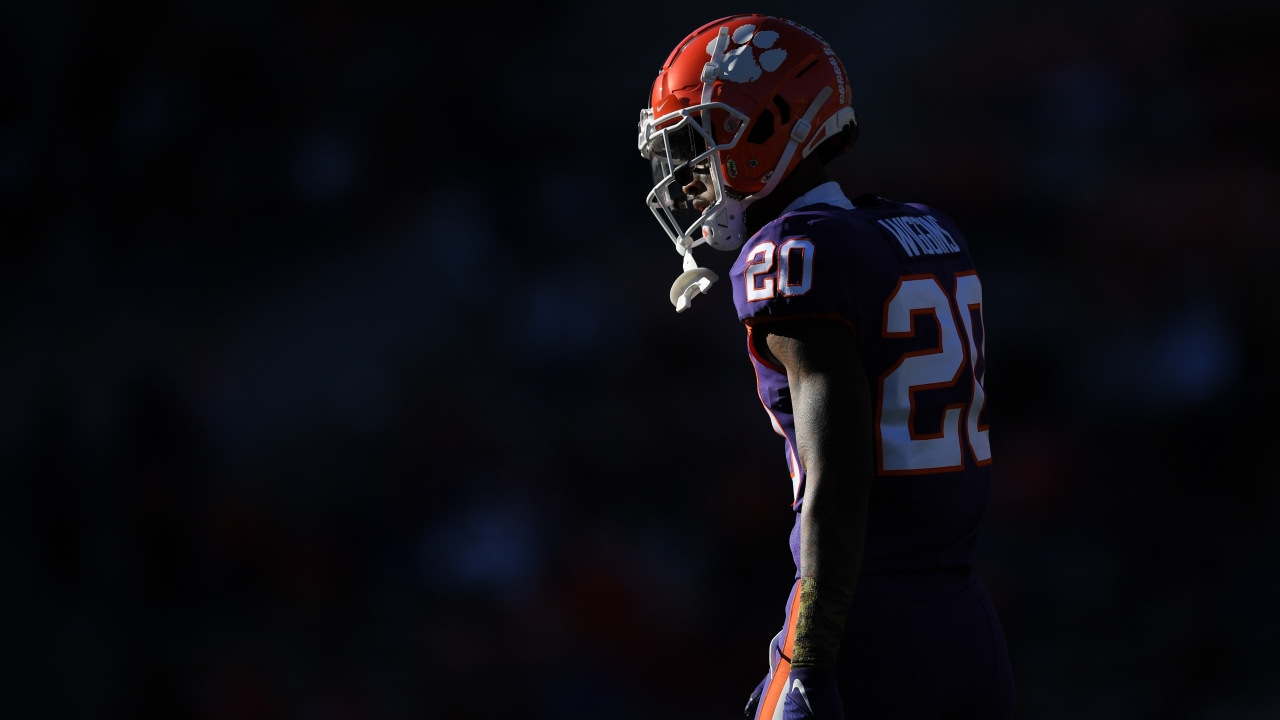 Photo by Adam Hagy-USA TODAY Sports
Clemson Football
Nate Wiggins has the talent, speed and maturity to 'be great' at Clemson
---

Avoid clickbait and sites bloated with advertising!
---
After the first official football practice, Clemson defensive tackle Bryan Bresee was asked to name a player, 'anybody' that caught his eye during the spring and summer.
"Nate Wiggins," said the preseason All-ACC and All-American candidate. "He's the real deal. He's really gotten everything together and is out here just killing people. So, he's really good."
The sophomore is one of seven cornerbacks vying to replace former starters Andrew Booth and Mario Goodrich, who were both on the 2021 All-ACC first team.
Wiggins was a late addition to the 2021 recruiting class after his decommitment from LSU but the early enrollee wasted no time grabbing Clemson head coach Dabo Swinney's attention.
"This Nate Wiggins kid, he's going to be a good one," stated Swinney after the first spring scrimmage of 2021.
The former four-star recruit out of Westlake High in Atlanta, Ga also established himself as maybe the fastest player on the team. Last fall, running back Will Shipley arrived as a five-star recruit with great speed and most marked him as the fastest on the team.
Former Clemson running back Lyn-J Dixon, now a Tennessee Volunteer after leaving the Upstate and the mountains of West Virginia, on whether Shipley, a former 55-meter sprint champion in North Carolina, is the fastest. "I don't know about that one. He's got some speed but I think Nate Wiggins [is] the fastest on the team," he said after practice. "I just seen him run, he's floating."
Defensive backs coach Mike Reed was asked at July's Media Day, who was the fastest among his group?
"Nate," he said after hesitating to smile and laugh. "Until someone proves me wrong."
In limited action, the speedy, tall (6'1) corner made three tackles and three pass deflections in 130 snaps last season.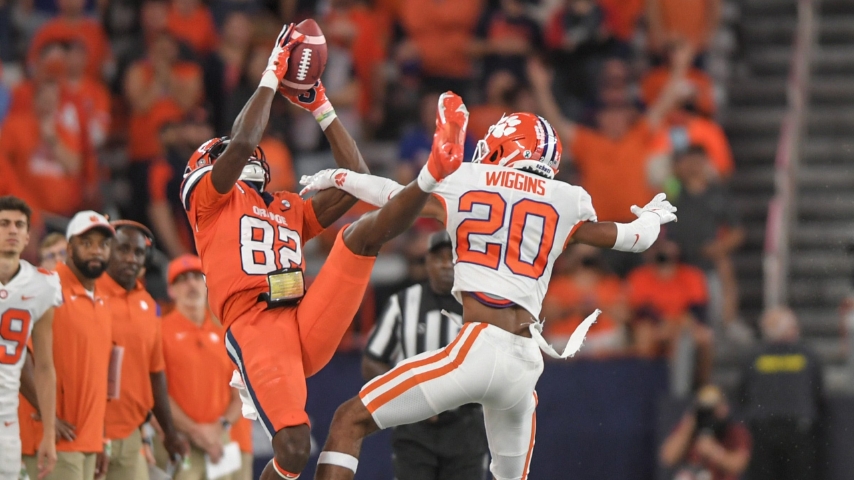 © Ken Ruinard / USA TODAY Network / USA TODAY NETW
With the secondary missing Sheridan Jones, Malcolm Greene, and Jeadyn Lukus this spring with injuries, Wiggins got extensive work under the watchful eyes of Swinney and Reed.
"Nate Wiggins, he has a chance to be special," said Swinney. "He is having the type of spring we all hoped he would have had.
"Nate is just talent-wise, he's as good as we've signed here," Swinney added. "You know, we're still kind of polishing him up. He is a really, really good football player."
"He is as advertised," said Reed. "You saw glimpses of him last year, but he's changed: speed, route recognition, ultimate competitor. He's going to be a good one if he keeps making the strides he's making..... to see his maturity and the process that he went through, it's beautiful."
Before practice last week, Swinney spent more time talking about what he's seen from Wiggins.
"Just more buy in, more maturity, very, very immature guy last year from just football," he explained. "Loves to play, incredibly talented, very competitive, but just a young guy maturing and really buying into what it takes, you know? Because it takes what it takes. There's no shortcut to it. And I think that's the biggest thing I saw was him really buying into what it takes to not just be good but be great.
"Nate 'the Great,' he can do it," Coach continued. "He's his only limitation. I'm really proud of that kid man. I really am. He's got a great momma. And I'm really glad that we have him. He's been a lot of fun to coach. To me a guy like Nate is one of those things -- that's why you coach because he just needed the right squeeze, if you will."
Wiggins was available for the media on Monday and of course, he was asked about Swinney's comments. He said last year he had an immature year, in which, he was occasionally tardy or missed classes, practice and weight training.
Wiggins admitted his poor time management was an issue and a conversation with Swinney impacted his class attendance.
"He told me I got to buy in," he recalled from the pivotal chat."I got to go to class. He can't play nobody who don't go to class. So, I had to buy in."
Wiggins also shared Reed's message to him since he bought in.
"Just keep doing what I'm doing and don't go back. Don't backtrack. Just keep going forward."
Swinney referenced Nate the Great, a boy detective in children's stories who solves mysteries, likely by chance as he pinned the moniker to Wiggins. In either case, whether alluded to for rhyme or reason, Nate may need to be great to help the secondary crack offenses like Miami and FSU with talented quarterbacks and tall, athletic receivers.
Wiggins is embracing the name and said it means a lot coming from his coach.
"It make me feel good," he said. "Just because it came from Dabo because he's coached a lot of good players and he knows what it is to be great."
He is also accepting all the praise from his coaches and teammates this offseason including from quarterback D.J. Uiagalelei.
"I don't think he lied or nothing," was his response to Uiagalelei calling him one of the best defensive backs in the country. "I feel like I am the best DB. Y'all going to see this year. I got a show for you."
More importantly, he said on all the buzz around him. "I bought into the team...this year is my year. I'm ready to go."
Never miss the latest news from Clemson Sports Talk!
Join our free email list
PRESENTED BY