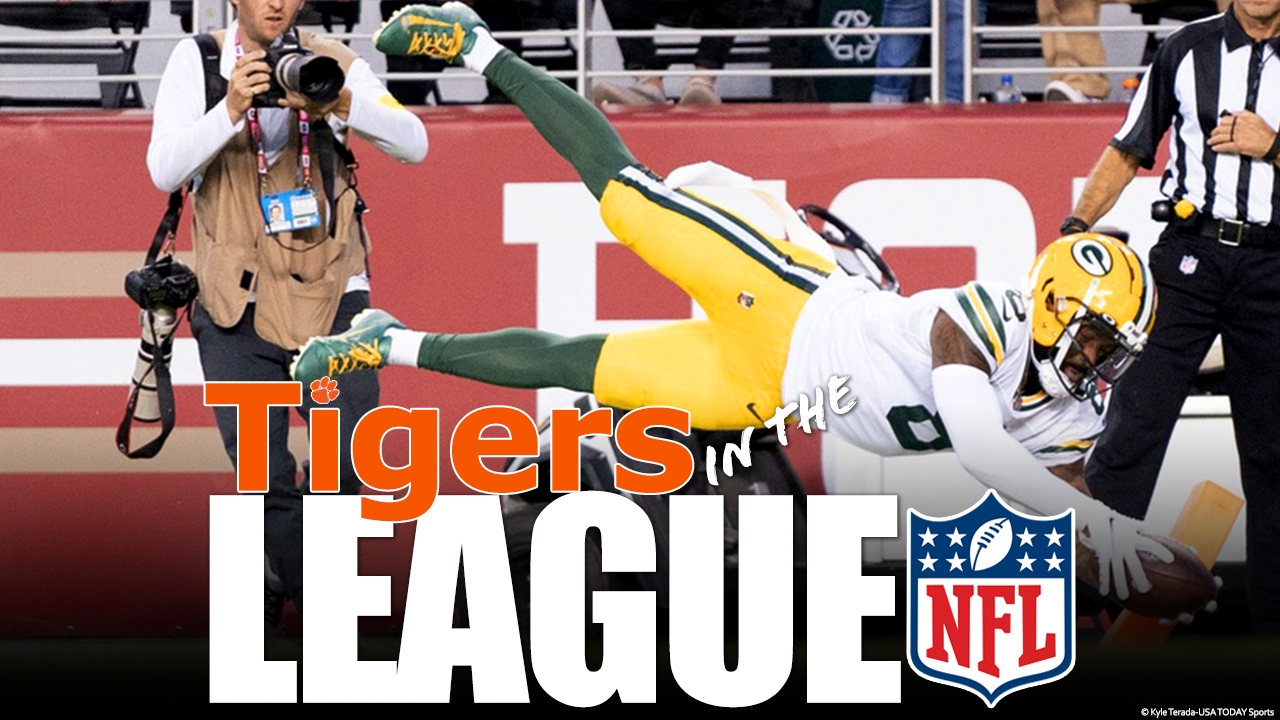 Photo by © Kyle Terada-USA TODAY Sports
Clemson Football
Reunited and It Feels So Good
---

Avoid clickbait and sites bloated with advertising!
---
Reunited in "Duuuval!"
On Aug. 5, the Jacksonville Jaguars lost 27-11 to the Las Vegas Raiders to start the NFL Preseason schedule and missing from the boxscore were top 2021 draft picks Trevor Lawrence (No. 1 overall) and running back Travis Etienne (25th overall). Both players were held out of action by head coach Doug Pederson.
On Friday, Etienne saw his first action since limping from the second preseason game in 2021 and surgery to repair a Lisfranc injury.
"Yeah, so it's great to see him back out there," Lawrence told the media after the game. "Obviously, it's been a long time since he's played. He's had a rough year, so you look at last year wasn't an easy year for anyone but then, on top of that, he's hurt and rehabbing and not really as much a part of the team as you'd like to be in your rookie season. So, I know that was tough for him, but just seeing how he's fought back and, you know, rehab really hard to get back and be 100% And I think he looks great."
Etienne rushed for 23 yards on nine carries and caught one pass for 10 yards. His longest rush on the evening covered 12 yards.
"Obviously. You know, he's still kind of getting back in the, I guess, rhythm of things because he hadn't played in so long," added Lawrence. "But just to see the plays he made tonight I mean, that catch he made, ran a great route, that catch he made on the sideline coming up the field. He had some great plays. He's gonna help us a lot."
So what was it like for Etienne to be reunited with his Clemson teammate of three years?
"It felt good to be back there period and honestly it only helps my guy was right there beside me," Etienne said with a smile. "So that was a great feeling and he kind of helped me just not have all those nerves just to have Trev still calling the plays, just be there like it was just back in the old days."
Lawrence completed six of 12 passes for 93 yards and a touchdown. He also rushed for 11 yards on his only rush of the game.
The Jaguars were up 13-0 when the former Tigers left the field. The Cleveland Browns defeated the Jaguars 24-13.
"The Bruise Brothers" together again at Highmark Stadium
Linebackers Baylon Spector and James Skalski were called "The Bruise Brothers" by Clemson head coach Dabo Swinney for their aggressive play on Saturdays.
On Saturday evening, Spector, a seventh-round pick of the Buffalo Bills, and Skalski, an undrafted free agent for the Indianapolis Colts, found themselves back together again, but on opposite sidelines, at Highmark Stadium in Orchard Park, NY.
Spector entered the game early as a backup and finished with a team-leading and game-high 10 tackles and a pass deflection. He was all over the field including making the first hit on a punt return.
Skalski had his name called in the fourth quarter and tallied four tackles - tied for fourth on the team.
Neither player is guaranteed a spot on their respective rosters but Spector with Saturday's performance and his overall training camp play is making a strong case for him to be among the final 53.
Rookie Starters
Both Tampa Bay safety Nolan Turner and Minnesota Vikings cornerback Andrew Booth Jr. got starts in their first NFL game action.
Booth, selected 42nd overall by the Vikings, made two tackles, but he was also called for pass interference and facemask on a first-quarter Las Vegas Raiders possession.
"It sounded like our guys were real competitive and maybe just it was more the illegal contact and a couple of holding calls there," Vikings head coach Kevin O'Connell said about the play of his secondary starters. "We just got to continue to play the technique."
Booth appeared to start in place of All-Pro starter Patrick Peterson, who was among 13 players listed as "out" before the game.
Turner, signed under an undrafted free agent contract, finished first in team defensive snaps (33) and second in tackles with five in the contest versus the Miami Dolphins.
"Nolan did some good things on defense," said Bucs head coach Todd Bowles when asked if any guys helped make a case for them [to be added to the 53-man roster].
WRU
Ray-Ray McCloud signed a two-year, $10.4 million deal with the San Francisco 49ers after spending two years with the Pittsburgh Steelers. The league leader in punt return yards in 2021 had spent most of his career primarily as a return specialist but saw more time at receiver (career-best 39 receptions for 277 yards) last season as the Steelers dealt with injuries at the position.
McCloud was only used on offense against the Green Bay Packers on Saturday night and finished with 63 yards on four receptions. The highlight of the night was his 39-yard touchdown grab. He was all alone in the endzone when the ball arrived but that was only because he juked his defender to the turf.
"I didn't," stated McCloud when asked if he realized the cornerback fell. "I remember getting into his blind spot and running. I just drove out seeing the ball in the air, slowed down a little bit. When I came to the sideline they said, 'you seen where he fell.' I was like, 'No, I didn't.' And on the iPad, you kind of see a picture of it, but you don't show the video, but I was doing my job getting where I needed to be at."
In his rookie season with the Green Bay Packers, receiver Amari Rodgers caught only four passes for 45 yards. It was a disappointing year for the former third-round, 85th overall selection.
His kickoff (18.1) and punt (8.3) return averages were subpar as well.
Rodgers is now a father and lighter (from 218 to 202 pounds) in 2022.
On Friday night against McCloud and the 49ers, he exploded for 50 yards on a kickoff return and scored from 22 yards out on his single reception.
What is his mindset moving forward?
"Just taking it day by day," Rodgers said in his post-game interview. "Really, just keeping the same mindset I've had. Just working hard. Every single day looking for something to get better at because you know you're never perfect you're never gonna have perfect reps. So just looking for something every single day to improve on. And whenever I get my opportunity, just dwell on it and just take advantage of it. That's all I can do. Just take it day by day, rep by rep, practice by practice, and just keep improving."
Never miss the latest news from Clemson Sports Talk!
Join our free email list