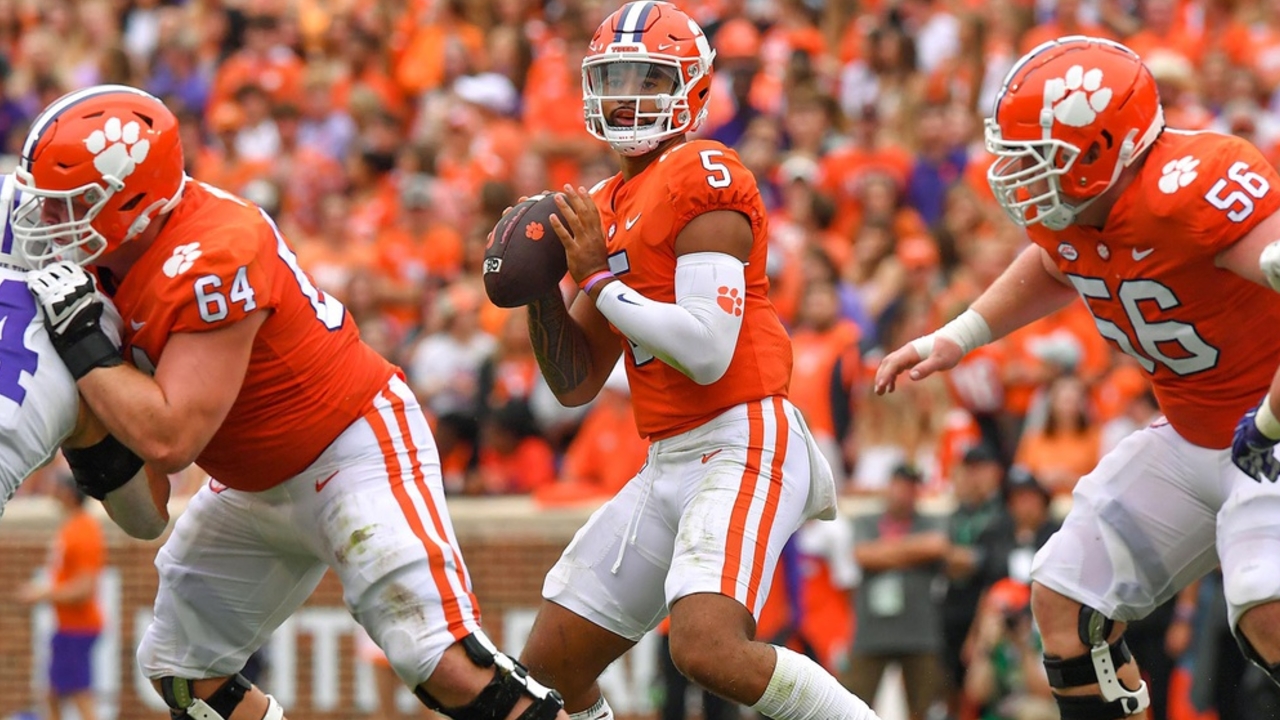 Photo by © Ken Ruinard / staff / USA TODAY NETWORK
Clemson Football
Heard in the Press Box: No. 4 Clemson 35, Furman 12
---

Avoid clickbait and sites bloated with advertising!
---
The Tigers improved to 2-0 after a home-opening 35-12 win in Clemson. Take a sneak peek into the press box to find out what the chatter was during the Tigers' season opener.
Heard in the Press Box:
"DJ took another step forward. That's big." - Clemson writer.
"Klubnik didn't look great. I guess they'll be calling for Hunter Johnson next." (sarcastically) -Clemson writer.
"Furman had a great game plan on offense. They worked the perimeter with a lot of success today." - Clemson writer.
"Furman's quarterback is a baller. They're going to be great in that Southern Conference this year." - Clemson writer.
"The Clemson defense has more to work on than we thought." - Clemson writer.
"Now that Notre Dame lost to Marshall, what does that say about Ohio State?" - Clemson writer.
Rumbled: From the opening snap, Clemson came out firing. They seized momentum immediately with a strong first drive led by starting quarterback DJ Uiagalelei. In the first quarter, he went 8-9 for 114 yards and a touchdown.
Uiagalelei took a clear step forward as a playmaker. He used his legs to extend plays and showed off his arm on a 40-yard completion to Beaux Collins. In the Tigers first home game of the season, Uiagalelei looked comfortable, confident, and in control of the offense. He got on the right track today against Furman, an FCS opponent - but his next true test will come on September 24 at Wake Forest.
Following the game, Head Coach Dabo Swinney said, "DJ was awesome. I'm proud of DJ and the way he's playing. Just with his legs, his arms. Just making really good decisions. He's been really accurate."
Stumbled: Led by starting quarterback Tyler Huff, Furman passed the ball well against Clemson. Huff was 30-39 passing with 256 yards, one touchdown and one interception.
After allowing 384 total yards today, the Tigers have adjustments to make on the defensive side. Defensive inefficiency was one of the biggest areas of weakness against Furman. The Paladins converted 10 of 18 third downs and possessed the ball for nearly 35 minutes.
Following the game, Swinney mentioned, "I can't remember the last time a team was 10-18 on third down against us.'
Notable Moment: Freshman quarterback Cade Klubnik entered the game in the second quarter. Many around the nation were excited to see how the rookie would perform following his stellar final drive against Georgia Tech Monday night.
Klubnik played towards the end of both halves, but finished with an unimpressive stat line, going 1-4 with -2 passing yards and a 20.8 quarterback rating. After Uiagalelei's dynamic performance and Klubnik failing to impress (in limited snaps), it seems that the conversation around Clemson's quarterback battle has settled down - at least for now.
Unsung hero(s): Beaux Collins is emerging as the go-to receiver in the Clemson offense. It's clear DJ Uiagalelei trusts him and likes to target him downfield. Collins caught four passes for 57 yards and a touchdown against Furman.
Swinney praised the sophomore postgame, "It was good to see him come back and have a four-quarter complete game."
Collins made the play of the game with this snag in the end zone:
Key stat: Will Shipley built on his performance in the Georgia Tech game. He rushed for 68 yards and two touchdowns on 10 carries. Shipley has multiple rushing touchdowns in six of 12 career games at Clemson.
Scoring Summary:
First-Quarter:
11:46 CLEM - Shipley 1 yd rush (Potter kick), 7-75, 03:14 Clemson 7, Furman 0
07:58 FU - Lepvreau 30 yd FG, 8-62, 03:48 Clemson 7, Furman 3
02:35 CLEM - Briningstool 2 yd pass from Uiagalelei (Potter kick), 11-75, 05:23 Clemson 14, Furman 3
---
Second-Quarter:
09:10 CLEM - Shipley 17 yd rush (Potter kick), 9-69, 04:25 Clemson 21, Furman 3
01:53 FU - Miller 25 yd pass from Huff (Lepvreau kick missed), 5-54, 01:15 Clemson 21, Furman 9
00:26 CLEM - Pace 1 yd rush (Potter kick), 9-75, 01:27 Clemson 28, Furman 9
---
Third-Quarter:
10:08 CLEM - Collins 9 yd pass from Uiagalelei (Potter kick), 5-52, 02:21 Clemson 35, Furman 9
00:48 FU - Lepvreau 30 yd FG, 10-33, 04:30 Clemson 35, Furman 12
---
Fourth-Quarter:
None
---
Follow us on Twitter for more on Clemson's win over Furman: @ClemsonSports.
Never miss the latest news from Clemson Sports Talk!
Join our free email list