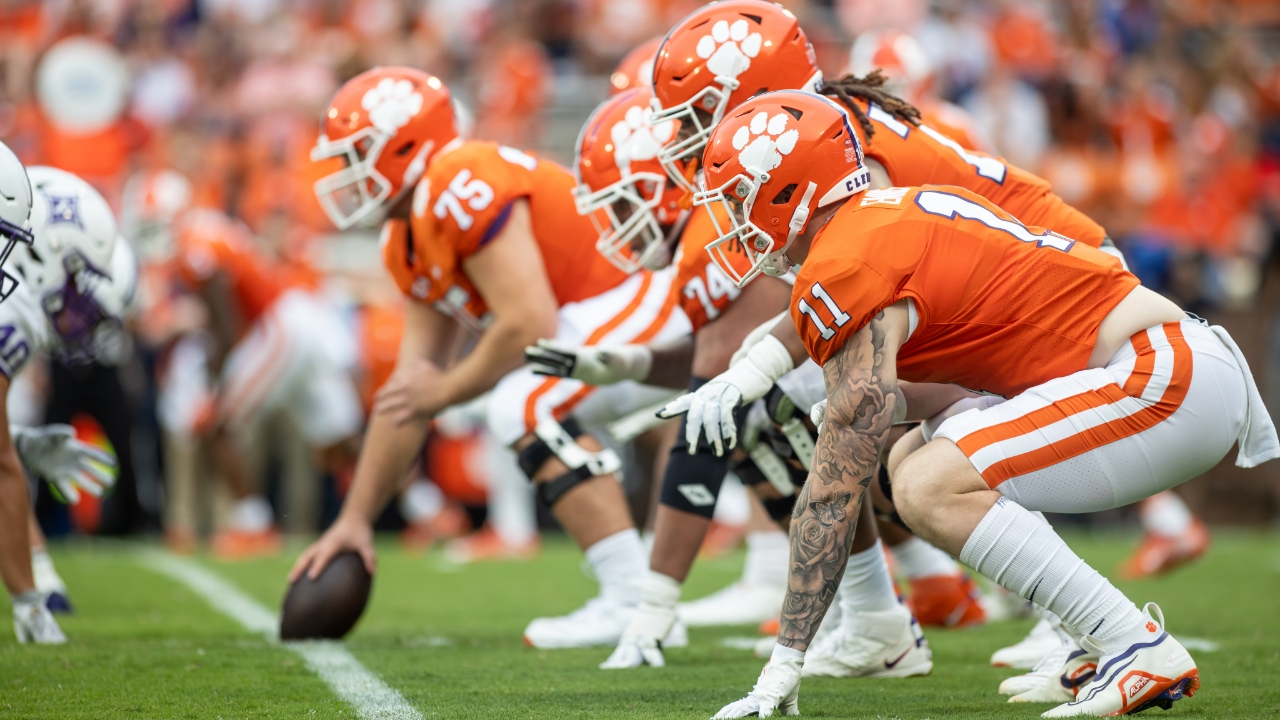 Photo by © Susan Lloyd/Clemson Sports Talk
Clemson Football
Keys to Victory: No. 4 Clemson vs. La. Tech
---

Feel the difference - The MOST DIGITAL CONTENT covering your CLEMSON TIGERS! Avoid clickbait and sites bloated with advertising! Subscribe to our site and YouTube Channel today!
---
Each week we give you a look at the game's history, three keys to success, plus Swanny's prediction.
The Match-Up:
No. 4 Clemson (2-0, 1-0 ACC) vs. La Tech (1-1, 0-0 Conference USA)
Saturday's game will be Clemson's second of the season in prime time but its first night game at Death Valley in 2022. Clemson is 41-7 at night since 2015 and 22-4 in night games since 2018. Under newly installed LED lights as part of recent renovations to Memorial Stadium, Clemson will attempt to win its 18th consecutive night game in Death Valley, a streak that dates to the middle of the 2013 season.
Clemson vs. La. Tech (2006)
Series History:
OVERALL: Clemson leads series, 3-0
HOME: Clemson leads series, 2-0
ROAD: N/A
NEUTRAL: Clemson leads series, 1-0
LAST MEETING: Sept. 30, 2006 (51-0, W)
STREAK: Clemson, Won 3
Stat of the Week:
Clemson has won eight consecutive games, the longest streak in the Power Five. Clemson has not trailed at any point in its last five games, victories against Wake Forest, South Carolina, Iowa State, Georgia Tech, and Furman. Clemson last trailed on Nov. 13 last year until the Tigers turned a 7-3 deficit against UConn into a 10-7 lead on a Will Swinney fake field goal for a first-quarter touchdown in an eventual 44-7 win.
Chasing History:
Clemson is coming off a 35-12 win against Furman in Death Valley in the Tigers' home opener. It marked the 35th consecutive game in which the Tigers have walked out of Memorial Stadium victorious, tying the 2006-11 Boise State Broncos for the 14th-longest home winning streak in FBS history. Clemson's streak is only the 15th home winning streak of 35 games or more in FBS history and is two games shy of the ACC record (Florida State, 37 from 1992-2001).
Key 1: Defensive Posture
I typically don't start with the defense on my mind for this Clemson team, but after last week's struggles and Dabo Swinney's blistering comments about the defense, I cannot help but focus on those guys out of the gates.
Whether it was on purpose or not-- Myles Murphy's name was linked to loafing by Swinney earlier this week.
"Myles Murphy knows when he's loafing-- and if he doesn't, he finds out when he comes to the meeting on Monday," Swinney said. "Then you either respond, or you don't. If you've got any frickin' pride to you, you'll respond. If you don't, you'll end up on the sideline, no matter who you are. That's just the way it is. … It's not just Myles. It's the whole group."
Murphy is an all-ACC player and has been a monster in his career, but after those comments, it's hard not to imagine a little extra juice on defense from Murphy and crew.
Key 2: Heavy Hearts
With the tragic news of Ella Bresee passing on Thursday, one would believe that the entire team plays with a heavy heart. While Bryan continues to be with his family, his teammates will certainly look to lift up that family on and off the field.
Quarterback D.J. Uiagalelei and Bresee are close. They've been roommates during their time at Clemson, and I would imagine that Uiagalelei has been impacted significantly by the events of the past week as well.
There is no real way to quantify the impact that Ella's spirit and vest for life will have on the team, but it's hard not to believe these guys are extremely focused, given the opportunity they had to visit with her last week.
Key 3: Smooth Play
I think the biggest indicator of Clemson's improvement could very well come down to the first time we really see this offense running smoothly. That simply hasn't been the case-- including last weekend with Uiagalelei was much improved-- yet it wasn't smooth.
The Tigers' running game hasn't materialized to the degree everyone expected and it could be a multi-faceted issue.
First, the offensive line still doesn't look like things are coming together. The left side has done a good job-- the right? Not so much. There's a lot to like with the combo of Walker Parks and Blake Miller, but I'm still waiting to see that side have a significant impact.
The other thing that could help this group is Uiagalelei being more willing to pull the football on some of the zone-read plays. Two years ago, that exact action was a catalyst to Clemson's come-from-behind win against Boston College-- with Uiagalelei at quarterback. Perhaps forcing the defense to respect that aspect of the offense would produce more success on the ground.
Prediction:
Sonny Cumbie's air-raid offense will keep Clemson on their toes throughout the contest, especially given the struggles Wes Goodwin's bunch had last weekend.
The Tigers' defense has an interception in seven consecutive games, and one would assume a great chance to extend that streak with how much the Bulldogs like to spin the football down the field. If Clemson's defense can get in QB Matthew Downing's head early, it will become increasingly more difficult for La. Tech-- give a kid like that some momentum, and slowing him down could be tough.
The Clemson offense needs to show some spark, given the next two weekends feature a road game at Wake Forest and the rematch everyone has had circled since the Tigers' double-overtime loss against NC State on Sept. 25, 2021. If the offense looks great, the Tigers could eclipse 50 points tomorrow-- I'm just not that confident given what we've seen so far.
Clemson 38, La. Tech 13
Swanny's Predictions:
| | | | |
| --- | --- | --- | --- |
| Date | 2021 Schedule Predictions | Swanny's Prediction | Actual Score |
| 9-5-2022 | No. 4 Clemson @ Georgia Tech | 31-14 Clemson ✅ | 41-10 Clemson |
| 9-10-2022 | No. 4 Clemson vs. Furman | 55-7 Clemson ✅ | 35-12 Clemson |
| 9-17-2022 | No. 4 Clemson vs. La. Tech | 38-13 Clemson | |
*Correct predictions in bold
Never miss the latest news from Clemson Sports Talk!
Join our free email list