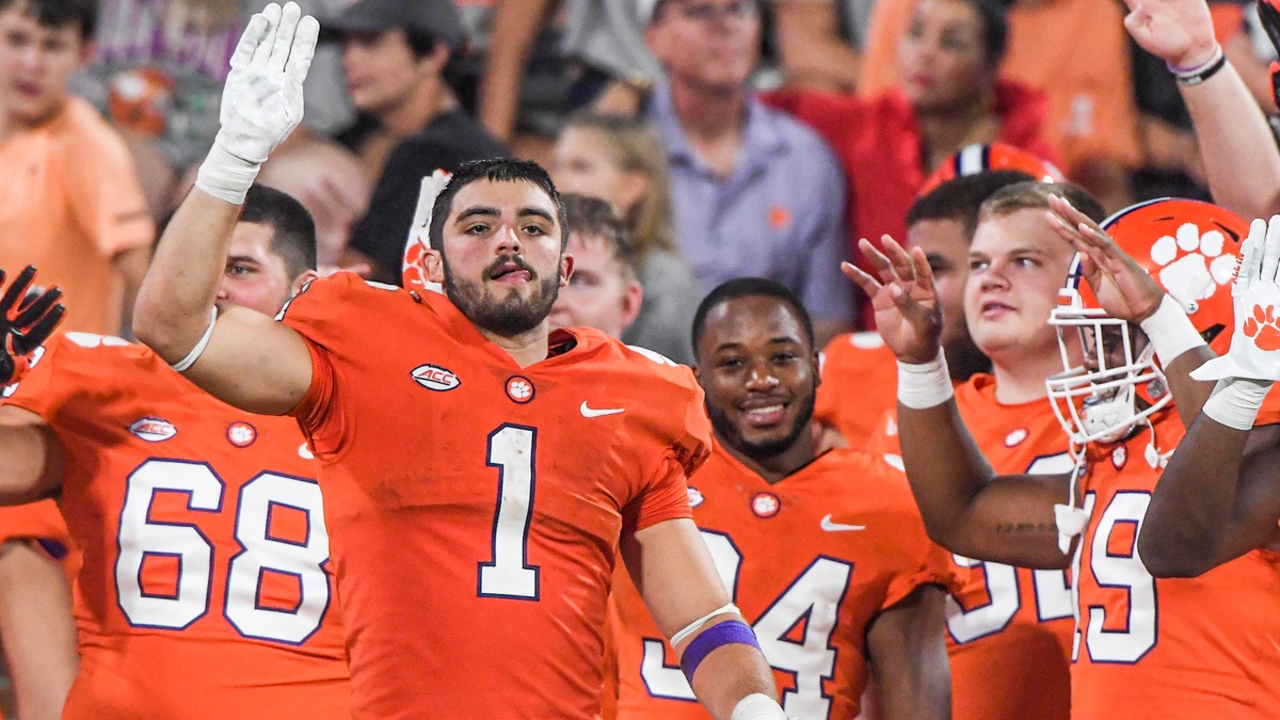 Photo by Ken Ruinard-USA TODAY Sports
Clemson Football
Heard in the Press Box: No. 4 Clemson 48, Louisiana Tech 20
---
The Tigers improved to 3-0 after a 48-20 win over Louisiana Tech in Clemson. Take a sneak peek into the press box to find out what the chatter was during the Tigers' season opener.
Heard in the Press Box:
At halftime:
- "The receivers had some moments at the start… it was exciting. Then it just felt like it was back to blah. They were lacking explosion. – Clemson reporter
Postgame:
- "We gotta find a way to put a whole game together. We haven't played a full, four-quarter game yet." – Clemson reporter
- That was… about what I expected." – Clemson reporter
- "We'll see what they're made of in these next two weeks" – Clemson reporter
Rumbled:
Clemson dominated the lines of scrimmage. The offensive line created holes that a Mack truck could drive through, allowing Will Shipley‍ ‍to create chaos in open spaces. Shipley ran for 139 yards on 12 carries with two touchdowns, averaging 11.6 yards per carry.
Defensively, Myles Murphy‍ played his best half of the season, with three tackles, two TFLs, and one sack in the first half. With Tyler Davis‍ and Bryan Bresee‍ out, he was one of the multiple defensive linemen that stepped up. Another bright spot for the Tigers was their ability to create turnovers. The defense had three interceptions, one fumble recovery, and a turnover on downs.
Stumbled:
The first half had some excellent moments for Clemson but was sometimes stagnant. The offensive unit lacked explosive playmaking – especially at the receiver position. As a result, two Clemson drives stalled in the red zone, and the Tigers were forced to kick a couple of field goals in the first two-quarters of play.
Clemson was excellent in the red zone last week against Furman – but showed they need to improve in that area before the road matchup against a ranked Wake Forest team next week.
Notable Moment:
The Tigers came out of the locker room hot in the third quarter. During the first 20 seconds of the second half, the Tigers batted down a pass, intercepted a ball, ran one offensive play, and scored a Will Shipley touchdown. After this considerable momentum swing, the Tigers never looked back. By the end of the quarter, Clemson was firmly in control of the game, allowing them to play some of their backups and freshman, including Cade Klubnik‍, at quarterback.
Unsung hero:
It may not appear in the stat sheet, but Ruke Orhorhoro‍ provided a good push in the middle all night. He did well in his role, stepping up for a pair of injured linemen. He wreaked havoc in the second and third quarters, helping Clemson establish their strong defensive presence and take over the game. Orhorhoro finished the game with one pass breakup, one TFL, and one tackle.
Key stats: Streaks were a common theme in the game.
- Shipley has scored a rushing touchdown in six straight games. It's the longest Clemson streak since Travis Etienne Jr‍ in 2020 (7 games).
- Beaux Collins‍ has a receiving touchdown in three straight games – he's the first Clemson player to do that in each of the first three games since 2011 (Sammy Watkins).
- Clemson extended its home winning streak to 36 games, leading the nation.
- The Tigers also won their ninth consecutive game, the longest active winning streak in the Power Five.
Scoring Summary:
1st Quarter
CLE 11:44 Potter, B.T. 22-yd Field Goal 9 Plays, 70 Yards, 03:16 - Clemson 3, La. Tech 0
CLE 06:24 Shipley, Will 2-yd rush 6 Plays, 79 Yards, 02:27 - Clemson 10, La. Tech 0
2nd Quarter
LAT 12:46 Barnes, Jacob 35-yd Field Goal 6 Plays, 34 Yards, 01:39 - Clemson 10, La. Tech 3
CLE 09:3 Potter, B.T. 36-yd Field Goal 9 Plays, 56 Yards, 03:10 - Clemson 13, La. Tech 3
LAT 03:18 Barnes, Jacob 27-yd Field Goal 10 Plays, 74 Yards, 06:12 - Clemson 13. La. Tech 6
3rd Quarter
CLE 14:40 Shipley, Will 32-yd rush 1 Play, 32 Yards, 00:07 - Clemson 20, La. Tech 6
CLE 05:25 Mafah, Phil 4-yd rush 14 Plays, 90 Yards, 06:43 - Clemson 27, La. Tech 6
CLE 03:37 Collins, Beaux 32-yd reception thrown by Uiagalelei, DJ, 1 Play, 32 Yards, 00:09 - Clemson 34, La. Tech 6

4th Quarter
LAT 12:52 Crosby, Marquis 3-yd rush, 8 Plays, 79 Yards, 03:36 - Clemson 34, La. Tech 13
LAT 09:30 Harris, Tre 13-yd reception thrown by McNeil, Parker, 5 Plays, 44 Yards, 01:35 - Clemson 34, La. Tech 20
CLE 06:21Williams, Antonio 19-yd reception thrown by Uiagalelei, DJ, 6 Plays, 65 Yards, 03:09 - Clemson 41, La. Tech 20
CLE 04:53 Pace, Kobe 3-yd rush, 3 Plays, 12 Yards, 01:01 - Clemson 48, La. Tech 20
Never miss the latest news from Clemson Sports Talk!
Join our free email list