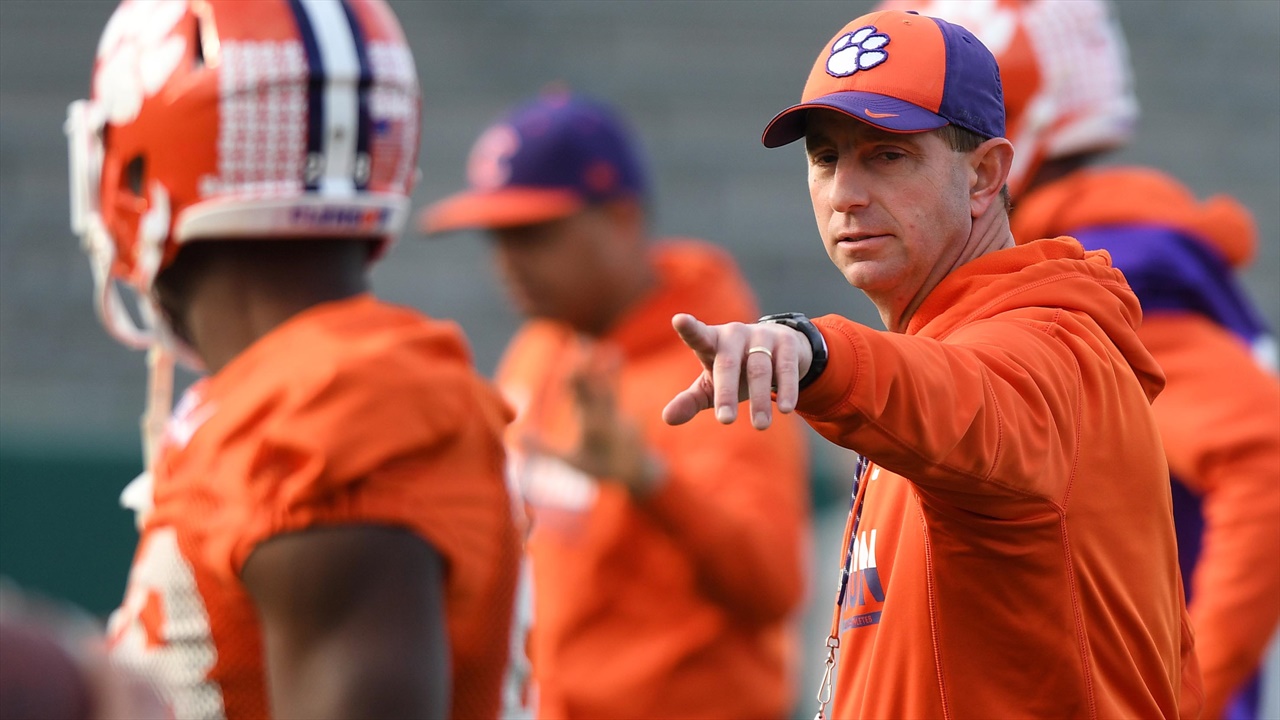 Photo by © Bart Boatwright-USA TODAY Sports
Clemson Football
Clemson releases proposed contract for 10th assistant coach
---
Clemson released the proposed contract of their 10th assistant coach Lemanski Hall. Hall has been named defensive ends coach for Clemson's 2018 football staff. He served the previous three years on Dabo Swinney's staff as a defensive analyst. Hall will work on the defensive line moving forward with Todd Bates.
The terms which will run from January 9, 2018, through January 31, 2020, are as follows.
"Lemanski is very knowledgeable and will make a great contribution to our staff. I know he is excited to be on the field with our defensive ends."
Hall will receive a base salary of $245,000 dollars with a supplemental salary of $55,000 for a total compensation of $300,000.
Hall will also receive an automobile stipend of $600/month.
Bonuses Include:
ACC Championship appearance: $10,000
Bowl Game w/ 8 or more regular season wins: $20,000
College Football Playoff non-Semifinal appearance: $40,000
College Football Playoff Semifinal appearance: $50,000
College Football Playoff Championship appearance: $60,000
College Football Playoff Champion: $25,000
Dabo Swinney said, "We prepped for this transition all year, and we are excited to have five coaches on each side of the ball. We thought the rule was going to pass last spring, but it did not. This will be an easy transition because he has been with the program the last three years. He has been around winning programs all his life, from a player at Alabama, to the NFL, to being a part of a state championship coaching staff at Ensworth High School in Tennessee, to the last three years here at Clemson."
Hall has been with the program for three years but was only allowed to attend practice and games. He was not allowed to coach any players previously.
In Hall's time in the defensive analyst position, the Tigers posted a 40-4 record and won the ACC Championship all three seasons. The program also advanced to the College Football Playoff all three years and won the National Championship in 2016.
Hall has known Swinney since they were teammates at Alabama between 1990-92. A native of Valley, Alabama, Hall was a starting linebacker on the 1992 Alabama National Championship team under Head Coach Gene Stallings. That team finished with a 13-0 record, the first Alabama team to win 13 games in a season.
That year Hall was a first-team All-SEC selection when he led the team in tackles with 70 and had five quarterback sacks. He was also named an honorable mention All-American by United Press International.
Hall had 76 tackles as a senior in 1993 when he helped Alabama to a 9-3-1 record and a No. 14 final Associated Press ranking. He was named a co-captain of that Alabama team. For his career, Hall played in 46 games and had 192 tackles, 18 tackles for loss, eight of which were sacks. He was named to the Alabama All-Decade team for the 1990s. Alabama had a 40-9-1 record during his four years on the team (1990-93).
Hall was drafted by the Houston Oilers and played in the NFL for the Chicago Bears, Dallas Cowboys and the Minnesota Vikings. He was a starter for the Vikings in 2001, his next to the last season in the league. He played in 101 NFL games over nine seasons (1994-02).
After his playing career, Hall worked with the Tennessee Titans through the NFL Minority Coaching Fellowship. He also worked as a recruiting coordinator and pro-performance director at D1 Sports Training and Therapy and as a strength and conditioning coach at Christ Presbyterian Academy. For the seven years prior to his arrival at Clemson, Hall was the linebackers coach at Ensworth High School in Nashville, Tenn.
*These terms are subject to the approval of the Clemson University Board of Trustees Compensation Committee.
Never miss the latest news from Clemson Sports Talk!
Join our free email list