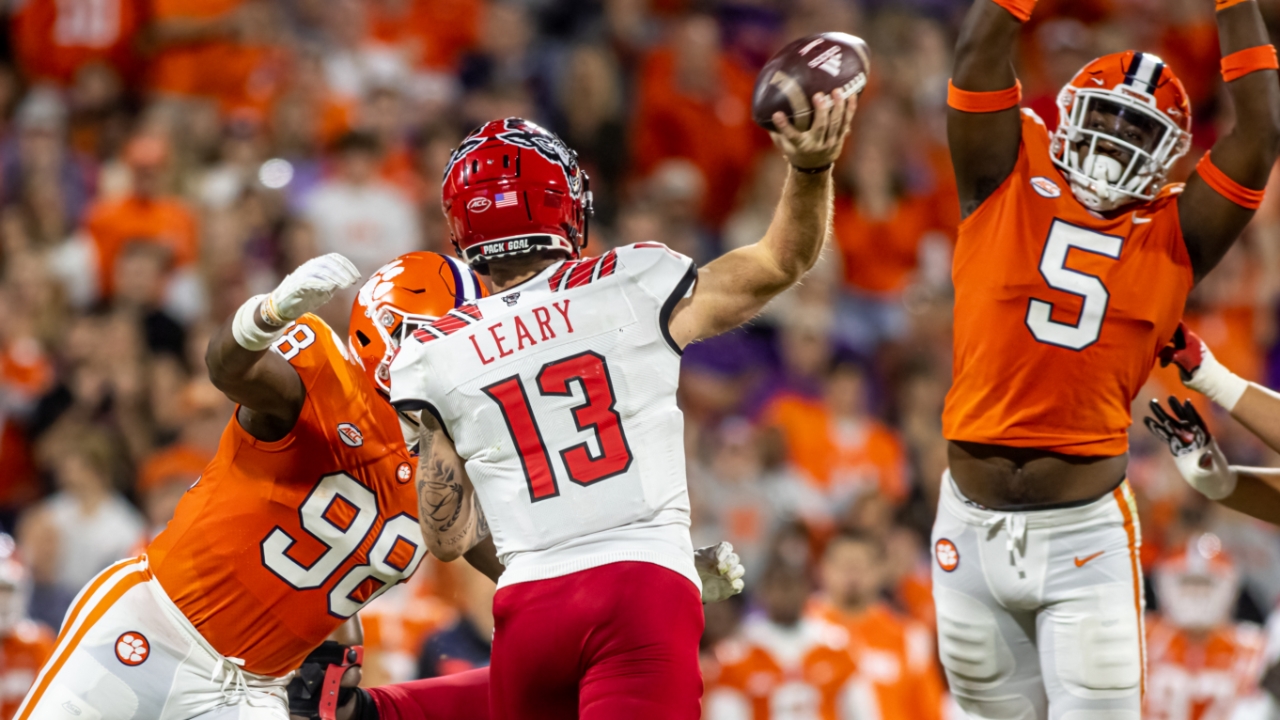 Clemson Football
Transformation Portal: In an era of quick transfers, K.J. Henry stayed the course
---

---
In 2018, freshman defensive end K.J. Henry asked head coach Dabo Swinney to redshirt the rest of the year following the Texas A&M game. The request came as a surprise, seeing as Henry, a five-star defensive end, was coming off his best performance early in his career.
That Clemson defensive front featured a lineup of future NFL players, including Clelin Ferrell and Austin Bryant at defensive end. Swinney recalled those two players specifically as the reason for Henry's decision.
"He was looking at Cle. He was looking at Austin Bryant. Just big strong, and more physical. He's looking at them and going, 'That's not me.' A lot of kids, they don't recognize that," Swinney said. "That's a detriment to them-- when you don't have that type of self-awareness."
Swinney noted just how rare Henry's thought process was at that point in his career at Clemson.
"That never happens. We really needed him, and he said, 'Coach, I need Power Hour. I've got to get stronger. I need to get into the weight room.' We made a deal, but if we get an injury, you're going to have to play," Swinney said.
The unusual deal ultimately worked out for the Tigers-- and, more specifically, Henry. Swinney describes the 6'4, 255-pound end as a very self-aware kid after Henry decided to return for another senior year with the team taking advantage of the COVID-19 year.
"He could have easily moved on last year, but he didn't want to be a 6th-round draft pick. He wanted to maximize his opportunity," Swinney noted. "Just a very self-aware kid."
Swinney says the two main keys that have contributed to Henry's success on the field this year have been his maturity and his buying into Clemson's system, even with a very stacked defensive line that sees a lot of rotation.
"Quit worrying about how many plays you get," Swinney said. "How about focusing on how you play?"
"Maturity and him buying into what it fully takes. Our conversations this offseason were-- we got a lot of guys. We've got four starters coming back, and it's easy for him to see he's splitting reps," Swinney said.
In the new "Transfer Portal Era," it would have been easy for Henry to pack it in and finish his career somewhere else, but Swinney noted that Henry, who is a son of a former D1 coach, saw things a bit differently than most after their conversations.
"Quit worrying about how many plays you get," Swinney said. "How about focusing on how you play?"
Swinney said that Henry took that advice to heart and has become the player we've seen this season because of it.
"K.J. wants feedback and sees it and says, 'Yep, I agree.' and that takes a lot of maturity," Swinney said.
Swinney sums up Henry as an excellent example and a great player. He's taken the advice of the coaching staff in order to improve his game and doesn't take it personally.
Swinney often notes that college football is "a developmental game," and Henry's career defines that notion.
"I think he's a great example to all of us, and he's always been a good player, but he's become a great player," Swinney remarked. "He has taken coaching and hasn't looked at it as criticism but as information to get better. He's been great."
Henry has recorded one sack and a forced fumble so far on the year, as well as 4.5 tackles for a loss, and his impact is felt every week. He's started all five games this season and will look to continue improving his NFL Draft stock tomorrow night when the Tigers take on Boston College at 7:30 PM.
Never miss the latest news from Clemson Sports Talk!
Join our free email list
SPONSORED BY