Photo by © Susan Lloyd/Clemson Sports Talk
Clemson Football
Eason says defense 'inconsistent' and Syracuse will be a 'huge challenge'
---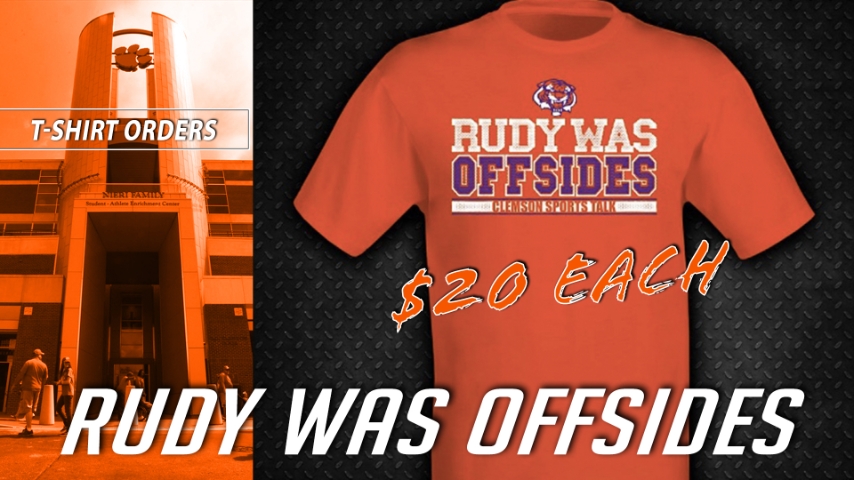 ---
Defensive tackles coach Nick Eason took his turn on Monday to speak to the press and he discussed the upcoming matchup against No. 14 Syracuse and the 34-28 victory over Florida State.
Clemson was outgained in total yards 460 to 370 and allowed 28 first downs to FSU. The Seminoles also ran for 206 yards -- a season-high on a Clemson defense that entered the game relinquishing only 62.2 rushing yards per game.
Eason on what he thought happened to the defense against Florida State:
"Well, you saw what happened. No, I just think we got to get back to the basics, technique, and fundamentals. We had over 20 missed tackles, missed fits on several runs and we just didn't play really good Clemson football defense. We got to do a better job of getting back to the basics and working on technique and fundamentals and that's what made the scheme work."
"Coach [Dabo] Swinney challenged us, we got to do the little things in order for us to be great and we can't have missed tackles in any given week."
The Syracuse offense is led by quarterback Garrett Shrader and running back Sean Tucker. Last season, Tucker was the leading rusher in the ACC with 1,496 rushing yards, a school single-season high. He is currently second in the conference with 644 rushing yards and 6 touchdowns. He is also averaging 107.3 yards per game.
Shrader is fourth in the conference with a 171.1 quarterback efficiency rating and has 1,434 passing yards and 12 touchdowns. Moreover, his completion percentage is 69.7 and he averages 50 rushing yards.
On facing the Syracuse one-two punch of Shrader and Tucker:
"They're playing some really good football. This Syracuse team is one of the best I've seen. I've always followed them during my years as a pro, obviously playing Clemson every year. They've given us problems. You mentioned the quarterback. He does it all. The running back like I said, he's the best back we'll probably see this year and does a lot of good things. He has great vision. He can break tackles. He can run. [They] run him outside, run him inside and he gets it out of the backfield. So it's gonna be a huge challenge for us this week."
More on Shrader:
"We just got to make sure we do a good job of trying to contain this guy. Keep him in the pocket. And be really coordinated with our rush and when we bring pressure, we got to get home. But he's not going to stand there. Obviously, he's going to try to escape out of the pocket, and we got to do a good job getting him on the ground. They have to do a really good job of rallying to the football and because those types of quarterbacks and running backs can make you miss. He does a really good job of evading pressure, and getting the ball out quick and making the plays he's supposed to make and so he's one of the better ones I've seen all year."
The Clemson defense is first in rushing yards allowed (84.4) but only 12th in passing yards allowed (255) and seventh in defensive efficiency in the conference.
On how he would assess the performance of his position group thus far this season:
"I think we've been on a roller coaster. I think we've had good weeks and bad weeks and good weeks and bad weeks. And as a group, I'm not just basing that off of one or two players. There's some guys that are playing really good football this year. I mention Tyler Davis. He's been really consistent in his performance all year. But at the end of the day, well, we're all in this together. And in order for us to get to where we're trying to go, in order for us to beat a great team like Syracuse on Saturday, everybody's got to show up week in and week out. I just think we've just been inconsistent in our level of play. We just got to have the eye of the tiger -- be able to dominate our opponents."
FSU quarterback Jordan Travis completed 25 of 42 passes for 254 yards with two touchdowns on Saturday night. He rushed for 64 yards and another score as well.
On how facing Travis will help the defense prepare for Shrader:
"He's probably one of the better quarterbacks we've faced up until that point in terms of scrambling. I just think we faced a lot of quarterbacks that can really get out of the pocket and make some things happen with their legs but it was really good to get that on tape. I think we learned from our mistakes. We learned a lot about what happens when you're not discipline with your rush lanes. Quarterbacks like that can hurt you and can gain yards and keep drives going.
"So we learned a lot from facing the quarterback at FSU."
Defensive tackle Bryan Bresee had a good start to the season when he recorded five tackles (two for losses) and a half-sack in the opening victory over Georgia Tech. Since that game, he's added three tackles and missed three games while dealing with the death of his 15-year-old sister, Ella, and a kidney infection.
On where Bresee is physically and mentally:
"Ah, man, that's been a tough, touchy area for me as well. I've dealt with a lot of loss. And I go back and I think about when I was 30 years old and I lost my mom to breast cancer my last year in the NFL, and how difficult that was for me. At that point in time, I'd been through a lot in my life. Brian just turned 21 years old and to go through that and watch a little sister. That was a tough deal. I think that he's getting better day by day. We have conversations here and there. I just think the love and atmosphere at Clemson are where he needed to be. Well, we are a faith-based culture so he knows that he has a lot of love from all of us, the players, the staff, our head coach, this university, and the support has been huge. So, I think that's helped him get through this but I know it's a struggle for him. But he's showing up going to work and just pushing through it."
Never miss the latest news from Clemson Sports Talk!
Join our free email list