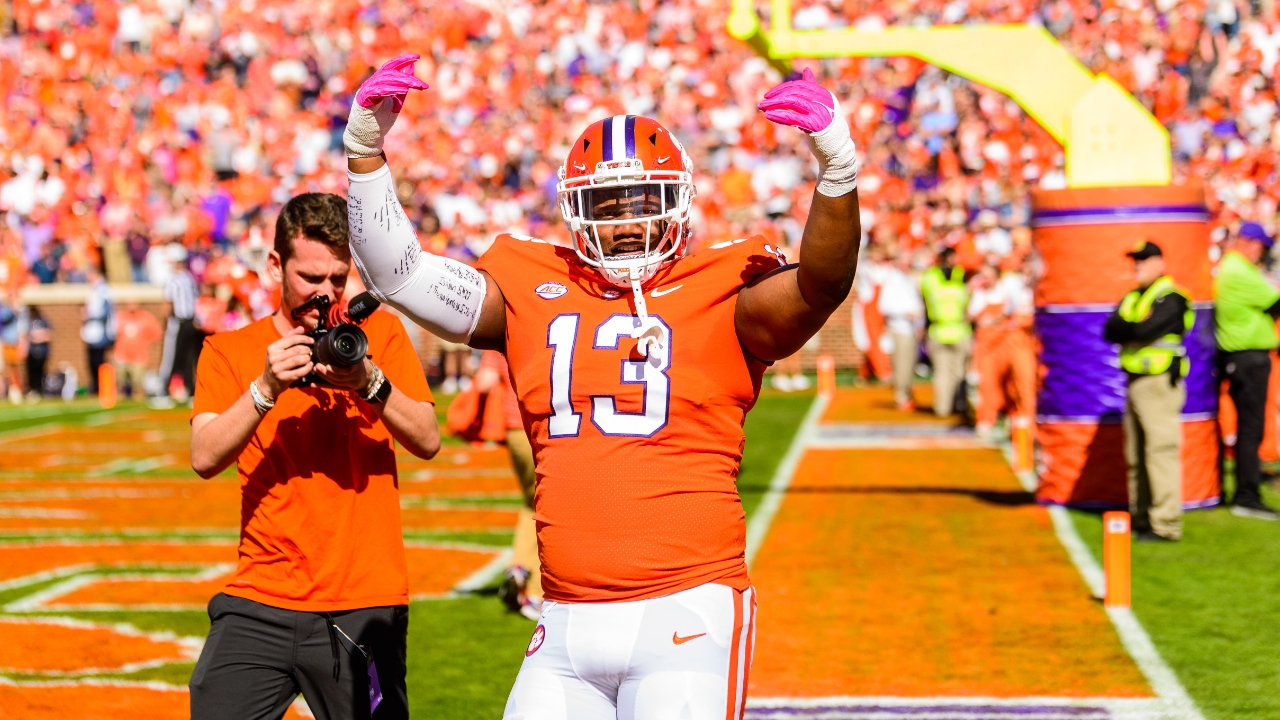 Photo by David Grooms
Clemson Football
The Notes: No. 5 Clemson 27, No. 14 Syracuse 21
---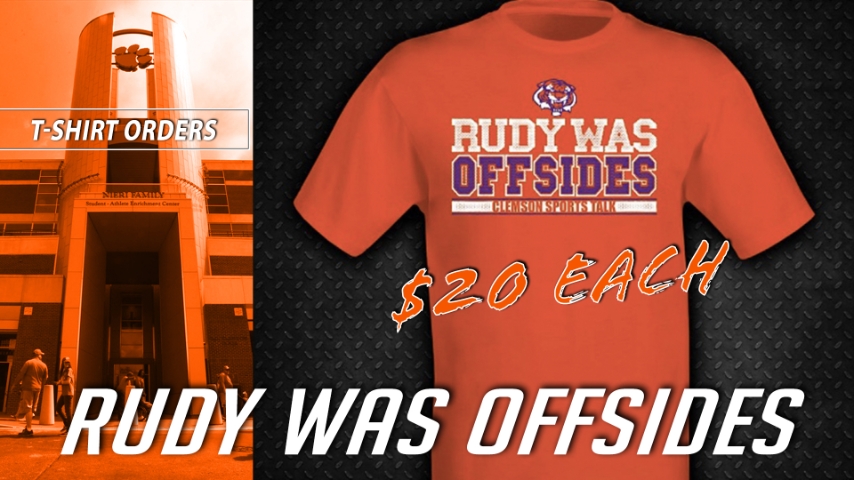 ---
Death Valley hosted its first matchup of two undefeated teams 6-0 or better in the facility's 81-year history.
The game represented only the fourth all-time meeting of two ACC teams 6-0 or better, joining the 1997 Florida State/North Carolina game, 2013 Florida State/Miami game and the first Clemson/Notre Dame game in 2020.
Clemson rushed a season-high 60 times for a season-high 293 yards.
The game represented Clemson's 75th time rushing for 200 yards under Dabo Swinney. Clemson is now 74-1 when rushing for 200+ yards in his tenure.
Clemson recorded 27 first downs to Syracuse's 17. Clemson now has a 121-2 record when totaling more first downs than its opponent since 2011 and has won its last 62 such contests.
Quarterback Cade Klubnik entered in the third quarter and helped engineer the comeback victory. He became the first backup quarterback to engineer a fourth-quarter comeback win for Clemson since 2018 when Chase Brice also accomplished the feat at home against Syracuse.
Running back Will Shipley rushed for a career-high 172 yards on a career-high 27 carries with two rushing touchdowns.
Including 53 kickoff return yards and 17 receiving yards, Shipley finished with 242 all-purpose yards, four more than his previous career high set last week at Florida State (238).
Shipley recorded the eighth game of his career with multiple rushing touchdowns, tying Woodrow Dantzler for the third-most by a Clemson player since 2000.
The game was Shipley's seventh 100-yard rushing game of his career and gives him back-to-back 100-yard games on the ground for the third time in his career. Clemson is now 60-2 when having a 100-yard rusher since 2011.
Shipley opened the scoring on a one-yard touchdown run on Clemson's opening possession. Clemson improved to 73-4 when scoring first since 2015.
The rushing touchdown was Shipley's 20th of his career. He reached 20 career rushing touchdowns in his 18th career game at Clemson, matching the pace of Clemson (and ACC) all-time rushing touchdown leader Travis Etienne (70), who scored his 20th career rushing touchdown in his 18th career game.
With the score, Clemson rushed for a touchdown in a 19th consecutive game. Since the start of the 2018 season, Clemson has scored at least one rushing touchdown in 62 of its 63 games, the most in the nation.
Running back Phil Mafah scored his second touchdown of the season on a one-yard touchdown run on fourth down in the fourth quarter.
Mafah finished the game with a career-high 94 rushing yards on a career-high 18 carries.
Clemson retook the lead with 11:26 remaining in the second quarter on a 50-yard touchdown run by Shipley.
The 50-yard touchdown run was the longest scoring play of Shipley's career and his second-longest run overall, just shy of a 53-yard non-scoring run at Wake Forest earlier this season.
Following Shipley's 50-yard touchdown run, Klubnik connected with wide receiver Joseph Ngata for the two-point conversion. It was Clemson's second two-point conversion of the season, joining DJ Uiagalelei's successful conversion to Beaux Collins at Wake Forest.
Clemson recorded a season-high five sacks.
Clemson has now posted multiple sacks in five straight games for the first time since a nine-game streak last season.
Defensive tackle Tyler Davis recorded a career-high 2.0 sacks.
Davis recorded his third sack of the season, chasing Syracuse quarterback Garrett Shrader out of bounds after pressure by Bryan Bresee.
Davis added his second sack of the game in the third quarter.
On the ensuing play, linebacker Trenton Simpson and defensive end Myles Murphy split a sack to force a Syracuse punt.
Bresee added his first full sack of the season on a third-down stop in the fourth quarter.
Defensive end K.J. Henry recorded his second sack of the season in the game's final minutes.
Safety R.J. Mickens sealed the victory with Clemson's only takeaway of the game, an interception on Syracuse's final drive.
Defensive tackle Ruke Orhorhoro recorded a game-high two pass breakups, including one on a fourth-down stop on Syracuse's opening possession.
Mickens' interception was his second of the season and the fourth of his career.
Placekicker B.T. Potter converted two 44-yard field goals in the game.
Potter added to his Clemson records for career field goals of 40 yards or more (32).
On his second field goal, Potter (68) passed Chandler Catanzaro (67 from 2010-13) for second in Clemson history for career field goals.
Potter (2,542 yards on 68 career field goals) became the first player in school history to convert 2,500 yards of field goals.
Punter Aidan Swanson punted twice. Both punts exceeded 50 yards and were downed inside the Syracuse 20-yard line, including one that bounced out of bounds at the Syracuse four-yard line.
Antonio Williams recorded a career-long 18-yard punt return in the third quarter.
Clemson's streak of consecutive red zone scores to start the season ended at 36 in the second quarter. Clemson's 36 consecutive red zone drives with a score this season were the program's longest on record in the last 12 seasons.
Though Clemson gave up a defensive touchdown, Clemson did not surrender any points off of its other three turnovers. Clemson's defense has only surrendered three points off turnovers through eight games this season.
The victory was only Clemson's fifth by seven points or less during its ACC-record 38-game home winning streak (two against Syracuse, two against Boston College and one against Georgia Tech).
Clemson hosted the 15th matchup of AP Top 15 teams in Death Valley history. Clemson improved to 10-5 in those matchups and would be the Tigers seventh straight win in AP Top 15 games at home dating to Clemson's 2015 win against Notre Dame.
Clemson was ranked No. 5 in both polls and has been ranked in the Top 25 of at least one major poll in every all-time contest against Syracuse. Clemson has had a Top 5 ranking in eight of the teams' 10 all-time matchups.
Clemson faced a ranked Syracuse squad for the first time in series history.
Captains for the contest were offensive tackle Jordan McFadden, defensive end Myles Murphy, wide receiver Joseph Ngata and safety Jalyn Phillips.
Never miss the latest news from Clemson Sports Talk!
Join our free email list