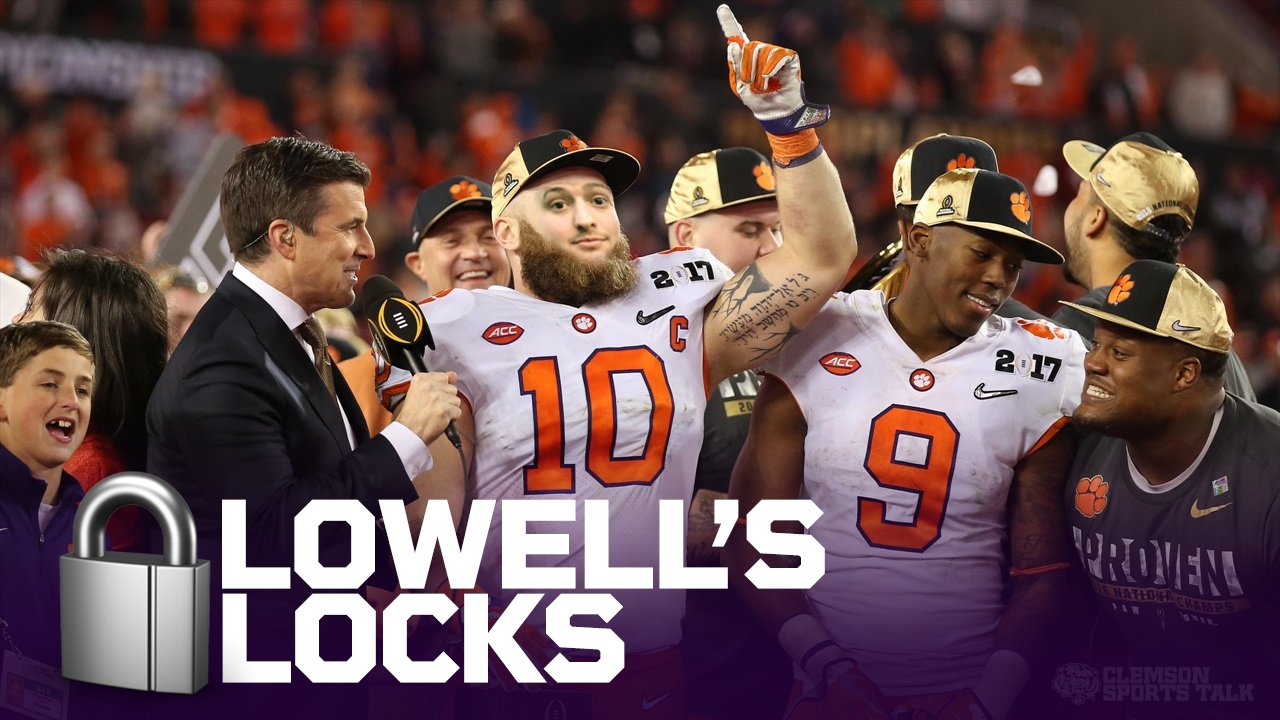 Clemson Football
Lowell's Locks: Week Thirteen (Rivalry Week)
---
Another 4-2 week and I've expanded my record to 4 games over .500 yet again. The gambles I took on Illinois, Baylor and Oklahoma to cover paid off, and Clemson did what they needed to do against Miami to get the cover on a big spread. South Carolina shocked Tennessee and the world to give me on of my losses, and UCLA was in position to pull off the upset over USC but just failed to cover the 2-point spread, losing 48-45 and handing me a second loss in the process. Still, a solid follow-up week, and I'm feeling good about some big rivalry games this weekend. So let's get to it!
Saturday, November 26th
No. 3 Michigan at No. 2 Ohio State (-8):
Easily the game of the weekend and the most impactful game in terms of the College Football Playoff on this slate. An Ohio State win all but eliminates the Wolverines from contention, but a Michigan win might ensure two Big Ten teams get into the playoffs. This game, like last year, will come down to the trenches. Northwestern was able to gash the Buckeyes pretty well, but couldn't cash in.
Can Michigan push the Buckeyes around up front like they did last year? It might be significantly harder this time around, as stud running back Blake Corum is questionable. The Buckeyes will be able to connect on some big plays through the air throughout this one and avenge last year's humiliation.
Lowell's Lock: Ohio State covers -8
No. 25 Louisville at Kentucky (-3):
Kentucky's offense is bad. Like, really bad. The Wildcats are 107th in the country in scoring (21.7 PPG), 107th in rushing offense (116.82 YPG), 82nd in passing offense (218.6 YPG), and 126th out of 131 teams in sacks allowed per (40, 3.64 per game). The Lousiville defense has its issues, but they rank 19th in points allowed per game (19.6), lead the nation in sacks (41, 3.73 per game), and are 11th in tackles for loss (81, 7.36 per game). The Louisville defense will get after Will Levis early and often, and a returning Malik Cunningham will make some big plays to lead the Cardinals to the win.
Lowell's Lock: Louisville covers +3
Auburn at No. 7 Alabama (-22):
Auburn has been playing inspired under interim head man Cadillac Williams, knocking off Texas A&M and holding down an explosive Western Kentucky squad over the past two weeks. The run game is rolling for the Tigers right now, and they'll try to muddy the waters and drag the Tide down into a slopfest in this one. They'll keep it tight for at least a half, and won't ever give up, but Alabama is just too talented.
Lowell's Lock: Alabama covers -22
Iowa State at No. 4 TCU (-10):
Baylor was able to slow the game down last week, turning their game with TCU into a grind. Iowa State has the ability to do much of the same in this one. The Cyclones have the top defense in the Big 12 and have the ability to run the football, but they struggle punching it into the endzone. TCU gets another scare, but they survive, just like they have all season long.
Lowell's Lock: Iowa State covers +10
No. 15 Notre Dame at No. 5 USC (-5.5):
Notre Dame has found their winning formula: Run the ball. They've been running all over everyone lately, which is bad news for a USC team that gives up nearly 150 yards per game on the ground and is just coming off a game against UCLA where they gave up over 200 yards at a 5.5 yards per carry clip. USC is incredible in the turnover margin department, so don't expect many mistakes from them, but Notre Dame will push them to the limit regardless.
Lowell's Lock: Notre Dame covers +5.5
South Carolina at No. 8 Clemson (-14.5):
Let's call last week what it was for the Gamecocks-- an incredible performance from the offense against a paper tiger Tennessee defense. That offense is not the offense we've seen all year from South Carolina, and I tend to believe the normal South Carolina offense will return against the much more dominant Clemson defense.
On the other side of the ball, Clemson has been turnover prone the past few weeks, and they'll need to clean that up if they want to put on the dominant performance they need to for the playoff committee. Something else to watch; Clemson had a punt blocked for a score against Notre Dame, and South Carolina is tied for second in the country in kick blocks this season.
Ultimately, this game comes down to the lines of scrimmage, and Clemson has a clear advantage on both sides of the ball there. It's a slog through the first half, but Clemson turns it on in the "middle eight" to get some breathing room, then a late score puts an exclamation point on top.
Score Prediction: 34-13 Clemson
Lowell's Lock: Clemson covers -14.5
Lowell's Locks

Weekly Results
Season Results
Week 1
4-2
4-2
Week 2
3-3
7-5
Week 3
3-3
10-8
Week 4
3-3
13-11
Week 5
6-0
19-11
Week 6
4-2
23-13
Week 7
3-3
26-16
Week 8
1-5
27-21
Week 9
1-5
28-26
Week 10
2-4
30-30
Week 11
4-2
34-32
Week 12
4-2
38-34
Week 13
Conference Championships
Never miss the latest news from Clemson Sports Talk!
Join our free email list