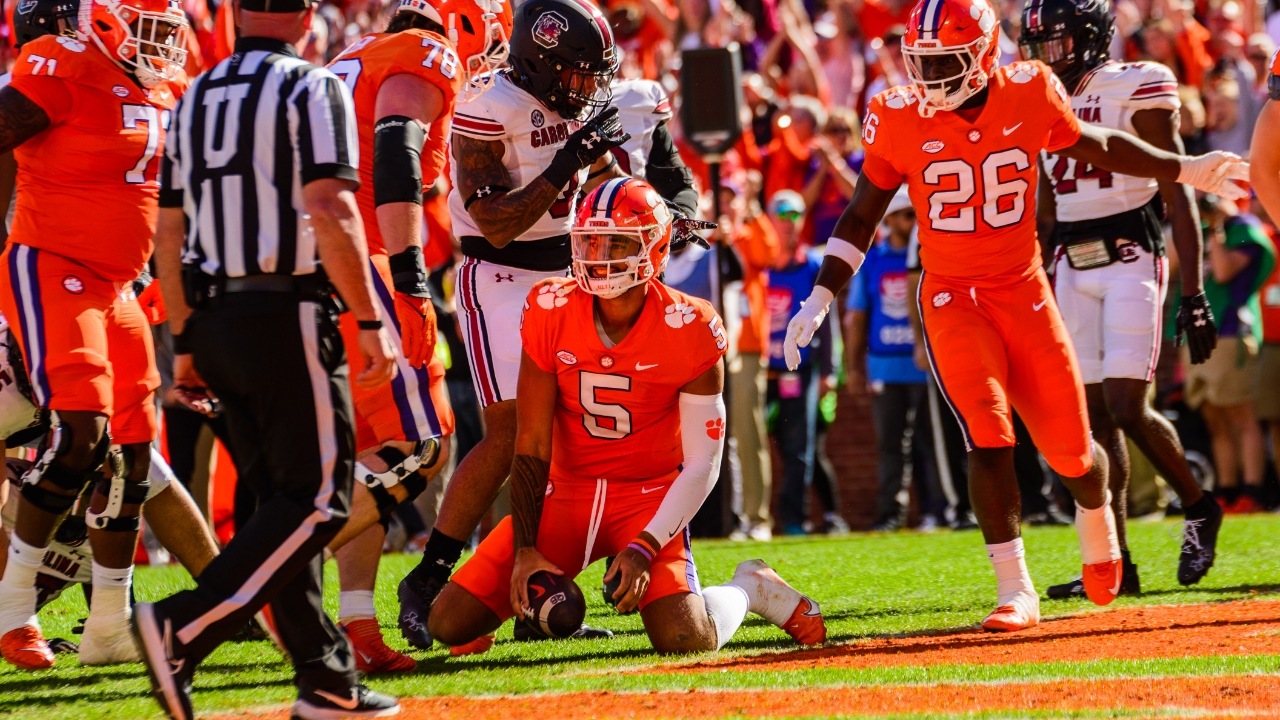 Photo by David Grooms
Clemson Football
Heard in the Press Box: South Carolina 31, No. 8 Clemson 30
---
The Tigers dropped to 10-2 after a rivalry loss to South Carolina at home. Take a sneak peek into the press box to find out the chatter during the Tigers' loss.
Heard in the press box:
- "DJ's stat line is unfathomable. 8-29 for 99 yards... that just isn't going to cut it." - Clemson reporter
- "Dabo has some big decisions to make. The coordinators, quarterback situation- it all needs to be evaluated." - Clemson reporter
- "I hate it for the seniors... Their only career loss at home came in their final home game- to South Carolina, of all teams." - Clemson reporter
Rumbled: Clemson's defense excelled in the run game, holding South Carolina to 54 rushing yards. The unit recorded 11 tackles for loss (TFLs), which is one of their highest marks this season.
Postgame head coach Dabo Swinney mentioned, "Defensively, we controlled the line of scrimmage for sure." He added, "If you'd told me before the game that we would hold them to 54 rushing yards and we would have over 200- I'd think we would have won the game."
KJ Henry was the team's top tackler with 11, alongside 0.5 sacks and one TFL.
Stumbled: D.J. Uiagalelei‍ performed poorly in one of Clemson's most important games. He completed 28 percent of his passes and finished with a 60.7 quarterback rating. The offense was stagnant for the majority of the game. Uiagalelei had 99 passing yards- the lowest single-game total since he threw for 99 yards against South Carolina in a 30-0 win last season.
When asked postgame if Cade Klubnik‍ would have an opportunity to push Uiagalelei in practice this week, Swinney answered, "We'll see."
He was later asked about the potential for the quarterbacks to split snaps in practice this week, heading into the ACC championship game against UNC. Swinney replied, "We're not getting any of that. We are just moving on and getting ready for tomorrow."
Key moment: South Carolina's defense shut down Clemson's attack in the fourth quarter. The Tigers were limited to a pair of punts and an interception. Clemson only gained 45 total yards in the quarter. The Gamecocks' defense stepped up late and held Clemson to just seven points in the second half.
Unsung hero: Jeremiah Trotter Jr.‍ recorded 8 tackles, one sack, 2.5 tackles for loss, a pass breakup, and a pick-six. He was spectacular for Clemson defensively and has been playing his best football towards the end of this season.
Key stat: Will Shipley‍ averaged 8.8 yards per carry in the game. He ran for 132 yards and a touchdown but only got two carries in the fourth quarter. Following the game, Swinney stated that, in hindsight, he would like to have found more ways to get Shipley the ball late in the game.
Never miss the latest news from Clemson Sports Talk!
Join our free email list